Up-and-coming restaurants like Datsha Underground in Paris, France, have mastered the art of incorporating all five senses to create a unique and immersive gastronomic experience.
While the act of eating is multi-sensory in nature, restaurants are starting to tap into neurogastronomy to elicit new reactions from their diners. How can we convince our brain, through the use of sound, smell, and sight to perceive food and taste differently? Datsha Underground experiments with just that. Founded in 2019, 'Datcha' in Russian translates to a summer cottage, typically located in the countryside. Datcha life is often defined as a relaxed lifestyle where one can do things they may not in "real life."
The Vibe
Hidden beneath a single elusive sign, you will likely walk right by Datsha Underground's entrance. Discrete in nature, stumbling in feels like a welcome reprieve from the busy atmosphere of the surrounding Marais. Behind a heavy set of velvet green curtains you'll emerge onto an open-plan restaurant, adorned with a glass roof and a soft wooden glow. Various levels of the restaurant are filled with lush foliage and elegant furniture. The centerpiece, a bright blue-tiled open kitchen lends well to watching the chefs meticulously dance around one another, from whichever corner you are sitting at.
Between the trendy servers clandestinely dressed in black and the subtle electronic tunes in the background, the laid-back ambiance of the space is evoked almost immediately. A revolving door of eclectic guests taper in, ranging from fashionable partygoers to couples celebrating a special occasion. Diners shimmy into plush chairs with thick marble tables, where they await the menu to come.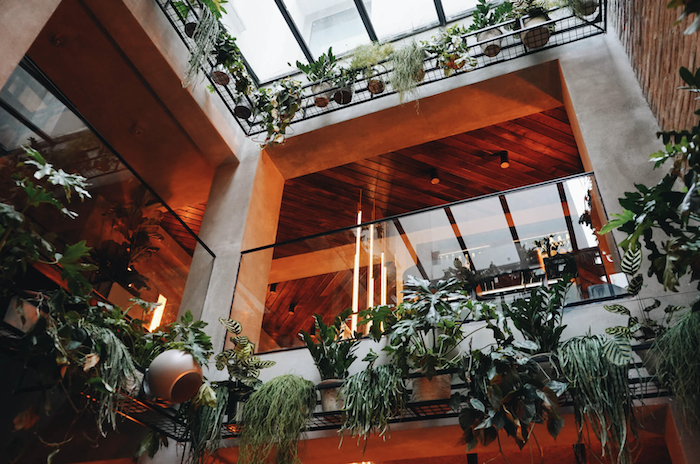 The Eats
Known fondly in the Parisian gastronomic scene, Chef Baptiste Trudel was introduced to the rest of the world as a contestant on Season 12 of Top Chef. Trudel defines his culinary style as funky, sexy and tasty, all of which capture the essence of both Datsha's menu and general vibe. As the mastermind behind Datsha's rotating menu, Trudel combines unsuspecting textures, ingredients and flavors in plates to transport diners to another world.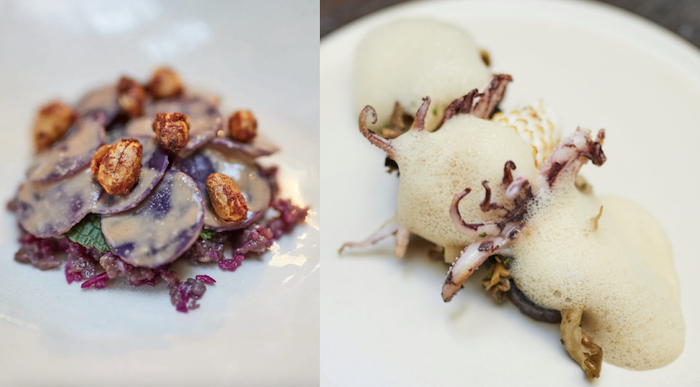 To cleanse our palates, our server brought out a shot of borscht (beet soup) with a tarragon rim, framing it as the necessary purifier for one's liver and blood before the start of the meal. A small but carefully crafted menu was presented to us, deterring any sort of decision fatigue. Drinks here are kept relatively simple to allow for the unique plates to stand out. Inventive courses added to anticipation and the element of surprise. Think snails on flatbread or uncooked langoustines mixed in a creamy, kohlrabi sauce as appetizers. Of the entrée highlights include the butternut barigoule, involving a preparation technique native to France that preserves and cooks seasonal Globe artichokes. The dish weds butternut squash and globe artichokes with burrata, tarragon and sunflower seeds, creating an unexpectedly delicious union of sweet, slippery, crunchy and spicy in each bite. An in-house sommelier appeared with a few fun wine pairings that brilliantly complemented our dishes.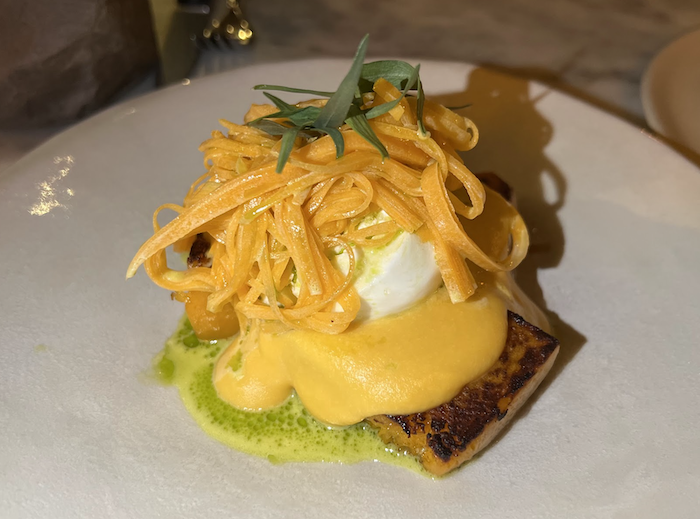 The Nightlife
Hidden in the basement of Datsha Underground is Spootnik, their Soviet space-themed bar ideal for a nightcap or a little dancing. The futuristic bar is designed to resemble the Russian space conquest, emitting a seductive red glow and spotlighting floor-to-ceiling mirrors and chandeliers. The hybrid space transforms into a jazz-filled speakeasy some nights and a place to dance on others. Spun as an audiophile bar, this listening room intends to bring artists, creators, and listeners into an immersive space that celebrates new and imaginative music. If you're lucky, you'll be able to snag a reservation here when a local DJ is playing. Grab a deliciously unexpected cocktail from one of the bar's mixologists and get grooving.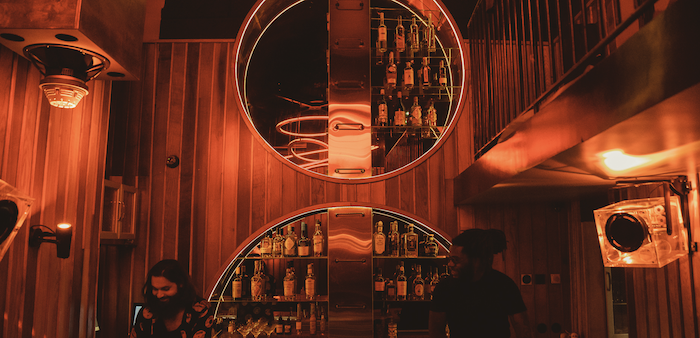 In a world where convenience and speed are prioritized, gastronomic experiences such as this one can change the way we slow down and experience food. In many ways, using more of our senses to experience food allows us to connect in new ways not only with the meal but with one other.
Datsha Underground
Website
57 rue des Gravilliers, Paris
Datsha: 7pm – 12:30am
Spootnik: 7pm – 2am