Paneer Biryani is a lovely rice dish flavored and layered with spices and cottage cheese (paneer).
By Anita Mokashi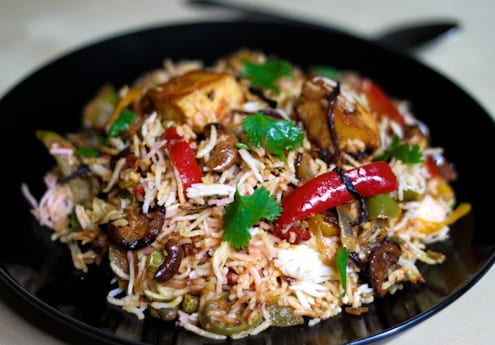 Paneer Biryani is rice flavored and layered with spices and cottage cheese/paneer. Paneer Biryani is a delight for all paneer lovers. The spices and condiments used in biryani may include, but are not limited to, ghee, nutmeg, mace, pepper, cloves, cardamom, cinnamon, bay leaves, coriander, mint leaves, ginger, onions, and garlic. The name 'biryani' is derived from the Persian word bery? (n) which means "fried" or "roasted".
Ingredients
For masala
2 cups basmati rice
250 grams paneer cut into pieces
Whole garam masala
(shahi jeera,nutmeg, mace, pepper, cloves, cardamom, cinnamon, bay leaves)
2 onions sliced
2 tbsp ginger garlic paste
2 tomatoes sliced
5-6 sliced green chillies
½ cup chopped mint leaves
2 tbsp yoghurt
2 tbsp chilli powder
2 tbsp biryani masala
1 tbsp turmeric powder
½ cup green peas
1 cup red,green and yellow capsicum sliced
4 tbsp ghee
salt as per taste
coriander leaves
For garnishing
Onion – 1, finely sliced & fried
Fried Cashews & raisins – a handful
Ghee
Yellow and red food color diluted in milk
Coriander & Mint leaves
Instructions
Cook the rice and keep it aside.
In a deep pan, heat oil and fry the paneer pieces till goldern brown.
Take another pan and heat ghee.
Add sliced onions and whole garam masala.
Once the onions are translucent add ginger garlic paste.
Now add sliced tomatoes. Let it cook for 5 mins.
Add mint leaves and biryani masala and chilli powder. Let everything cook for 10 mins
Now add the veggies and mix well.
Finally add fried paneer cubes and coriander leaves. The paneer masala is ready.
Heat a non-stick pan, add the onions and cashew/raisins and dry roast on a medium flame stirring continuously till the onions turn brown.
Start layering the rice with the masala now.
Take a heavy bottomed vessel/non stick pan. Add a spoon of ghee. Put one layer of rice. Now add another layer of paneer masala. Again spread layer of plain rice. Add 2 spoons of colored milk. Now add the caramelized onions with cashewnuts and raisins. Repeat these steps for next 2 layers and cover the pan with a tight lid.
Heat a tava, when it is really hot, place the biriyani vessel on top of that. Reduce the heat to the lowest flame & cook for 20-25 mins. Keep the heat at the lowest flame throughout, otherwise it might get burnt.
Garnish the rice with coriander leaves and serve it hot.