Pan-seared Chicken with Pink Grapefruit Cream Sauce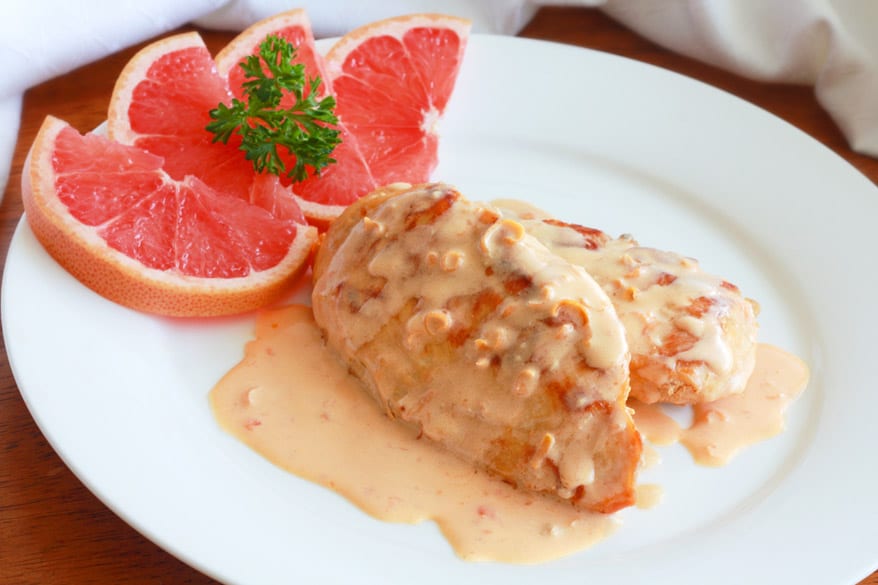 This creamy grapefruit sauce is both delicious and unexpected. Each bite becomes more and more addicting.
By Kimberly Killebrew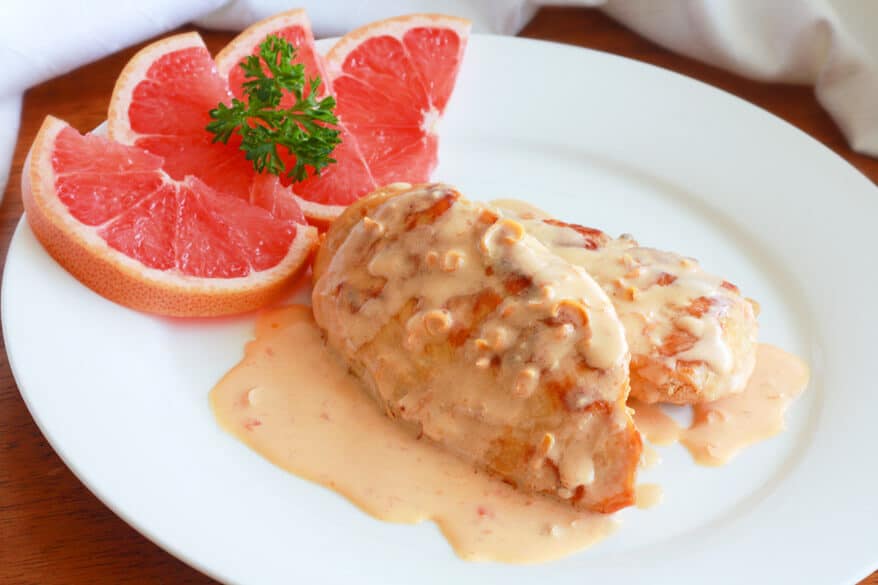 Winter brings with it a generous harvest of tropical fruits, including the tangy grapefruit.  Under-used and under-appreciated in the world of cooking, most of the time grapefruit used in entrees is simply cut into wedges and used in salads. I wanted to make something a little more interesting. I also wanted to make something that really brought that pink grapefruit flavor to the forefront. As an entree it obviously needed to be savory, but with ingredients that would complement the sweetness of the fruit. Heavy cream sounded perfect. I also wanted something that would contrast the sweetness while combining well with the delicateness of the cream. White pepper was the choice. Chicken was the obvious choice in my mind – a more delicate meat that would absorb the fruity and delicate flavors. The end result was Pan-Seared Chicken with Pink Grapefruit Cream Sauce. This creamy grapefruit sauce is both delicious and unexpected. Each bite becomes more and more addicting.
Simple, quick, gourmet and delicious. What better combination?

Pan-seared Chicken with Pink Grapefruit Cream Sauce
A daring original for grapefruit lovers. Simple, quick, gourmet and delicious. What better combination?
Author:
Kimberly Killebrew
Ingredients
4 boneless, skinless chicken breasts (either whole, or 2 large chicken breasts cut in half)
Salt
4 tablespoons unsalted butter
½ cup freshly squeezed pink grapefruit juice
1 tablespoon pink grapefruit zest
½ cup heavy cream
2 tablespoons cream cheese
¼ cup white wine
¼ teaspoon freshly ground white pepper
¼ teaspoon sugar
Salt to taste
Instructions
Sprinkle both sides of the chicken breast with salt. Melt the butter in a stainless steel skillet over medium heat. Fry the chicken on both sides until browned, about 4 minutes on each side. Add the grapefruit juice and zest. Bring to a boil. Reduce the heat to low and simmer, covered for 10 minutes or until the chicken is no longer pink in the center. Transfer the chicken to a plate, cover with aluminum foil and place in a warmed oven until ready to serve.
Add the heavy cream, cream cheese, white wine, white pepper and sugar to the pan. Boil the sauce for 3-4 minutes or until the sauce has thickened slightly. Add salt to taste.
Arrange the chicken breasts on a serving platter, or on individual plates, drizzle with the sauce and garnish with fresh slices of pink grapefruit and a few sprigs of fresh parsley.
Serving recommendation: Serve over or with pasta.
Kimberly Killebrew
Raised in Western Europe, widely traveled, and currently residing near Seattle with her husband and children, Kimberly loves preparing and experimenting with a large range of flavors and cuisines. This is reflected in her food blog, The Daring Gourmet, where she invites all to "tour the world through your taste buds." Passionate cook, recipe developer and photo enthusiast, her culinary repertoire includes everything from gourmet to simple comfort food, and, as she puts it, "simply downright good eats."