Try this delicious Palak chicken curry, sauteed with onions, spices and spinach.
By Anita Mokashi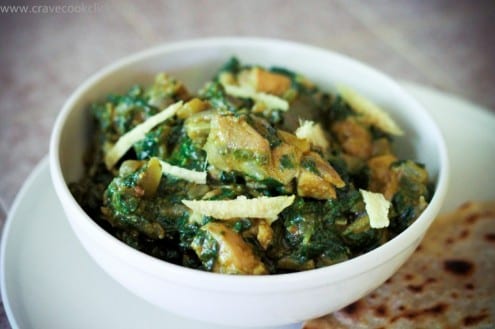 Palak Chicken Curry Recipe
Try this delicious palak chicken curry from Anita Mokashi.
Ingredients
1 bunch spinach chopped
1 pound chicken
Oil
8 black peppercorns
2 bay leaves
8 cloves
5 green cardamom
2 onions chopped
4 green chillies chopped
8 garlic pods chopped
1 inch ginger chopped
2 tbsp cumin coriander powder
1 tbsp red chilli powder
1 tsp turmeric powder
1 tsp garam masala
5 tbsp yoghurt
salt as per taste
Instructions
Wash and finely shread spinach, chop onion, ginger and garlic and keep aside.
Heat oil in a thick bottomed vessel, add peppercorns, bay leaves, cloves, cardamoms and sauté for a minute. Add finely chopped onions, green chillies, ginger and garlic and sauté till onions turn light brown.
Add chicken pieces, cumin powder, coriander powder, turmeric powder red chilli powder and a little salt.
Stir-fry for a minute, add one tablespoon of yogurt.
Stir-fry for a minute more, add one more tablespoon of yogurt. Repeat this till all the yogurt has been used up and the chicken turns light brown.
Add spinach and a little more salt to taste.
Mix well and stir-fry till the spinach gets well mashed. Cover and cook till the chicken is tender. Remove the cover, add garam masala powder and cook till the gravy is thick.
Serve hot.
Anita Mokashi
Anita Mokashi is based in California, but born and brought up in Mumbai, India. Her blog Crave Cook Click is mostly about Indian cooking, but occasionally she shares recipes from other cultures and cuisines too. Anita is also the publisher of a popular photography blog.