Oven Dried Tomatoes in Olive Oil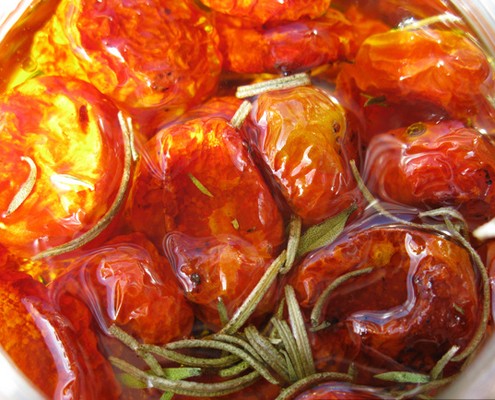 Drying tomatoes in the oven will concentrate their beautiful flavor. Use them to top a pizza, a bruschetta, simply combine them with cooked pasta, toss them with crumbled feta or fresh mozzarella, or use them to jazz up a sandwich.
By Tamara Novacoviç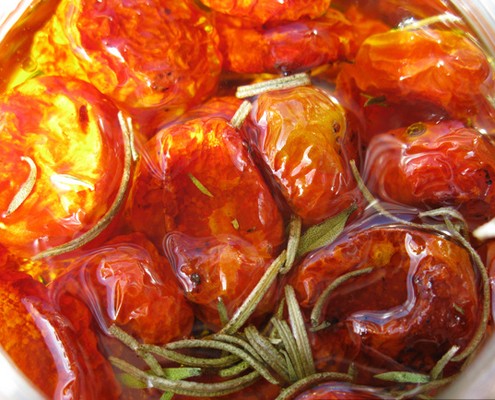 Although the sun has gotten quite strong and persistant in the last couple of days here in Croatia and tomorrow we are headed towards the first serious heat wave of 40 degrees Celsius and these tomatoes could be sun dried, I used faster way of turning beautiful summer tomatoes into a true delicacy. Good tasting tomatoes always bring up memories of my grandma's vegetable garden. I hated store bough tomatoes and I still avoid plastic-looking ones you can find when they are not in season. They don't taste like anything. I patiently waited throughout the entire year for summer to come and for my grandma's tomatoes. This is the right time to get plump, juicy, red tomatoes, ripened under hot summer sun that concentrates all their true flavors. In this recipe I used tiny cocktail tomatoes, they are easier to work with-they dry quicker.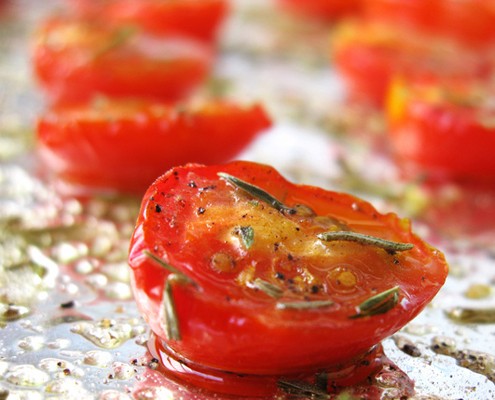 Drying them up in the oven will concentrate their beautiful flavor. Also, their flavor is heightened by chopped garlic, rosemary and thyme. Use them to top a pizza, a bruschetta, simply combine them with cooked pasta, toss them with crumbled feta or fresh mozzarella, or use them to jazz up a sandwich-the possibilities are endless.
Oven dried tomatoes in olive oil
Summertime smells of many things, among them fresh, juicy tomatoes. Bursting with flavors, you can preserve them by drying them in your oven and storing them in jars full of olive oil.
Ingredients
This recipe yields one 250 ml jar:
15-20 cocktail tomatoes
3 garlic cloves
1 tbsp chopped thyme
1 tbsp chopped rosemary
3 tbsp + 0.8 cups (200 ml) olive oil
1 tbsp sugar
pinch of salt
Instructions
Wash tomatoes, cut them in half.
Line baking sheet with aluminium foil or parchment paper. Place tomatoes on lined sheet, cut- side up. Pour 3 tbsp of olive oil over tomatoes, sprinkle them with sugar, salt, thyme and rosemary.
Heat oven to 210 Farenheit (100 Celsius) and dry tomatoes for 4-6 hours. Time and temperature may vary based on your oven, the size of the tomatoes and of course your preference.
Sterilize jars-wash them and put in oven preheated to 122 Farenheit (50 Celsius). Leave them for 10 minutes, then take them out and let cool.
Pour 200 ml olive oil into sterilized jars. Add some more rosemary, thyme and garlic cloves. Add dried tomatoes. Keep them in fridge.
Tamara Novakoviç
Tamara Novakovic is a passionate self-taught cook, food blogger, freelance food writer and photographer behind bite-my-cake.blogspot.com. Her life journey has led her through Faculty of Humanities in Zagreb, Croatia to discovering passion for making cakes. She is currently a weekly food columnist for Croatian newspaper V magazine and food magazine Repete.