Enjoy a light rice pudding flavored and colored with saffron from Zerrin Gunaydin.
By Zerrin Gunaydin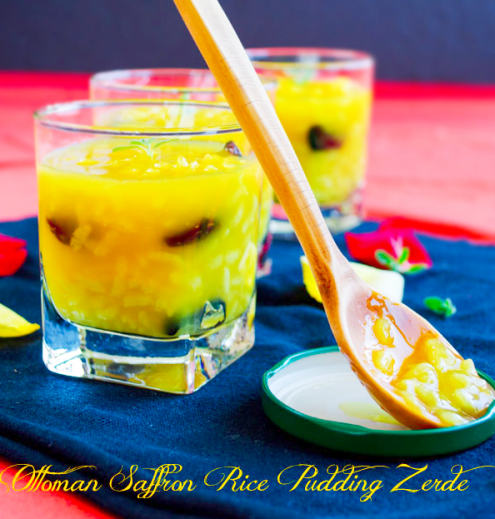 Ottoman Saffron Rice Pudding Zerde
Enjoy a light rice pudding flavored and colored with saffron from Zerrin Gunaydin.
Ingredients
1tbsp saffron
½ cup water, to soak saffron
½ cup rice
5 cups water
¼ cup corn starch
1 cup sugar
1 tsp rose water
A handful of raisins
A few sprigs of marjoram
Instructions
Soak saffron in ½ cup water and wait for 15 minutes to let it give its color.
Wash rice very well to remove its starch.
Boil rice in 2 cups of water until a little tender.
Drain saffron and leave them out.
Pour the yellow water into boiling rice.
Mix corn starch with 3 cups of water.
Add in sugar and rose water. Combine it with boiling rice.
Let it simmer until it reaches the consistency of pudding. Stir occasionally.
Share it into small cups when it's hot and let it cold.
Chill it in refrigerator before serving.
Garnish with marjoram leaves.