Nancy Lopez-McHugh tends the bar today, and mixes us a non-alcoholic Orange Spritzer.
Text And Photos By Nancy Lopez-McHugh
Spritzer (Spritzen) is a German word that means a spray or a splash. The word is better know as a reference to a drink, usually consisting of wine and carbonated (sparkling) water. The carbonated water is mixed with the wine to make a light, fizzy and refreshing drink that is very popular on hot summer days. I have heard of and have actually seen people mixing cola with their red wines (blagh!). I love wine, specially red wine. I'm not passing judgement but I just can't bring myself to "ruin" a good wine by adding carbonated water. Thankfully Spritzers also come in non-alcoholic versions using fruit and/or vegetable juices.
If you are like me and choose not to drink soda, you will really enjoy drinking fruit and vegetable Spritzer versions. I hate the taste of soda because it is way to sugary for my taste and not to mention very caloric. Instead I prefer to drink water, unsweetened tea, and 100% fruit juices. Since I'm not a fan of overly sugary drinks I always mix my juices with sparkling water. The recipe I'm sharing with you today is for my favorite way of drinking orange juice, an orange spritzer!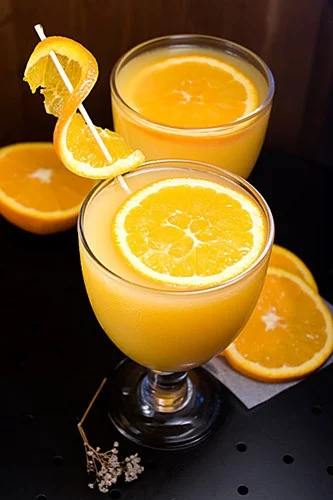 When you are selecting orange juice or any other juice it's very important to read the labels. You need to make sure that it's 100% orange juice without any added sugar. There are many juice brands out there that though say they are 100% juice, have a lot of sugar or fructose or sucrose added to them, avoid those. Of course you could also use fresh squeezed orange juice, which will yield a slightly different taste. If you have kids this is a great drink to give them as an alternative to soda. They'll like the fizziness like a soda and it is still sweet, but not too sweet. Moms will love the fact that the drink is still very nutritious. Orange juice is very high in Vitamin C, which our bodies need to help heal wounds faster, for strong bones and teeth and to help fight off infections. Vitamin C is also great for our immune system, helping to make it strong. See orange juice is much healthier than soda. Though I'm showing you my favorite juice spritzer it can really be made with any of your favorite juice flavors. Have fun and experiment.
Print
Orange Spritzer
---
Author:

Nancy Lopez-McHugh

Total Time:

5 minutes
Description
A non-alcoholic drink to refresh you and quench your thirst.
---
100 % Orange juice
sparkling (carbonated) water

1

orange, for decoration -optional
ice cubes, optional
---
Instructions
Take the orange and either slice it thinly or cut it into wedges, set aside. In a large pitcher mix equal parts orange juice and sparkling water, if you are using ice cubes you may want to add those first. OR You can also mix 2 parts orange juice to 1 parts carbonated drink. It's really about finding the right mix and taste for yourself.
Serve with a fresh slice or orange wedge. Serve right away,to keep the drink fizzy.
If mom and dad need a little kick to go with their orange spritzer why not add some vodka? Think of it like a fizzy vodka screwdriver. Again the amounts are really up to the individual's taste but, I mixed 2 parts orange juice, 1 part sparkling water and 1 shot/part vodka. Cheers!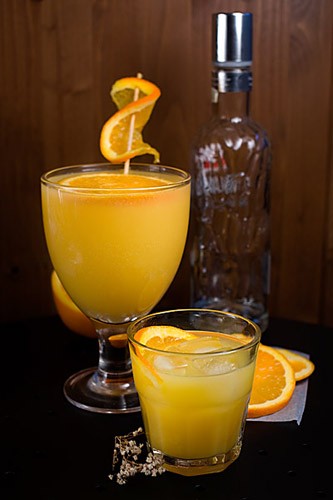 Nancy Lopez-McHugh
Nancy Lopez-McHugh is a food blogger, photographer and published author. Most recently she has published "Yummy Pics: A Food Blogger's Guide To Better Photos".