Panna Cotta is an Italian classic and has many variations. This version with an orange sauce and Sicilian Bronte pistachios, evokes flavors of South Italy.
Some days, I tell my husband that I might just drop everything and become a pastry chef. Specifically, an Italian pastry chef. A pasticciere.
There's truly nothing more spectacular, in our humble opinion, than Italian pastries and desserts. Delicate, nuanced flavors; simple, natural ingredients; satisfying, but not decadent or overdone.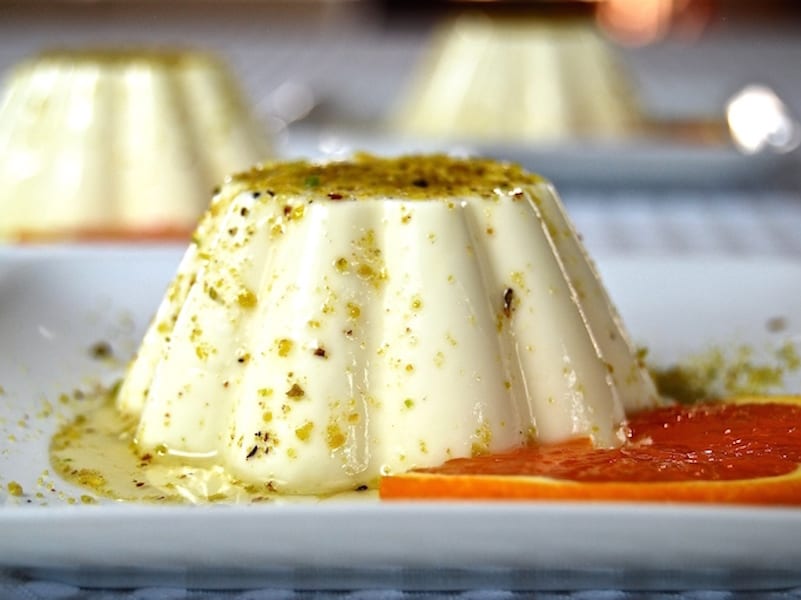 See Also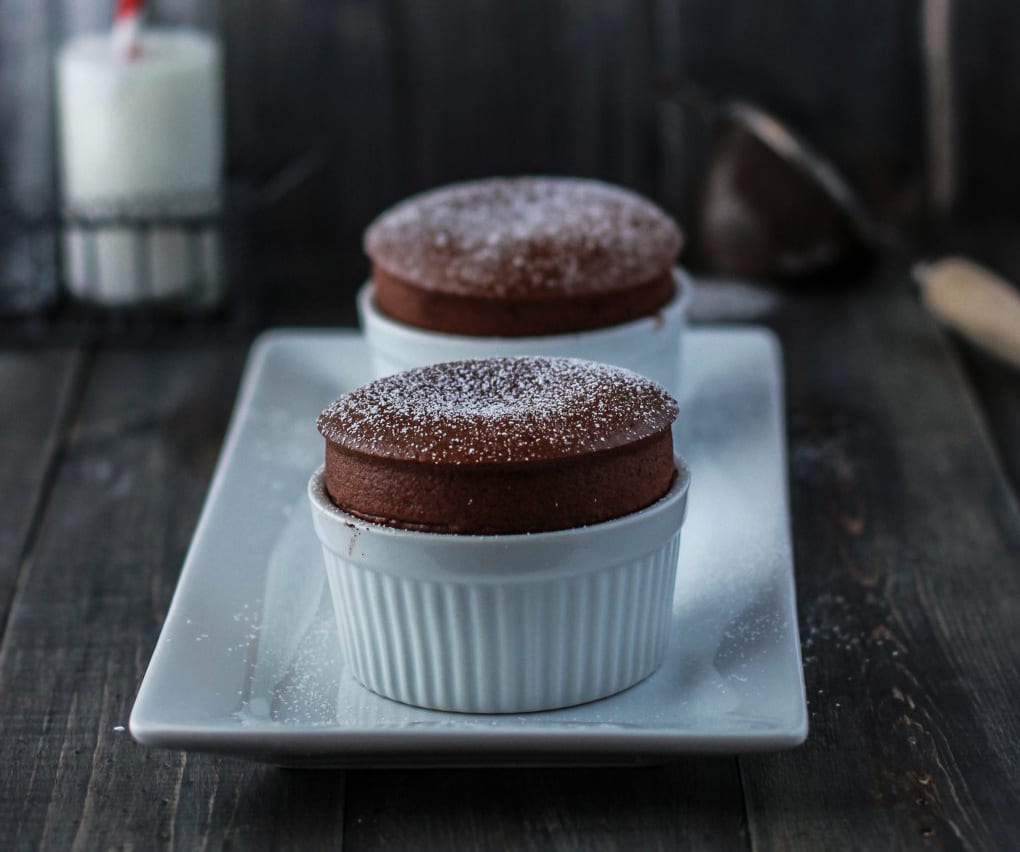 In Rome, pasticcerie (pastry shops or bakeries) are filled with cream filled pastarelle , or their smaller counterpart, the mignon. Around breakfast time, you'll find the classic Roman maritozzi alla panna. In addition to cream-filled pastries, there is also a lovely assortment of fragrant and delicate choices in the pasticceria secca. However, on recent trips back to Italy, in Rome and across the country we noted a resurgence of dolci al cucchiaio in the pasticcerie that we visited. Dolci al cucchiaio are that category of desserts that includes custards, puddings, mousse and so forth, which are enjoyed with a spoon, or cucchiaio.
Panna cotta is an Italian classic that belongs to this category. It's as simple as its name suggests: panna means cream, and cotta means cooked. Cooked cream, a little sugar, a vanilla bean for flavor, and a bit of gelatin to hold it together. Panna cotta originates from the Piedmont region of Italy, where rich cream is a staple. It is traditionally served with a caramel, chocolate or mixed berry sauce. However, many creative variations exist. We were enticed by this version with an orange sauce and Sicilian Bronte pistachios, as the flavors evoked our recent trip to Sicily.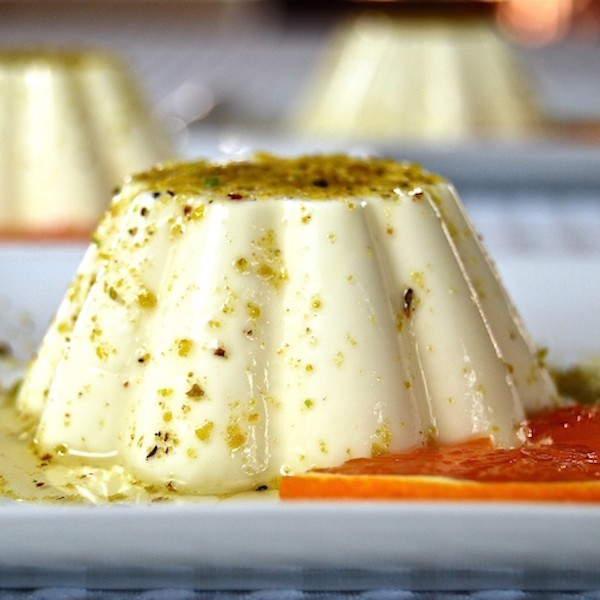 Orange Panna Cotta with Pistachios
Cara Quinn & Stefano Follega
Panna Cotta is an Italian classic. This version with an orange sauce and Sicilian Bronte pistachios, evokes flavors of South Italy.
Course
Creamer, Dessert, Desserts, Dolci, Italian
Cuisine
American-Italian, Italian
Ingredients
For the Panna Cotta
500

grams

half a liter, 1 pint, or 16 oz of heavy cream

100

grams

1/2 cup sugar

1

vanilla bean

Zest of one orange

10

grams

of gelatin sheets

like these. For us, 10 grams was two sheets. But, it's best to weigh them to be sure.
For the Orange Sauce
Juice of one orange

100

grams

1/2 cup sugar

1

Tablespoon

water
For Decoration
A sprinkling of ground pistachios

ideally Sicilian Bronte pistachios
Instructions
Submerge the gelatin sheets in a pan of cold water, and let sit. Split the vanilla bean lengthwise, and add it, along with the cream and sugar, to a small pan. Zest your orange and add the zest to the cream mixture. Gently bring it to a boil over medium-low heat, stirring occasionally. When it boils, remove from heat. Remove the gelatin sheets from water one by one, wring the excess water off of them, and add each sheet to the cream. Stir until the gelatin dissolves completely into the cream mixture.

Carefully pour the cooked cream into your molds, and then refrigerate for at least two hours, or longer.

While the cooked cream is cooling in the refrigerator, prepare the orange sauce. Place the sugar into a small saucepan, and then add water. Without stirring, place over low heat. While the sugar heats and dissolves into the water, juice your two oranges, ensuring that pulp and seeds are filtered out. Once the sugar has completely dissolved, add the orange juice. The addition of the orange juice will cause the sugar to crystallize. Turn the heat to its lowest setting and stir until the sugar again dissolves. Remove from heat, and let cool to room temperature.

When the panna cotta is ready, carefully turn it out of its mold onto a small serving plate. This is the hardest part, as sometimes it doesn't cooperate. Some advise to run the bottom of the mold quickly under hot water, or to apply a hot, damp cloth to help it come out. Ours came out of the silicon molds with little trouble, but if you run into difficulty turning out the panna cotta, you may wish to just serve it in its container.

A properly cooked panna cotta will jiggle a bit on its plate. Drizzle the orange sauce over the top of each panna cotta, and finish with a dusting of pistachio. If you wish, garnish with a thin orange slice.
Notes
You will need panna cotta molds of some sort. We improvised with a silicone brioche mold, which we cut into individual molds. However, any small dish or cup will work.
Keyword
dessert, italian, panna cotta, pistacchio
Cara Quinn & Stefano Follega
Due Spaghetti is our blog on the food, wine and other marvels of Italy. We are Italian expatriates living in the wonderful city of Minneapolis. Our mission is to share our favorite recipes, pairings, and other tips with you, so that you too can have a taste of La Dolce Vita. Ciao! I'm Stefano. I was born and grew up in Rome, where I helped my family tend to our olive groves and make olive oil each year, learned the secrets of homemade cooking from my mother and grandmother, and watched my father and grandfather make wine with grapes grown in the hill towns outside of Rome. Since then, I've studied wine formally through the International Sommelier Guild. I love sharing my knowledge of wine with others, especially when accompanied by authentic Italian food. Buon Giorno! I'm Cara. I am from the U.S., but I lived in Rome for 9 years, becoming enamored first with the Eternal City and then with Stefano. I married Stefano, became an Italian citizen, started our family in Rome, and while I was there I learned from family and friends the art of preparing Italian food and of appreciating life Italian style. I unwind in the kitchen, and find pleasure in serving delicious food to friends and family.