Oatmeal Raisin Pumpkin Spice Kiss Cookie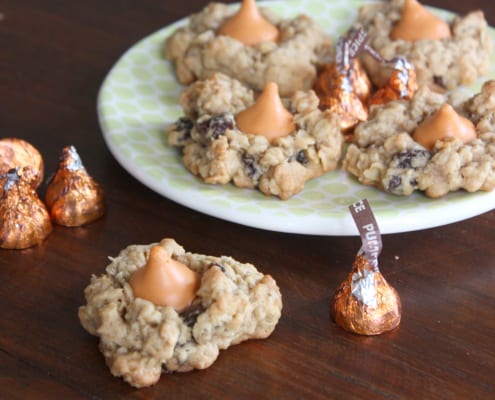 The usual suspect, oatmeal raisin, with it's party hat on, a pumpkin kiss with a milky, creamy, spice filling that tastes a lot like having a pumpkin spice latte and oatmeal raisin cookie all in one.
By Abby Himes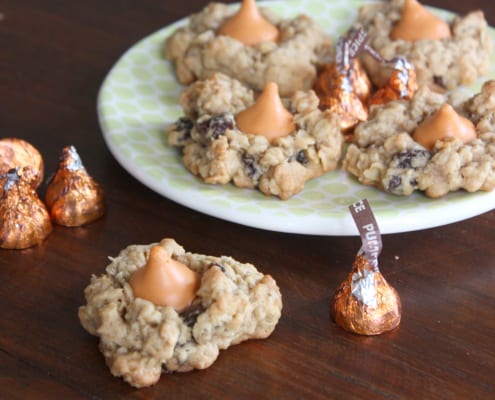 Let's go scuff our feet through the fallen leaves on a sunny, cold afternoon while wearing rubber boots, our feet snug inside in thick, soft, socks.  Let's let go a little bit, arms opening wide as we kick the leaves high into the air, laughing at how we feel a little silly, but loving the feeling of being a kid again.  All our worries disappearing in that moment.  Knowing that when we get home we can have a plate of these cookies waiting for us and a warm drink, as we watch the golden sun set and talk about what's on our minds.
I'll lean forward resting my arms on the counter, laughing at your funny story, and then we'll fall quiet and talk about something more serious but the twists and turns of conversation will lead us back to laughing again.
Like your best friend, these cookies are just plain F.U.N. The usual suspect, oatmeal raisin, with it's party hat on, a pumpkin kiss with a milky, creamy, spice filling that tastes a lot like having a pumpkin spice latte and oatmeal raisin cookie all in one.
Now that's my idea of a fun fall treat.
Oatmeal Raisin Pumpkin Spice Kiss cookie
Recipe Type:
Dessert, Cookie
Ingredients
2 sticks butter, softened
1 cup firmly packed brown sugar
¼ cup sugar
2 eggs
1 teaspoon vanilla
1½ cups flour
1 teaspoon baking soda
1 teaspoon cinnamon
¾ teaspoon salt
3 cups old fashioned uncooked oats
1 cup raisins
1 10 oz package Hershey's Pumpkin Spice kisses, unwrapped (you won't use them all, unless you're like me and eat them as you unwrap them...)
Instructions
Preheat your oven to 350 degrees F.
In a large bowl mix together flour, baking soda, cinnamon and salt. Stir together thoroughly. Set aside.
In your mixing bowl cream together butter and sugars on medium speed. Add eggs and vanilla, beat until mixed.
Add the dry ingredients (flour mixture) to the butter mixture a little bit at a time, mix on low speed. Be sure to scrape down the sides of the bowl.
Now add the oats and raisins, mix well.
On an ungreased cookie sheet, drop spoonfuls of dough evenly spaced apart. Bake for 6-7 minutes, then gently place the unwrapped kiss in the center of the cookie and gently press it down so that it sits in the middle. Finish baking the cookies for 1-2 minutes more until the cookies are light brown but the kiss still holds it's shape.
Let cool a few minutes on the cookie sheet and then transfer to a wire rack to cool completely.
Enjoy!
Notes
Oatmeal Raisin recipe adapted from Quaker Oats
Abby Himes
Abby can be found cruising her local farmer's market and co-op looking for fresh, new, flavors and sustainable options. She sees food as an adventure, and is always excited to try something new. Abby is also the creator and voice behind the food blog, Seaweed & Sassafras.