White chocolate is thicker than dark chocolate when melted, but don't worry about chilling the tarts all the way — they're are best when the chocolate is still a little creamy.
By Zerrin Gunaydin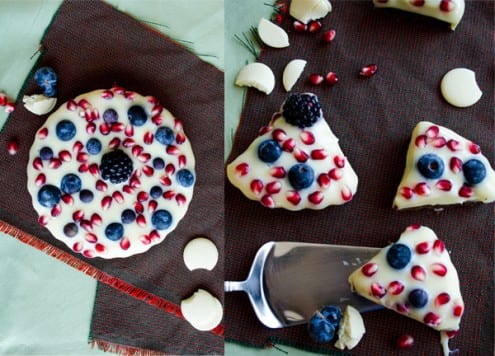 No-Bake White Chocolate Tart
White chocolate is thicker than dark chocolate when melted, but don't worry about chilling the tarts all the way -- they're are best when the chocolate is still a little creamy.
Ingredients
225g cocoa crackers, crumbled
110g butter, melted
200g white chocolate
½ cup heavy cream
A handful of blueberries
A handful of pomegranate seeds
2 blackberries
Instructions
Mix crumbled cocoa crackers and melted butter until smooth.
Brush tart pans with little butter and share the crust dough into them, chill for an hour.
Melt white chocolate in a pot over boiling water.
Add in cream and bring to room temperature.
Pour it over chilled tart crusts.
Share pomegranate seeds and blueberries evenly on tarts and place a blackberry in the middle of each.
Chill it for 3 hours for a creamy texture, 5 hours or longer for a stiffer texture.
Zerrin Gunaydin
Zerrin Gunaydin is a food blogger living in Turkey. She loves to share recipes mainly from Turkish cuisine on her blog Give Recipe. Zerrin is trying to inform people around the world about Turkish cuisine, which has a very large repertoire with its various kind of dishes.