PARTNER POST: May 26 is National Pinot Grigio Day. We're celebrating with Cavit Wines by sharing refreshing spring and summer recipes that pair perfectly with Pinot Grigio.
Wrapped in prosciutto, garlic-herb cheese, and dough and baked until golden, these wrapped asparagus bundles are appetizer perfection.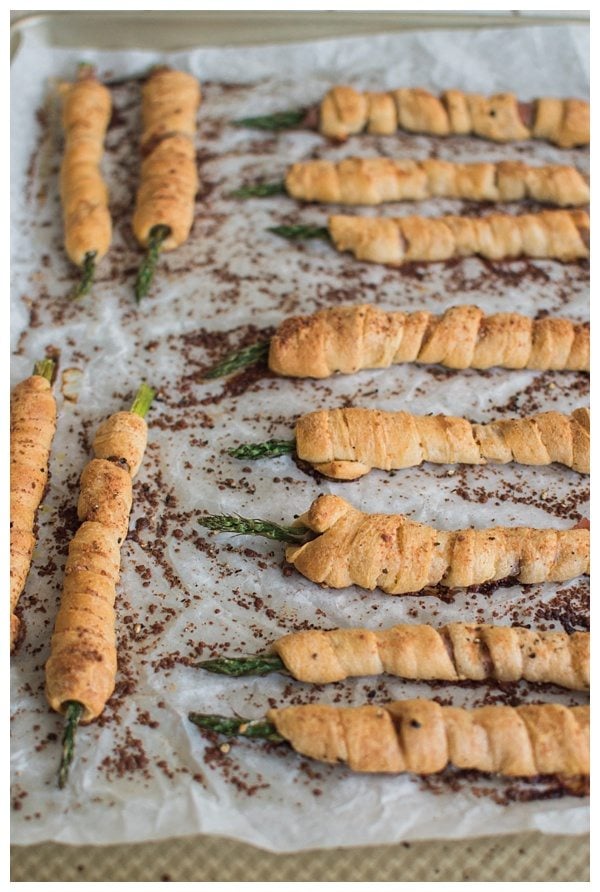 Asparagus bundles are a great appetizer because they are simple to make and satisfying without being overly filling. Asparagus bundles also pair perfectly with Pinot Grigio!
I love to use prosciutto but you could omit it to make them vegetarian. Boursin Garlic-Herb cheese is my favorite, but you could use any flavor.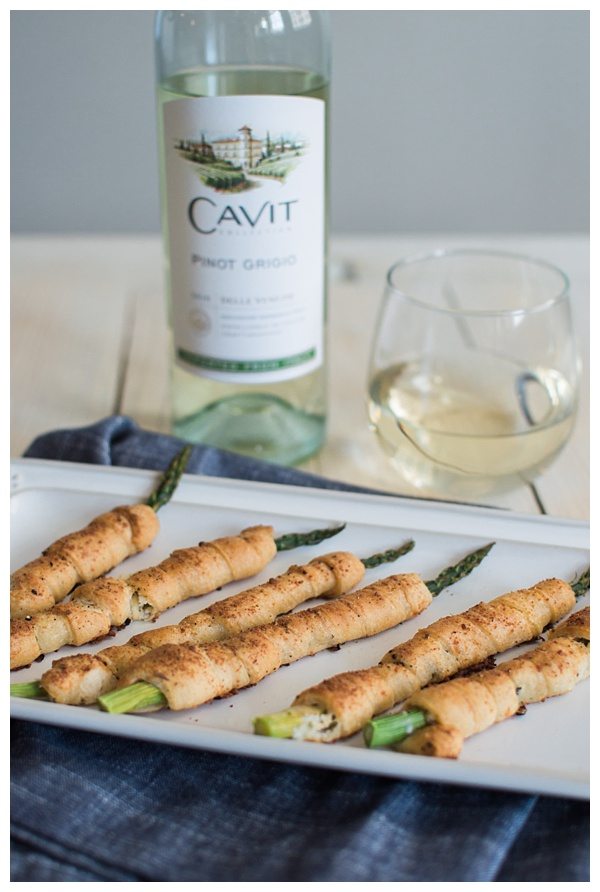 Cavit first introduced Pinot Grigio into the United States in 1977 and is excited to celebrate National Pinot Grigio Day on May 26. Pinot Grigio is ideal for the warmer months and this Memorial Day Weekend is the perfect time to kick off Pinot Grigio drinking season!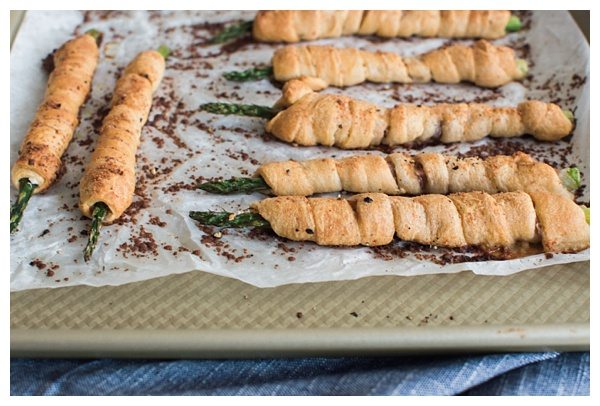 If you're looking for a few other great appetizers to serve with the asparagus bundles, check out two of my favorites:
See Also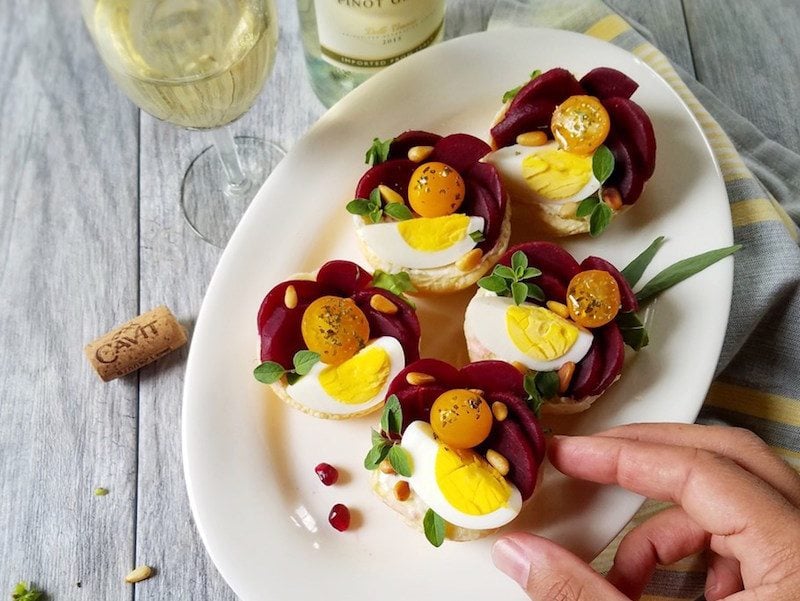 Bacon-Wrapped Dates with Manchego and Spicy Honey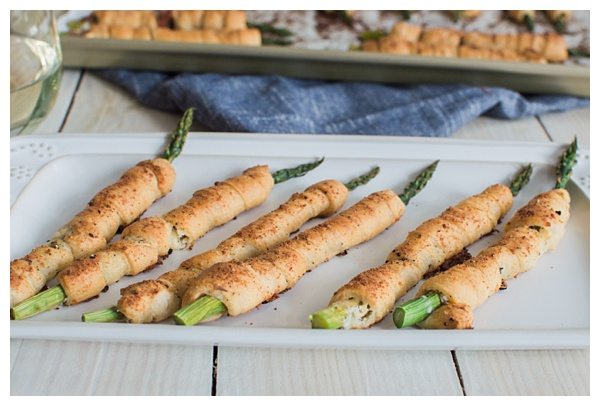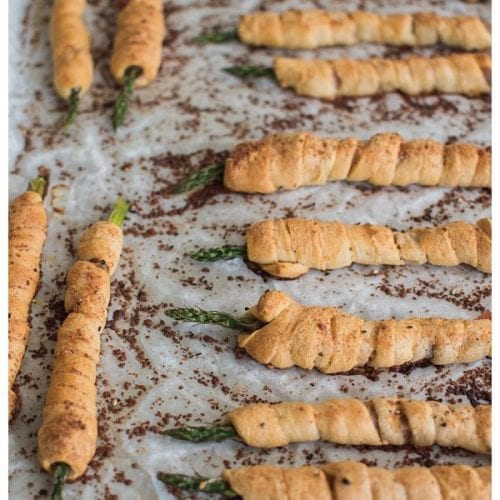 National Pinot Grigio Day: Wrapped Asparagus Bundles
Jordan Hamons
Wrapped in prosciutto, garlic-herb cheese, and dough and baked until golden, these wrapped asparagus bundles are appetizer perfection.
Ingredients
1

cup

grated Parmesan

1

package Pillsbury Crescent Seamless Dough Sheets

1

package Boursin Garlic & Fine Herbs Cheese

softened to room temperature

2

pounds

asparagus

trimmed or snapped to remove tough ends

20

pieces

prosciutto

Kosher salt and freshly ground black pepper
Instructions
Preheat the oven to 350 degrees F. Line a baking sheet with parchment paper.

Spread out the Parmesan cheese on a plate or in a shallow baking dish.

Lightly dust a clean work space with flour. Unroll the crescent roll dough and lay it on your work area. Use a rolling pin to lightly roll over the dough and roll it out until it's about 1/4 inch thick.

With an offset spatula, spread the cheese evenly over the dough. Using a sharp knife or pizza cutter, cut the dough into 1/8-inch wide strips.

Take a stalk of asparagus and wrap it in a piece of prosciutto and then with a strip of dough, leaving the tip of the stalk exposed. Roll the wrapped asparagus in the Parmesan cheese until the dough is nicely coated. Place the asparagus on the prepared baking sheet. Repeat until all of the asparagus stalks are wrapped in dough.

Sprinkle the asparagus with salt and pepper. Then sprinkle with any remaining Parmesan cheese.

Place the baking sheet in the over and bake for 12-15 minutes or until the dough is puffed and golden brown. Serve immediately.
jordanhamons
Jordan Hamons is a classically-trained chef, cooking teacher, and food and travel writer based in Cincinnati, Ohio. Her culinary perspective is simple — she cooks food that tastes really good and is made using traditional recipes and great ingredients. Skilled in both the savory and pastry kitchens, Jordan loves food that is internationally influenced and reminds her of a special memory or connects her to a far away place. Jordan has traveled the world to learn international cooking techniques and taste the best food around the globe. She writes a culinary travel blog called The Hungry Traveler.