PARTNER POST: May 26 is National Pinot Grigio Day. We're celebrating with Cavit Wines by sharing refreshing spring and summer recipes that pair perfectly with Pinot Grigio.
These tortilla-crusted shrimp with taco spices make for a delicious crunchy shrimp appetizer paired with a glass of white wine.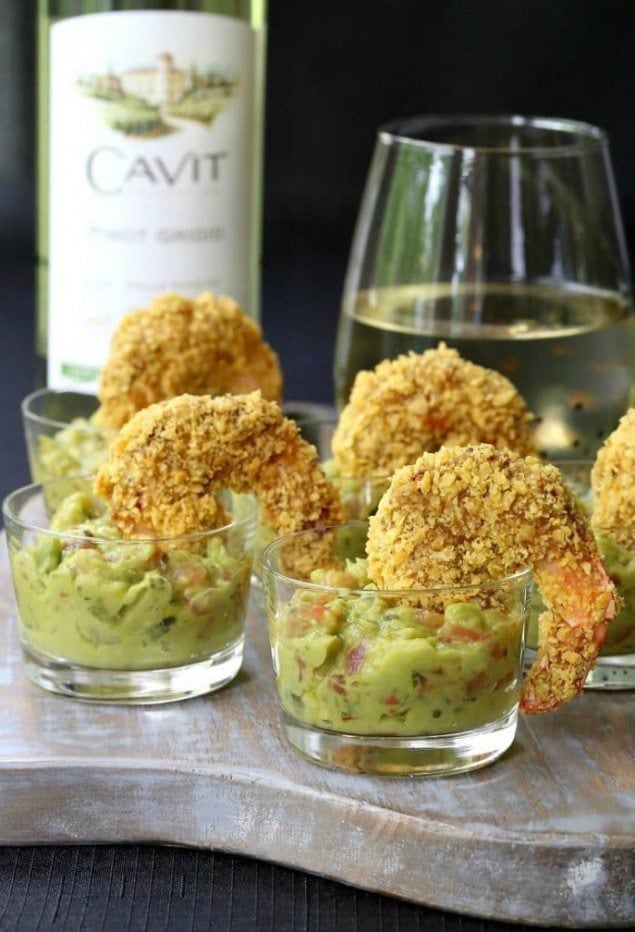 That is definitely one of my favorite things…when happy hour just turns into dinner. It doesn't have to be tons of people or a big production of food and drinks.
It can be a bottle of wine and some cheese and one really tasty prepared appetizer like this Tortilla Crusted Taco Shrimp. This shrimp is so simple, with only a few ingredients…you'll be wanting it for appetizers or a light dinner any night of the week!
Cavit Pinot Grigio is one of our go to wines for cocktail hour…or just after work, when you're winding down from the day. We are definitely a household that enjoys a glass of wine most nights with dinner – and after dinner – depending on how long we like to extend the night. So when Cavit announced that May 26th is the first EVER National Pinot Grigio Day…we knew we had to step things up and make an epic appetizer to go along with a cold, crisp glass of Pinot Grigio.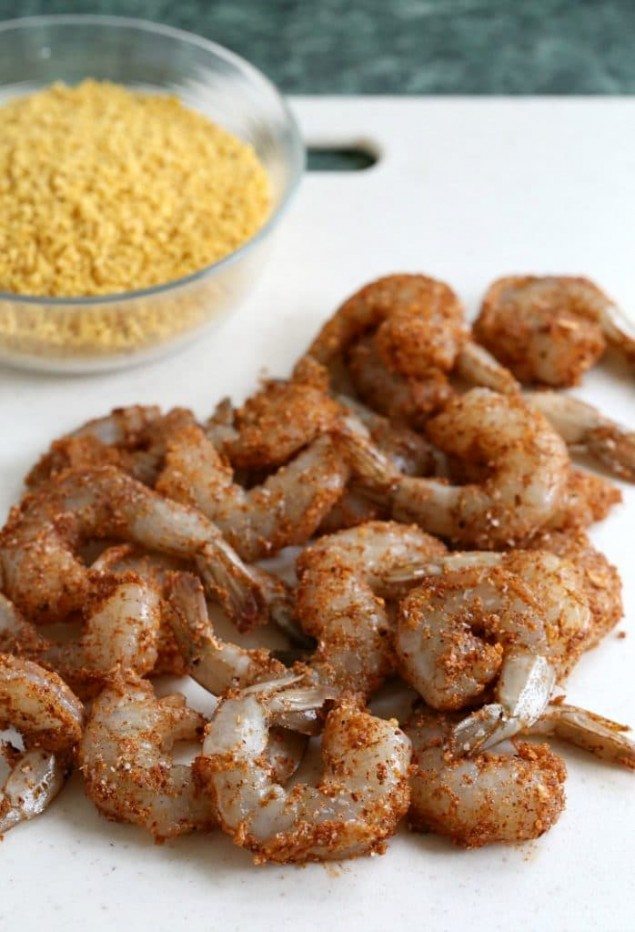 Cavit introduced Pinto Grigio to the USA way back in 1977. We've been drinking this wine from Northern Italy for a long time people. It's a classic, and it's always a favorite.
You can make these shrimp for appetizers or make them for dinner, they work both ways. And like I said, they're so easy to make you might as well go ahead and make a bunch because they'll be gone in a flash.
Start of by seasoning the shrimp with some salt and taco seasoning.
Toss to coat, then dip in beaten eggs and finally in crushed tortilla chips for the coating. Now chill your Cavit Pinot Grigio…bake and eat.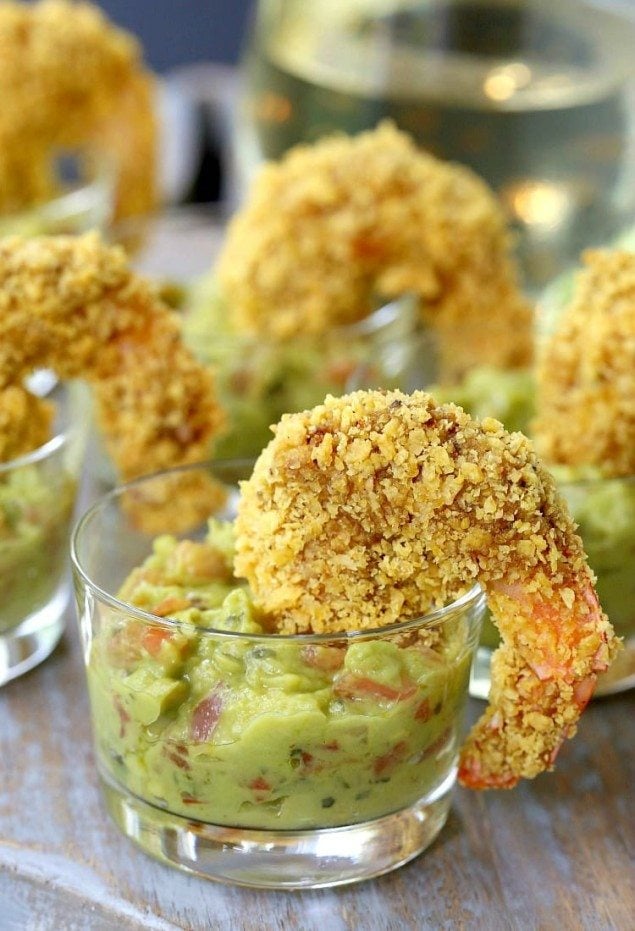 The flavors of this Pinot Grigio with the tortilla crusted shrimp…it can't be beat. Just make sure that along with the wine you serve these shrimp with a good helping of guacamole on the side for dipping.
Pinot Grigio Day is in two days – May 26th! Grab some shrimp, grab some wine and let's celebrate! No that I need a reason to drink wine, on any day, but since it's a National holiday and all…I hate to disappoint.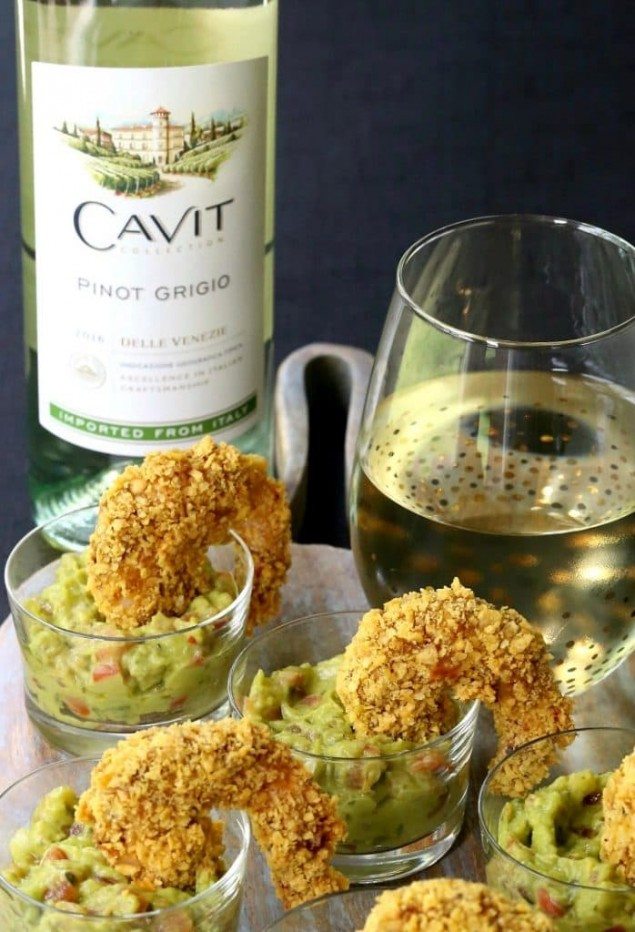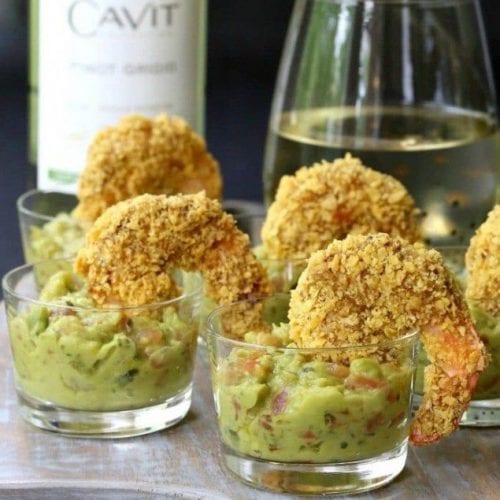 National Pinot Grigio Day: Crunchy Taco Shrimp
Dan George
These tortilla-crusted shrimp with taco spices make for a delicious crunchy shrimp appetizer paired with a glass of white wine.
Ingredients
1

pound

of large shrimp

deveined with tail left on

2

cups

crushed tortilla chips

2

tablespoons

taco seasoning

1

teaspoon

salt

2

eggs

beaten

Guacamole for serving
Instructions
Preheat the oven to 425 degrees.

Season the shrimp with the taco seasoning and the salt, tossing to coat.

Place the eggs in one bowl and the crushed tortilla chips in another bowl.

Dip each shrimp in the eggs, letting all the excess drip off, then into the tortilla chips pressing the chips onto the shrimp.

Spray a baking sheet with cooking spray and place the shrimp on in an even layer.

Cook for 5 minutes, then flip the shrimp over to the other side for another 5 minutes.

Serve with guacamole on the side for dipping.
Dan George
Born and raised in New Jersey, Dan started the web site Mantitlement as a way to learn how to cook for the first time from his wife, Christie. Christie has always been the primary cook in the household and Dan got used to having her three-course, restaurant quality meals for dinner every night. Well, it was time he learned how to do some cooking on his own, and that's how Mantitlement got started. Dan believes that everyone is entitled to having great food and drinks at home...and he can show you how to make them with his collection of recipes!