PARTNER POST: May 26 is National Pinot Grigio Day. We're celebrating with Cavit Wines by sharing refreshing spring and summer recipes that pair perfectly with Pinot Grigio.
Elegant, yet realistic to make at the last minute, this cod with summer vegetables is delicious, refreshing and is perfect for an impromptu date night with a glass of wine.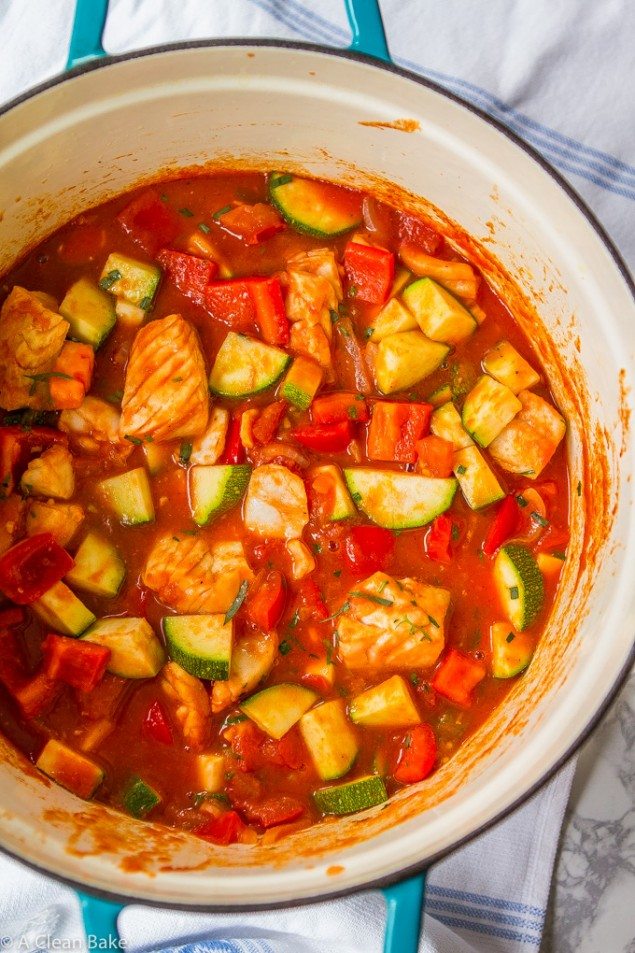 The date night struggle is real. Bryan and I haven't had a date night in a really long time, as is the case for so many parents of a young child(ren), and it sucks. Even before Baby Bake was born, we weren't the best at it, but at least we had the option: we could, if we wanted to, pop out for sushi and cocktails or get takeout and a nice bottle of wine, and have an impromptu movie night. Now, it's all RUSH HOME! INHALE DINNER! GET THE BABY TO SLEEP! CLEAN UP! HOW IS IT MIDNIGHT ALREADY!?
Sometimes my body is run down and the healthiest thing I can do for myself is eat a really strict, clean diet to give my system a rest. Other times, it's my mind that is run down or my husband and I haven't really had much time together in awhile and that usually means one of the healthiest things I can do for myself or for us is relax together with a glass of wine. Can you relate?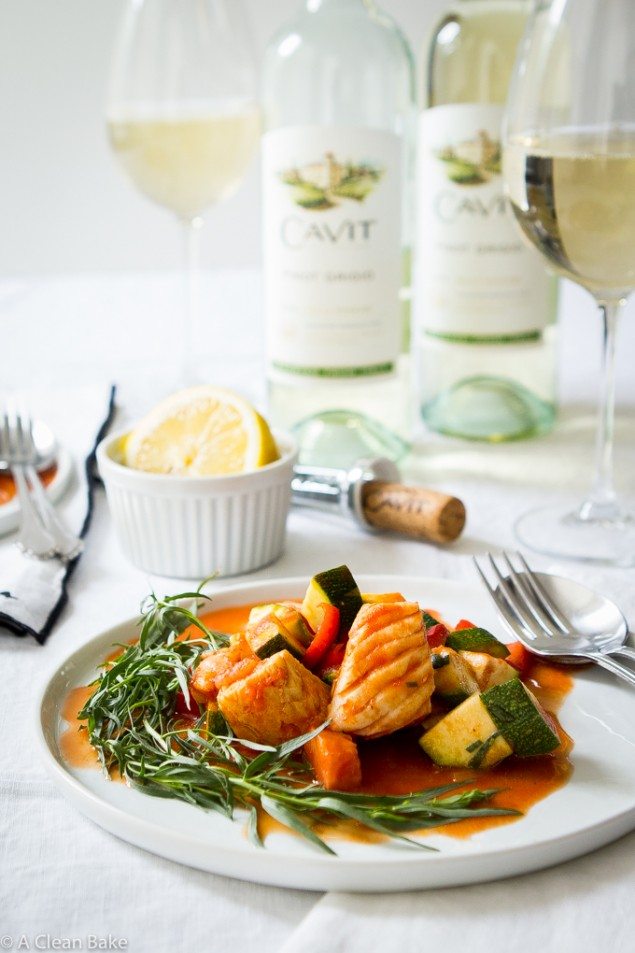 That's why this recipe is both elegant and realistic (read: not too complicated or time consuming), and pairs well with Pinot Grigio, a light, crisp white wine hailing from the northern region of Italy, that is perfect to accompany dinner or appetizers all summer long. Actually, this recipe is perfectly timed, since tomorrow happens to be National Pinot Grigio Day (aren't you glad you didn't go another year of your life without knowing that was a holiday?).
But that shouldn't stop you from making this dish all summer long. This is, after all, a summer dish (it says so right there in the title!) (which is convenient, since I just made up the title!) and the season is just getting started. You can tell that summer is upon us by bounty of summer produce just starting to hit the supermarket shelves and – for those of you who are especially lucky and/or green-thumbed – soon to begin to make an appearance in backyard gardens.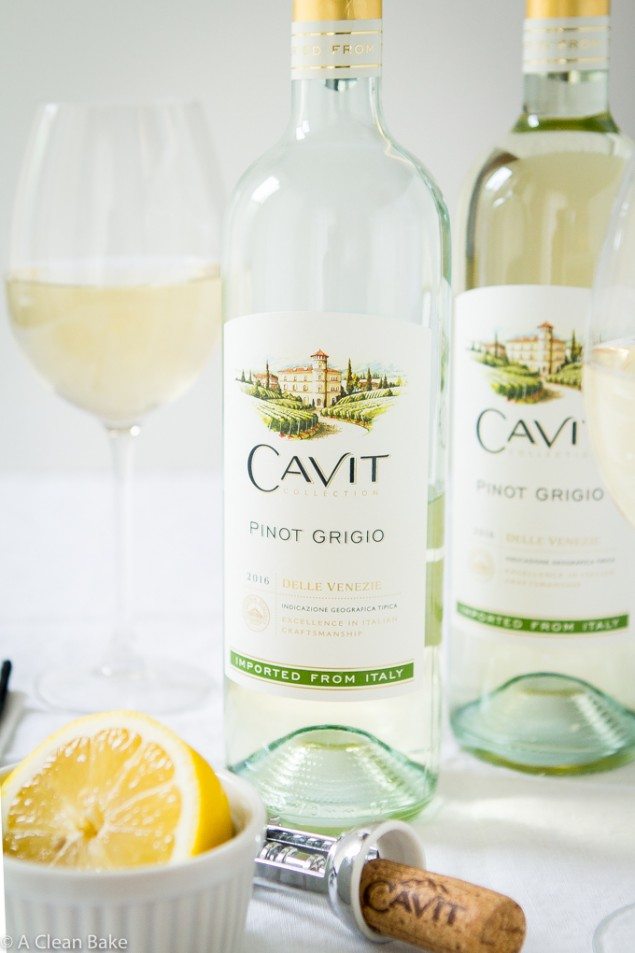 When that happens (the former; I can't keep plants alive!) I just tend to buy as much produce as I can carry and figure out what to do with it later. That was, of course, the inspiration for this recipe and as such, it is a pretty flexible one. For example:
Use whatever summer produce is most fresh. Or, if your goal is to minimize waste, least fresh works too.
Same goes for the herbs: I used tarragon here for a pseudo-south-of-France flavor. I imagine eating a dish like this in some seaside town while wearing a striped shirt and listening to the sound of the ocean. But you can use another fresh herb – maybe thyme – if you prefer.
On that note, feel free to use wild caught fish that was pulled out of the ocean just hours before it goes into the pan but for those of us who live in reality (or landlocked locales), just find the freshest, best quality (meaning wild and/or sustainably caught) mild fish you can.
This recipe lacks starch but if you want to include it (especially if you are pairing it with Pinot Grigio, which I recommend!) you can add potatoes (either on the side or directly into the dish), serve it over rice or find some really good crusty gluten free bread to sop up the sauce.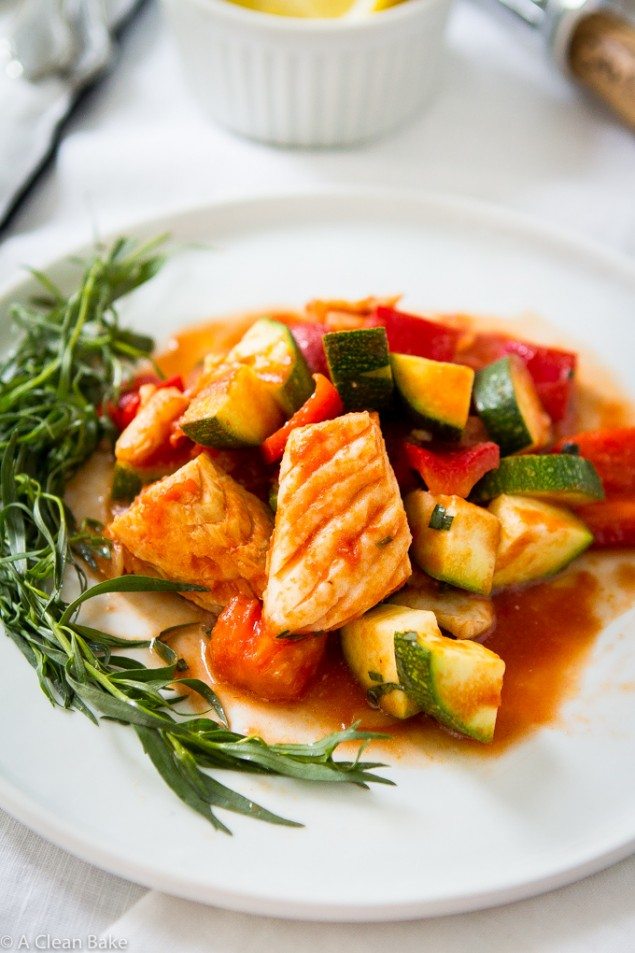 Really, just do what you need to do to make this dish as easy and enjoyable as possible for you – up to and including pairing it with a glass of Pinot Grigio. Here's to bringing back date nights!
Print

National Pinot Grigio Day: Cod and Summer Vegetables
---
Author:

Nora Schlesinger

Yield:

2

large servings

1

x
Description
Elegant, yet realistic to make at the last minute, this cod with summer vegetables is delicious, refreshing and is perfect for an impromptu date night with a glass of wine.
---
2 Tablespoons

extra virgin olive oil

3/4 cup

thinly sliced onion (yield of about

one

medium)

3/4

pound fresh or frozen defrosted cod fillet (cut into large chunks, if desired (optional; you can leave as fillets))

1 cup

unsalted tomato puree

1

medium tomato (diced)

1

large red pepper (seeds and stem discarded and diced)

1

large zucchini (stem discarded, diced (no need to peel))

1

–

2

Tablespoons freshly squeezed lemon juice (to taste)

2 Tablespoons

fresh tarragon leaves

1/4 teaspoon

ground black pepper (or to taste)

1/8 teaspoon

fine sea salt (or to taste)
---
Instructions
Preheat the olive oil in an heavy-bottomed pan with a lid – ideally a dutch oven.
Add the sliced onions and cook slowly (sweat), over medium heat, until translucent and softened.
Add the cod and cook until it begins to brown slightly. You won't get a crust like you would with fattier fish, so just look for a bit of golden, particularly at the edges. This should only take a minute or so if you've cut up your fish. If you've kept the fillets intact, it will take slightly longer.
Add the tomato puree and stir. Then add the vegetables, lemon juice, tarragon, salt and pepper and stir again.
Cover and cook until the vegetables are tender (but not soft; don't risk overcooking them or the fish).
Adjust seasonings to taste, and serve immediately.
Nora Schlesinger
I'm a self-taught home cook and I bake allergen-free desserts that taste just as good as the real thing! Like me on Instagram for mouth-watering images @Nora_Acleanbake.