While Deer Valley is a prominent place for outdoor lovers' dreams– offering a plethora of hiking, biking trails, and skiing on the white-capped mountain ranges– foraging hasn't been high on the radar. That's until now, thanks to luxury resort Goldener Hirsh, Auberge Resorts Collection and upscale French mustard brand Maille. 
Foraging Mustard as a Sustainable Practice
The activity involves searching for wild food resources and is a great way to experience the natural world. While foraging is not a new concept, it's gaining momentum as society becomes more environmentally conscious. A fun fact to know, foraging for wild invasive foods like mustard is considered a sustainable practice. Mustard, for those unfamiliar, can be harmful to nature because it inhibits other plants from growing. Also, when it dries up in the summer, it provides fuel for wildfires. Thus foraging and eating wild mustard helps reduce this invasive species and makes the practice environmentally friendly. What's an additional benefit to foraging? It provides a form of movement (technically a combination of hiking and gardening). Therefore, the activity aligns wonderfully with the Valley's ethos for movement and living a natural lifestyle. 
Can you imagine there was a time when humans survived without grocery stores? Shocking isn't it! Here's the caveat, heading out into the wilderness with no experience will have you physically and mentally at a loss. Thankfully, Goldener Hirsh and Maille Mustard come to the rescue. 
Between August 19th – 20th, the luxe Utah hotel and the French mustard brand will host a mustard foraging expedition and workshop. The experience will begin with a local guide, Merry Harrison, who will take guests through the scenic Valley for an in-depth perspective on local flora and herbs. Following the foraging excursion, Maille mustard sommelier Chef Brandon Collins in collaboration with Executive Chef Nicolas Lebas will take guests on an exploration of a memorable dinner menu that features mustard as the quintessential ingredient and flavor enhancer. 
Ready to embark on this foraging excursion with Goldener Hirsh and Maille Mustard? Check out the website to learn more.
Post reveling in new mustard sauce skills; whether mustard is your friend or foe, check out these creative new ways to incorporate the condiment in bold or subtle recipes that don't include a hot dog.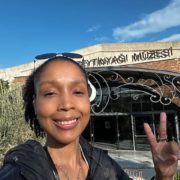 Alyssa Holder
Alyssa Holder is a writer specializing in food and travel topics since 2015.