An adaption of an old Yottam Ottolenghi recipe, this polenta dish is deliciously decadent.
By Jess Lacey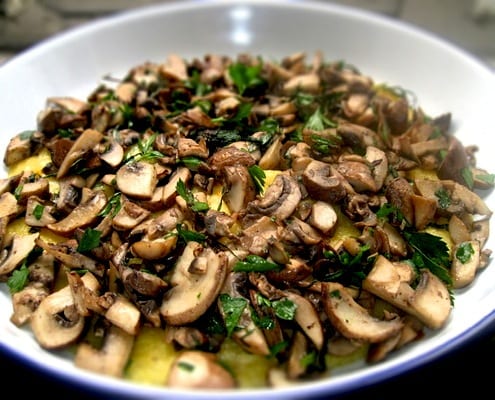 This is an adaptation of an old Yottam Ottolenghi recipe. I have never been a huge fan of polenta, though this was more on a theoretical than practical basis as I couldn't really remember what it tasted like. It tends to be served in Venice with quite a lot of dishes, and usually (in my memory at least) seemed like watery gloop. I will concede that it has probably been about 12 years since I last tried and my tastes have changed quite a bit since then. So I was pleasantly surprised when I was served this at a fantastic dinner party recently, and discovered polenta, like most things, is pretty nice when mixed with an unhealthy quantity of cheese and butter. So I have tried this recipe in both its original incarnation, and my revised version.
My revision was based largely on the fact that I made the rookie mistake of going food shopping when spectacularly hungry, and ended up buying Applewood cheese on a whim. This is an English smoked cheddar, and the smoky flavour was a lovely complement to the mushrooms (also a bit cheaper and easier than buying both tallegio and parmesan). I also omitted lemon thyme, but only because I don't really like it, and used a lot of chopped parsley instead. Serves two as a light meal.
Mushroom, Herb and Applewood Polenta
Ingredients
300g mixed mushrooms ( I used chestnut and shitake, some wild ones would be great though)
1 tablespoon each: Chopped fresh parsley, tarragon and rosemary
2 garlic cloves, chopped
150g Applewood Cheese
1 tablespoon of butter
80g polenta
vegetable stock (quantity as per polenta requirements, usually about 200-300ml)
Truffle oil (optional)
Olive oil
Instructions
Clean the mushrooms and chop roughly.
Heat some olive oil over medium in a frying pan, and add the mushrooms.
Fry for 5-6 minutes until the liquid has evaporated.
Add the garlic, half the tarragon and parsley and fry for a further 2 minutes.
Season and set aside.
Boil the stock as per quantity required by polenta.
Add the polenta.
Lower the heat to a simmer and stir constantly for 3-5 minutes until cooked (it should still be slightly liquid but with a relatively thick consistency)
Stir in the cheese and butter.
Preheat the grill.
Place the polenta on a heat proof gratin or casserole dish.
Season and top with the rosemary.
Grill for 2-3 minutes until slightly golden and bubbling on top.
Add the mushrooms and grill for a further 1-2 minutes until heated through.
Top with remaining herbs.