A quick dinner or brunch with hearty veggies and a luscious tomato sauce that can be made ahead.
By Vicky Cohen and Ruth Fox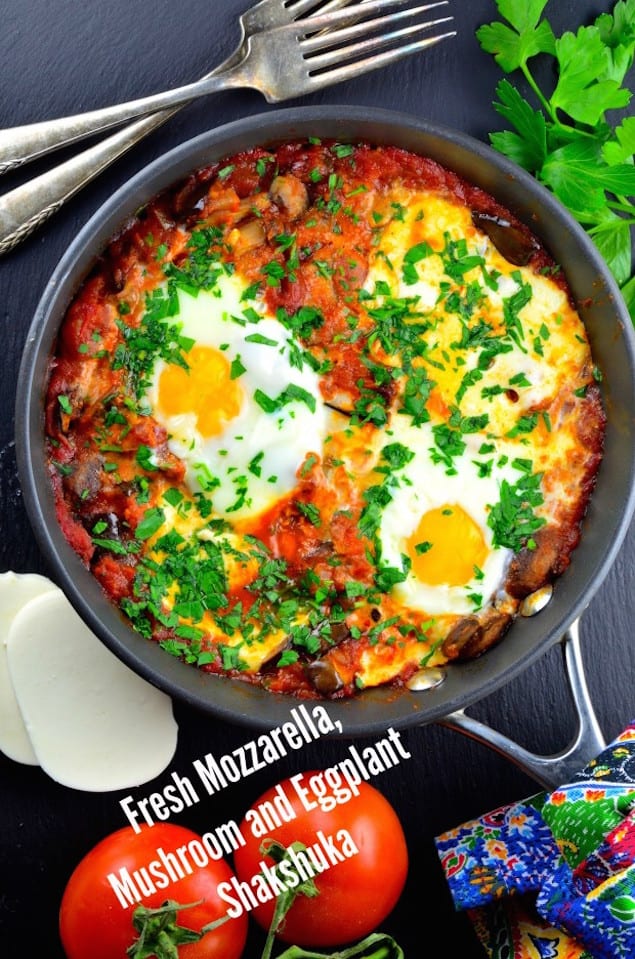 On the days when my energy is playing hide and seek and time seems to be slipping through my fingers, I make this super fast, super easy recipe. Veggies and sauce can be made ahead of time, so all you have to do is add the eggs and this fabulous, super creamy pre-sliced mozzarella cheese from Natural & Kosher. 20 minutes and done! Add a piece of baguette (or matza) and your favorite salad, and in less than 30 minutes you have a balanced, delicious dinner no one will complain about. Just let someone else do the dishes…

Mushroom and Eggplant Shakshuka
A quick dinner or brunch with hearty veggies and a luscious tomato sauce that can be made ahead.
Author:
Vicky Cohen and Ruth Fox
Recipe Type:
Main, Breakfast
Ingredients
For the Eggplant
½ large eggplant, diced with the skin on
1 tbsp extra virgin olive oil
¼ tsp salt
1 tsp sweet paprika
½ tsp cumin
For the Mushrooms
1-10oz package baby bella mushrooms, sliced
1 tbsp extra virgin olive oil
⅛ tsp salt
⅛ tsp ground black pepper
For the tomato sauce
1 large sweet onion, diced
2 tbsp extra virgin olive oil
2 cups canned diced tomatoes
2 cups canned crushed tomatoes
¼ tsp salt
1 tsp sweet paprika
½ tsp cumin
½ tsp Aleppo Pepper or Red pepper flakes (or to taste)
7-8 eggs
7-8 Natural and Kosher Mozzarella rounds
Instructions
To prepare the Eggplant
Preheat oven to 375F. Line a large baking sheet with parchment paper
Place diced eggplant in a bowl, add oil, salt and spices. Mix well until well coated
Transfer eggplant on lined baking sheet and bake for 20 minutes. In the meantime, prepare the mushrooms
To prepare the Mushrooms
Heat olive oil in a large skillet. Add Mushrooms, salt and pepper and cook over medium heat for 5-7 minutes until they start to brown. Set aside
To prepare the tomato Sauce
Heat olive oil In a 12" skillet. Add diced onion and cook over medium heat for 20 minutes, stirring frequently. Add tomatoes, salt, paprika, cumin and Aleppo pepper. Cook over medium heat for 10 minutes
Add baked eggplant and cooked mushrooms and stir well (the sauce will be thick)
Make a well for each on the tomato sauce and crack eggs inside. Place mozzarella rounds around the tomato sauce
Cover the pan and cook over medium heat until the whites are set, the cheese is melted and the yolks have the consistency of your preference (runny or cooked all the way)
Notes
THIS SHAKSHUKA CAN BE MADE ON A 12 INCH SKILLET OR IN AN SMALL SKILLET, COOKING TWO EGGS AT A TIME.
SHAKSHUKA IS BEST WHEN EATEN HOT WITH A CRUSTY BREAD OR MATZA FOR PASSOVER.
SAUCE AND ROASTED VEGETABLES CAN BE MADE AHEAD (2-3 DAYS) AND MIXED TOGETHER RIGHT BEFORE ADDING THE EGGS AND THE CHEESE
Vicky Cohen and Ruth Fox
We are two sisters born and raised in Barcelona, Spain, with Sephardic and Middle Eastern roots. We grew up eating the best, most flavorful, comforting home-cooked meals prepared by our mom, who taught us everything we know about cooking. When we moved here to the U.S. we felt it was really important to keep our traditions and background alive, and we've done so by sharing it with everyone we've met throughout the years. After all, what better way to make new friends and share our love and culture than through food, right? Our friends have come to enjoy our food and gatherings so much that are always asking us for our recipes. That inspired us to start a cooking blog called "May I have that recipe" where we share recipes we've created inspired by our multicultural background.