In summer its margaritas, in the fall pumpkin spice lattes, in the holiday season, its mulled wine. And who doesn't love a warm beverage that smells like a bakery.
For those unfamiliar, Mulled wine is a warm drink made from red wine, some citrus fruit, a sweetener and spices. Sometimes it is additionally spiked with vodka or rum. In Europe, mulled wine has different names. The Germans call it Gluhwein or "glow wine" and use spices and citrus flavor. Some say they even spike it with rum or amaretto. Following the Germans, The Swedish call it Gløgg. Their recipe uses a combination of red wine, port, and brandy steeped with aromatic spices.
Here in New York City, the festive beverage takes many shapes either in traditional form or can be completely unique. Take for example Our/New York's Bar Manager, Kaddy Feast who adds in a cup, of vodka, distilled right in the city. Initially when Kaddy mentioned the recipe uses vodka, I thought it would be too harsh or would clash with the spices in mulled wine. However Kaddy says the recipe is lovely and offers exceptional smoothness. What makes this recipe smooth is the unique vodka. Our/New York's vodka is complex, offers a subtle flavor followed by a clean and smooth finish–making it an exceptional addition to the mulled wine recipe.
While Kaddy's recipe is not a traditional to any of the regions mentioned earlier or any other traditional recipe for that matter, it's really home to New York because one of the star ingredients – vodka – is made in the city. As mentioned, the recipes for Mulled wine vary greatly depending on the country, region or personal tastes. Most recipes you will find suggest you use a a mixture of port and red wine. In addition to the vodka you'd need wine of course, it's recommended to opt for a cheaper one as the wine will be combined with a medley of spices and flavors.
See Also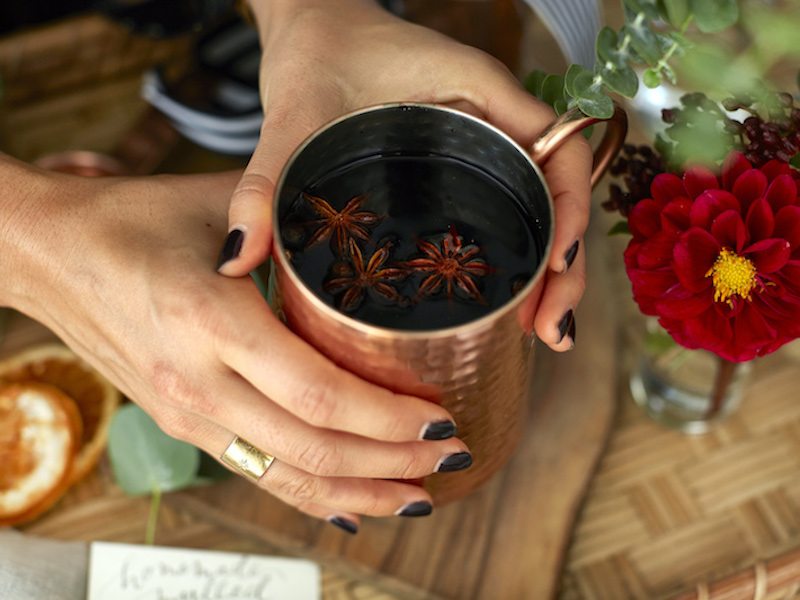 As temperatures cool down and fireplaces heat up, mulled wine is an apt libation to pair with the season and beyond. Feast spilled her secrets for drinkers make it at home. Check it out below!
1 cup Vodka ( recommends using Our/New York's)
2 750ml bottles of Red Wine
1 750ml bottle of Port Wine
2 slices of Fresh Ginger
1 tsp Vanilla Extract
Spice Mix (4 crushed Cinnamon sticks, 1 tsp Cardamom Seeds, 16 Whole cloves, 2 tsp Nutmeg)
2 Orange Peels
Handful of Raisins & Almonds
¼ cup Organic Brown Sugar
Method: Combine vodka, vanilla extract, half of spice mix, orange peels and infuse for 2-3 days. In a pot, combine red wine, port wine, fresh ginger, raisins & almonds, and second half of spice mix. Drain infused vodka into wine mixture. Add brown sugar. Heat over medium-low for 30-40 minutes. Do not boil, allow to steam.