This easy recipe for Mini Flourless Chocolate Soufflé Cakes has only 4 ingredients and can be made from start to finish in well under an hour. Gluten free and dairy free optional!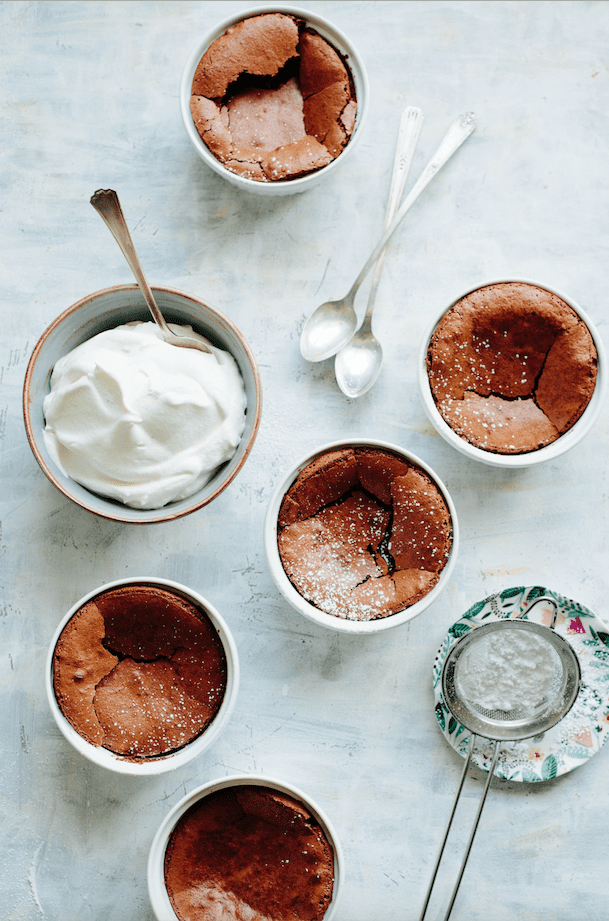 I've been bumming out a lot over this whole gluten-free thing. Every time I see a picture of a freshly baked croissant on Instagram or stumble upon a new pasta recipe, a little part of me dies inside. Food is my love, and this has been a hard pill to swallow. But, I'm doing my best to not get upset over the things I can't have, and instead trying to focus on all of the wonderful things I can have. There are many!
This recipe is a slight variation on one I used to make all the time for dinner parties when I worked as a personal chef. Flourless chocolate cake was always a godsend. It was easy to make, only required a few ingredients, could be made up to 2 days ahead and was always an absolute knock-out crowd pleaser.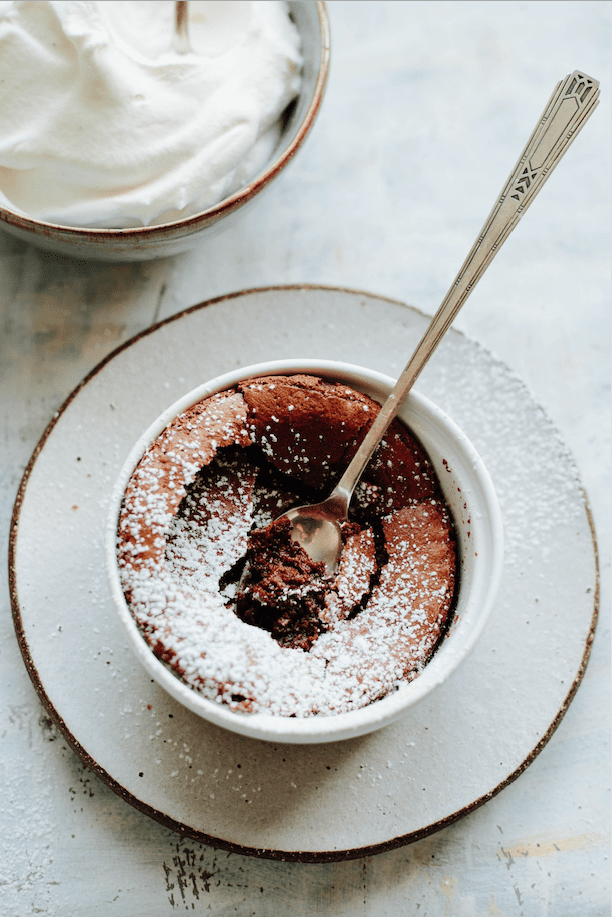 A few years ago, I added coffee and cardamom to the recipe and posted it on my blog as this Turkish Coffee Flourless Chocolate Cake. It's lovely, but sometimes I just crave the pure, rich flavor of chocolate and, well, that's exactly what this is.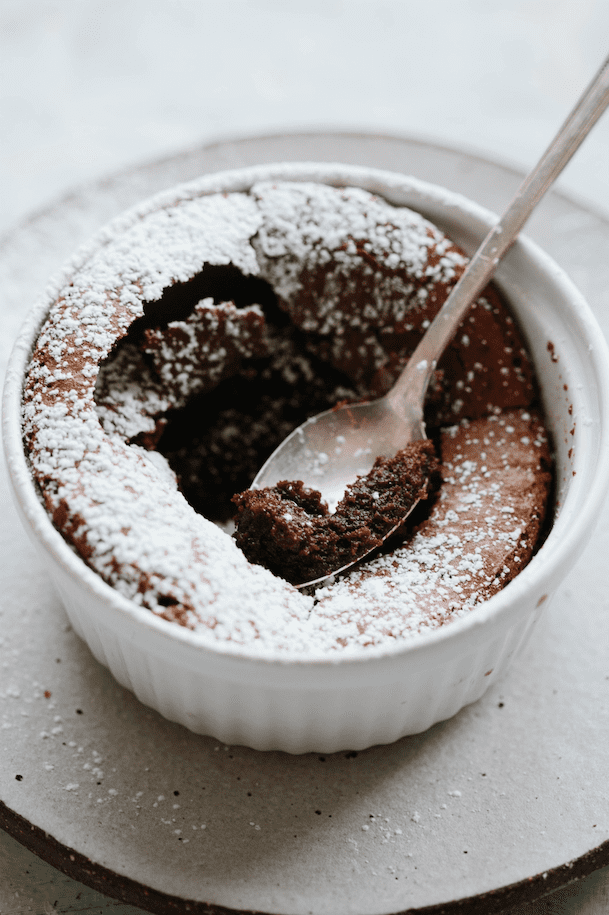 Instead of baking a whole cake, I decided to split the batter into ramekins and make little individual soufflé cakes instead. The soufflé part comes from the fact that eggs, and whipped egg whites more specifically, make up the main structure of this "cake." Baking in individual ramekins allows you to make as many or as little as you like, which is perfect for dinner parties or for a special Valentines Day dinner.
The recipe is broken down into easily divisible quantities, so you can make as few as 2, or up to 16 if you quadruple the recipe. As you can see, I made 8, and if you're wondering, yes, Chaser and I polished off each and every one. Although, that probably comes as no surprise.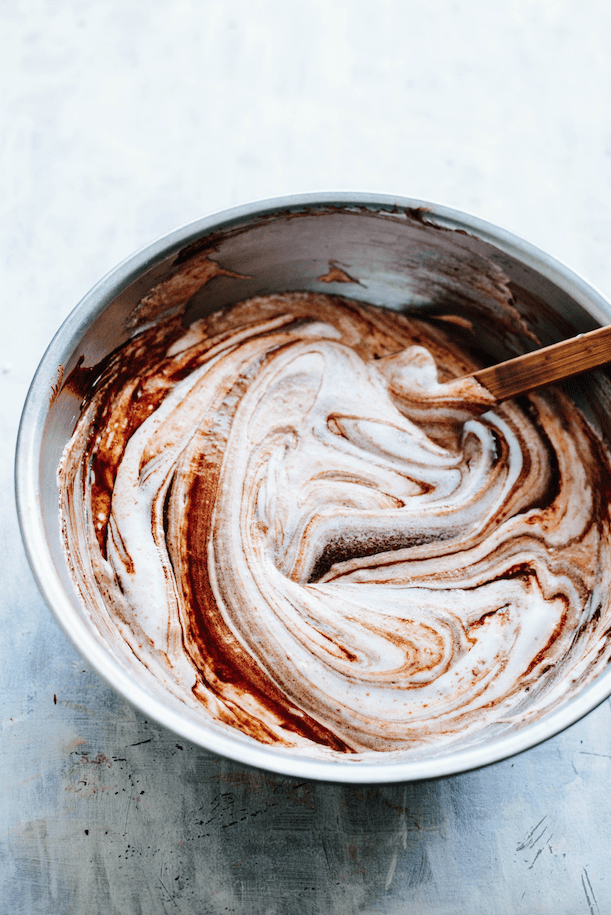 See Also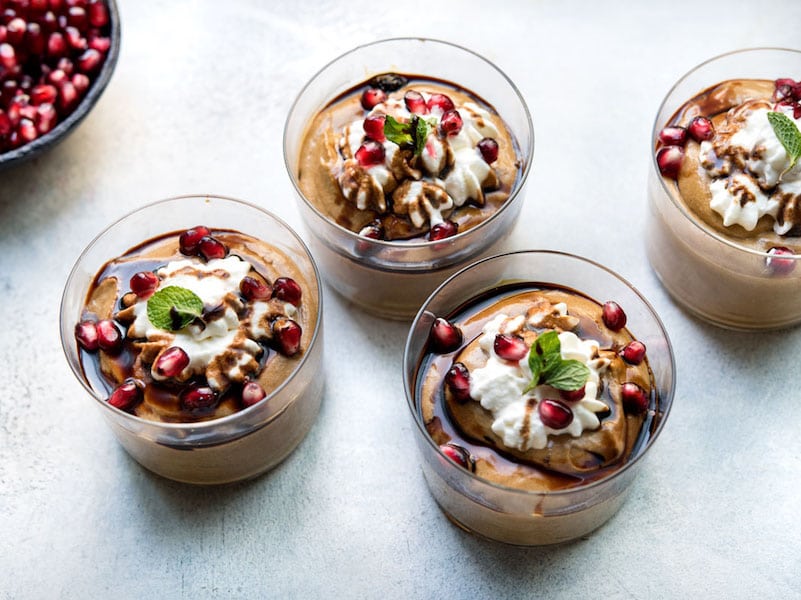 The ingredient list for this recipe is short and sweet. Salted butter (important that it's salted!), sugar, chocolate and eggs. That's all you need, folks. If you want to use unsalted butter – fine. But you best add in a bit of salt, otherwise it will lack that addictive quality that you didn't even know you needed.
Melt the chocolate and butter, whisk half of the sugar into the egg yolks, combine both of those mixtures together, then beat the remaining sugar and egg whites to soft peaks. Fold them together, bake and you're done.
For serving, you have two options. You can slightly under-bake them and serve warm with a scoop of vanilla ice cream for an intensely gooey, molten chocolate cake situation. Highly recommended. Also recommend is baking them off and then chilling them in the refrigerator until you're ready. The consistency, flavor and texture all change to more of a dense, fudgy brownie type deal. Serve them this way with a generous dollop of whipped cream, but ya know, ice cream obviously works here too.
You can't go wrong, friends. Make two. Make eight. Warm. Hot. Ice Cream. Whipped Cream. No cream at all. This recipe is fool proof, and did I mention naturally gluten free?! So no matter which way you slice it, everyone wins.
Click HERE for the recipe.