These mini chocolate-frosted funfetti cakes are the perfect little treat for two. They just so happen to be gluten free and are a perfect sweet for coming Valentine's Day festivities.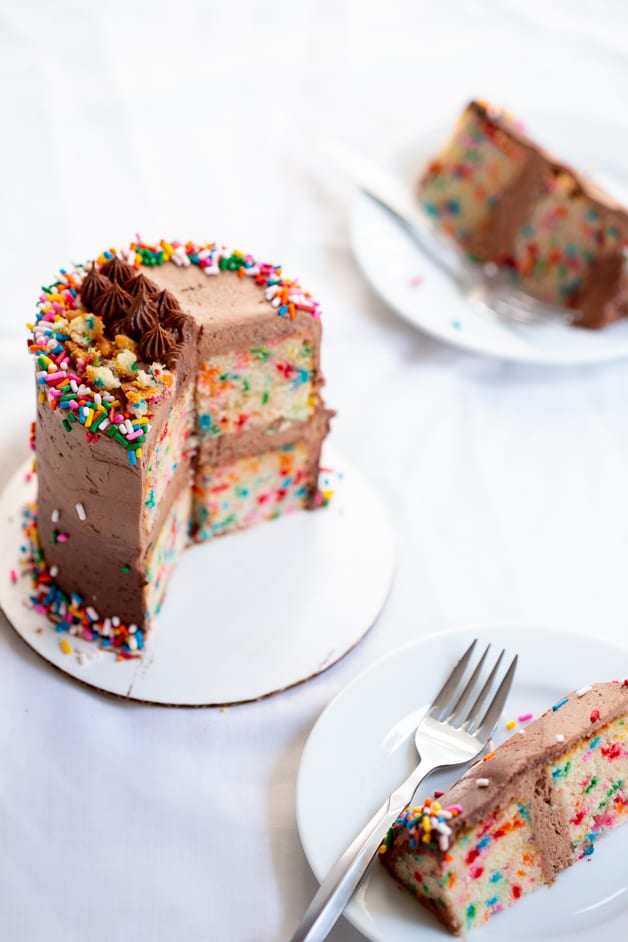 Interestingly enough, if there's one thing I feel like I've really had success with in the world of gluten-free baked goods, it's cake. Of the handful I've made, every one of them has hit the nail ON THE HEAD (especially this one). This cake is no exception; it's a from-scratch funfetti cake (not the most common thing, even in the world of non-gluten-free foods), and it's just the perfect balance of dense and moist. Plus it's in mini form and it's got ALL THE SPRINKLES ? can't not be cute.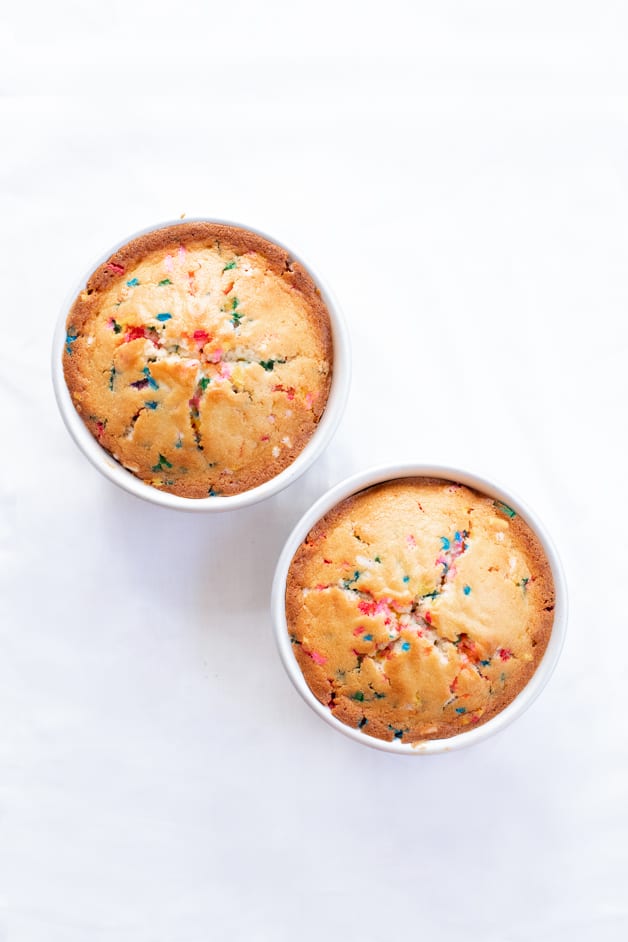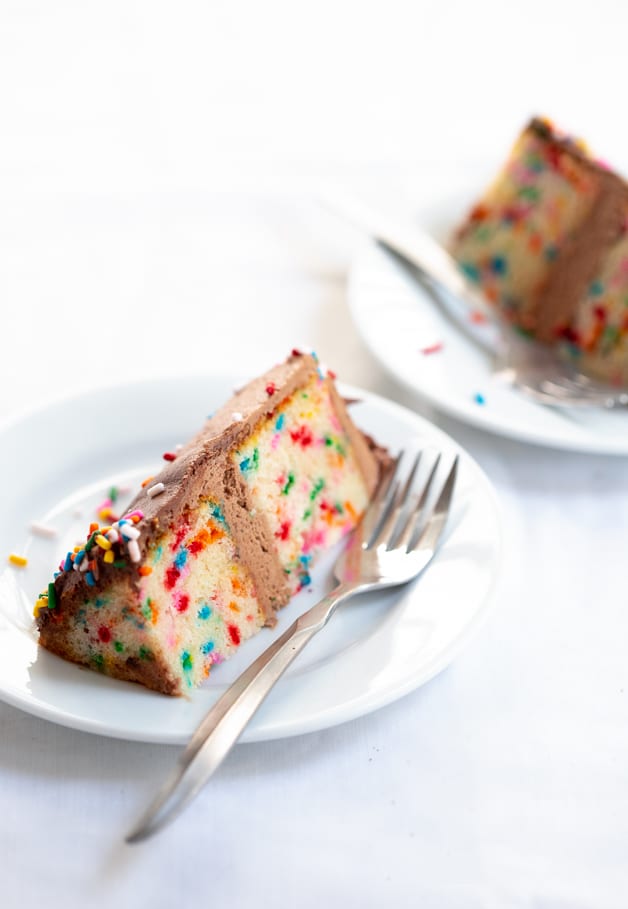 As for the frosting – you know me and my chocolate obsession, which is why I went the non-traditional route here with chocolate. It starts out as a cream cheese buttercream – because I love how cream cheese takes away from the overwhelming sugary-sweetness of frosting – but with some cocoa powder and almond extract in the mix for a little chocolate-cake-batter kinda flavor. Personally I think the vanilla-chocolate combo is a classic anyway when it comes to cakes, and there's just something about the combination with those rainbow sprinkles that makes me nostalgic.
As to my choice of decoration with this one, I'm really not sure what I was doing here, but I think it kinda works? Regardless, it's cake and it tastes good, so if you don't like the way it looks after you frost it, just cut into it and eat it. Problem solved.
See Also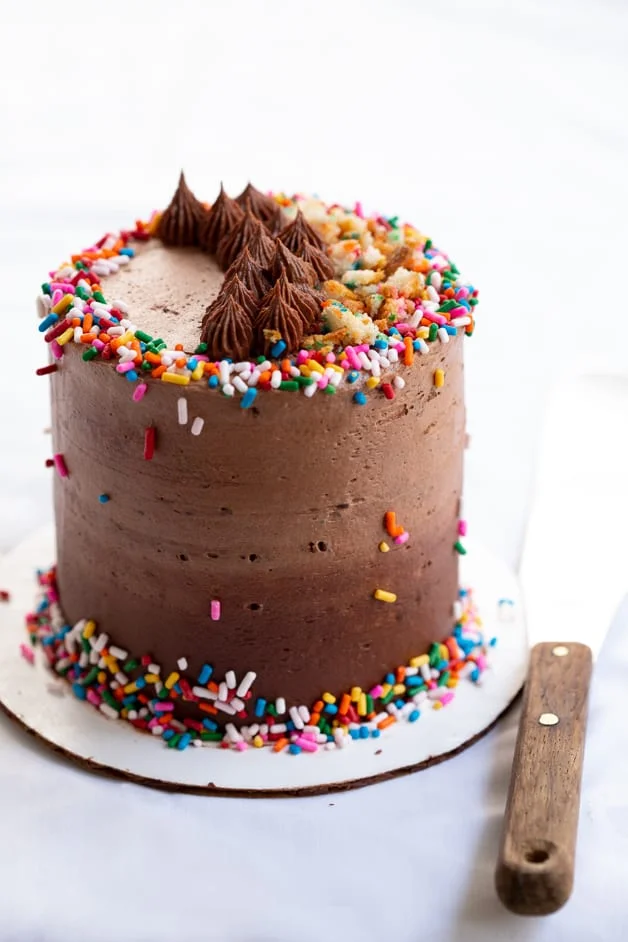 Click here for the frosting recipe.
Print
Mini Chocolate Frosted Funfetti Cakes
Author:

Alexandra Azary

Prep Time:

1 hour

Cook Time:

30 minutes

Total Time:

1 hour 30 minutes

Yield:

0

one 4"-round layer cake

1

x
Category:

Baking, Cake, Dessert
Mini Funfetti Cake
5 ounces

1 cup plus 3 tablespoons, spoon and level gluten-free baking flour (I used Bob's Red Mill 1-to-

1

Baking Flour)

3 tablespoons

cornstarch or arrowroot powder

1 teaspoon

baking powder

½ teaspoon

xanthan gum (omit if your flour contains it)

1/4 teaspoon

baking soda

1/4 teaspoon

salt

2 ½ ounces

5 tablespoons butter, room temperature

5 1/4 ounces

3/4 cup granulated sugar

1 teaspoon

vanilla extract

1/4 teaspoon

almond extract

3

egg whites

5 2/3 ounces

2/3 cup buttermilk

1/3 cup

rainbow jimmies (sprinkles)
Chocolate Cake Batter Buttercream
Click the link above for the recipe.
Instructions
Mini Funfetti Cake
Preheat oven to 350ºF. Butter two 4"x 2" round cake pans and line bottoms with parchment rounds.
In a medium bowl, whisk together the flour, cornstarch/arrowroot, baking powder, xanthan gum (if using), baking soda, and salt.
In the bowl of a stand mixer fitted with the paddle attachment, or using a bowl and handheld electric mixer, cream together the butter, sugar, vanilla extract, and almond extract on medium-high until light and fluffy (at least 3 minutes). Scrape down bowl and beater as needed.
In a separate bowl, whisk together the egg whites and buttermilk.
Beginning and ending with the dry ingredients, add ¼ of the dry mixture to the butter/sugar mixture, alternating with ? of the liquid ingredients, mixing on low speed and continuing until all parts have been added. Once all ingredients are combined, increased speed to medium and beat for one more minute to fully incorporate. Fold a few times by hand to finish.
Divide batter evenly between the two prepared pans and smooth tops with a spatula – pans will be about ¾ of the way full. Place in preheated oven and bake for 30-35 minutes, until tops are golden-brown and a toothpick inserted into the center comes out clean or with just a few moist crumbs.
Allow cakes to cool in pans completely. Once cool, remove from pans, wrap tightly in plastic wrap, and freeze while preparing frosting.
Alexandra Azary
Alexandra is a self-taught baker and food photographer who shares her creations on her personal blog, Confessions of a Bright-Eyed Baker. She's passionate about food and aims to inspire more people to bake from scratch and get comfortable in the kitchen.