Mexico On My Plate: Zucchini With Corn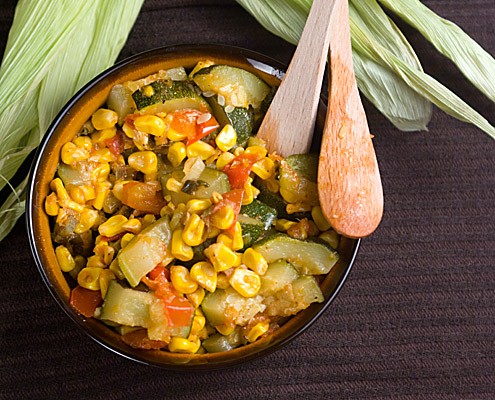 Corn is arguably the most important crop in Mexico, and one of the pillars in both traditional and modern Mexican cuisine.
By Nancy Lopez-McHugh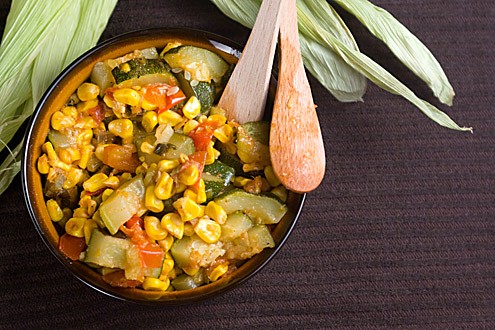 Maiz (Spanish for corn or maize) is the most important crop and ingredient in Mexican cuisine. Corn was domesticated in Mexico 10,000 years ago*, and as the time passed the crop spread throughout the Americas. After the conquistadors arrived it was then sent to Europe and later spread around the world. Nowadays there are thousands of variations of corn and it has become a very important crop around the world. The foundations of Mexican cuisine are held strong by this valuable crop. Without corn there would be no tortillas, and without tortillas there wouldn't be tostadas, enchiladas, quesadillas, nor tacos. Lest not forget atole and champurrado. You get the point, Mexican food revolves around corn.
One of my favorite childhood dish uses corn as part of it's foundation, Calabacitas con (Mais) Elote or Zucchini with Corn. My mom served it on the side of meat, like a steak. I loved, and still do, this side dish so much that I could eat only it and ignore the main dish. The sweet smell of onions caramelizing alongside the fresh scent of corn is unforgettable. The moist and mild zucchini absorbs the flavors of the corn and tomato perfectly. The tomatoes provide extra moisture and a little sweetness to the dish. The spices are minimal and all of the flavors come from the vegetables. It is fresh, healthy, light yet hearty enough to be served as a vegan meal.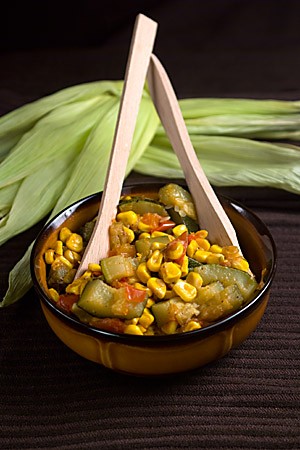 Corn is not in season right now so canned corn will do for now. Zucchini however is in season and this is a great way to enjoy fresh seasonal zucchini. Once corn comes into season in a few months you can continue to enjoy the dish and compare the taste using canned versus fresh corn on the cob. There are also a few variations to my recipe that you could try to give the dish another dimension. Some people also add fresh Poblano chile, or for a spicier version Serrano or fresh Jalapenos can be added. Toppings such as crema fresca, Mexican sour cream, or crumbled queso fresco can be added to the zucchini. Personally I like it simple, no toppings and just the few ingredients you see in the recipe below. Buen Provecho and give this healthy low-fat dish a try this summer.

Mexico On My Plate : Zucchini with Corn
A Mexican summer treat to enjoy fresh zucchini and corn.
Author:
Nancy Lopez-McHugh
Recipe Type:
Side Dish, Main Dish,
Ingredients
1 large zucchini, quartered and sliced
1 can of corn or fresh corn when in season
1 large tomato, roughly chopped
1 small white onion,finely chopped
2 garlic cloves, minced
salt, to taste
ground black pepper, to taste
1 tbsp. corn or vegetable oil
additional variations:
chile poblanos or spicy green chile like Serrano or Jalapeno
queso fresco and or Mexican sour cream, as a topping
Instructions
Heat the oil, saute the onions until translucent. Next add the garlic and cook for 2 minutes stirring often. Add the corn and cook for 5 minutes. If using fresh corn cook until the corn becomes tender. Next add the tomatoes, zucchini and spices. Stir to combine the ingredients. Cover, turn the heat to low and continue to cook until the zucchini has soften and tomatoes have broken apart.
Taste and adjust seasoning if desired. Serve warm as a side dish or as a vegan meal. If using any of the suggested toppings add them before serving.
Nancy Lopez-McHugh
Nancy Lopez-McHugh is a food blogger, photographer and published author. Most recently she has published "Yummy Pics: A Food Blogger's Guide To Better Photos".