A braised recipe for Mexican beef tacos. Cooked low and slow, these tacos are succulent, rich, and flavorful.
By Diana Bauman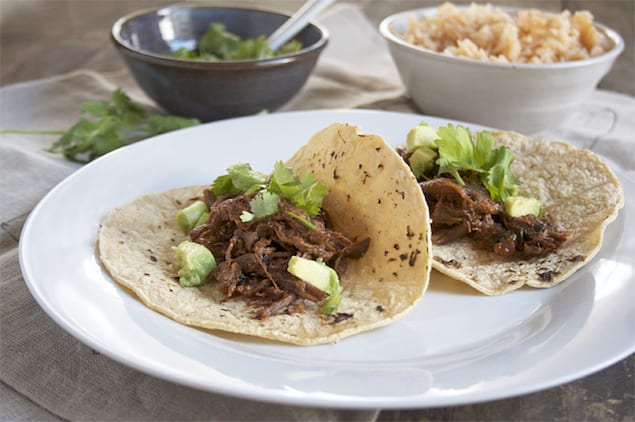 On cold, frigid days, like the ones my family has been experiencing lately, there is something about a slow cooked braise in the oven that brings warmth and comfort to a home.
Braising is one of my favorite methods of cooking. It's a traditional cooking technique to make palatable the tougher, more affordable cuts of meat. In every braise, the meat is first browned, and then finished in a covered cast iron dutch oven, in just a bit of liquid, to cook at a low temperature. In the cooking process, the low heat and moisture breaks down the tough connective tissue called collagen. It literally melts the collagen into gelatin which then turns the tough piece of meat into tender, juicy strips that can be pulled apart with a fork. It's magic, I tell you; however, it does call for time and patience.
For this particular recipe, I wanted to make some braised, Mexican beef tacos so as Rick Bayless would do, I toasted some dried chili's from my garden in a bit of oil to start the braise. Once the chili's were fragrant and left the oil with a bit of spice, I removed them and browned the seasoned roast on both sides, making sure the oil was hot enough to ensure a good crust.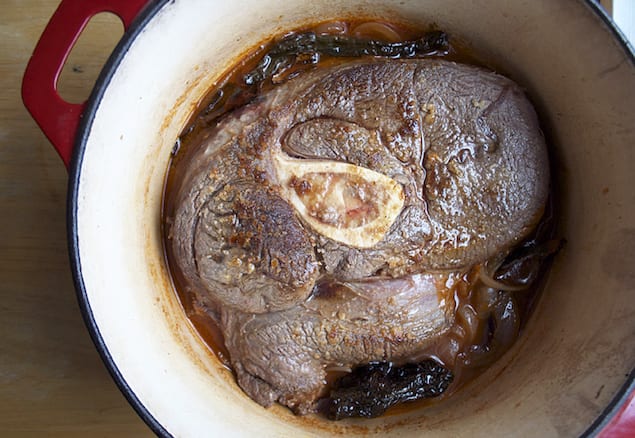 Now, because this particular cow that my family had purchased was particularly tough, it took me 4 hours to braise this meat to become fork tender, but my oh my, the wait was worth it. These braised, Mexican beef tacos were rich, full of depth in flavor … simply sensational!
See Also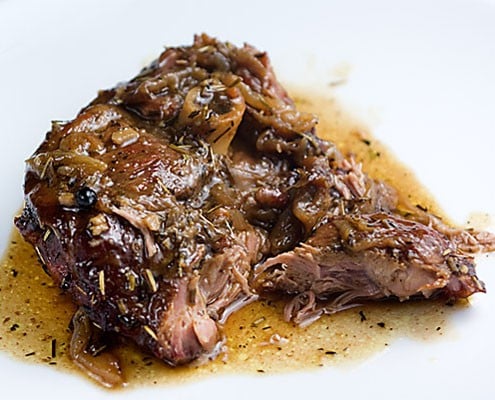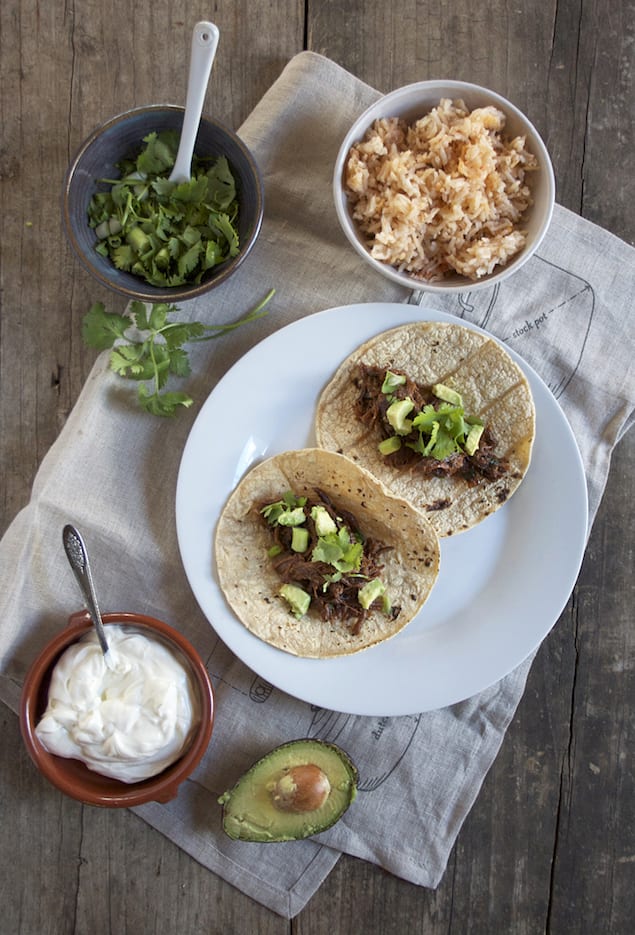 Crockpots are definitely little braising machines; however, the depth in flavor that you get from a braise cooked slow in a dutch oven just can't be replicated in a crockpot. Also, if you happen to have a really tough grassfed cow (maybe it was a much older cow), using a crockpot even on low for 10 hours may not be enough to tenderize your beef. A crockpot retains much more water than braising in a cast iron dutch oven slowly in the oven.

Mexican Braised Beef Tacos with Chilis
A braised recipe for Mexican beef tacos. Cooked low and slow, these tacos are succulent, rich, and flavorful.
Ingredients
3lb arm roast (give or take)
large granule (kosher) salt and pepper to season
2 tbls extra virgin olive oil
3 dried chili's such as guajillo or ancho
1 large white onion, sliced
3 garlic cloves, smashed
½ tsp large granule salt
1 cup beer
2 tbls tomato paste
1 cup beef broth
Instructions
Pre-heat the oven to 300F.
Pat dry and generously season the arm roast with large granule salt and pepper on both sides.
In a cast iron dutch oven, gently heat 2 tbls of olive oil and toast the chili's until they become fragrant; 1-2 minutes. Remove the chili's from the pot and set aside. Once the chili's have been removed, brown the beef on both sides; 5-8 minutes per side. Make sure that when you place the meat into the pot, that you do not disturb it.
Place it in the pot and check it after 4-5 minutes. Once browned, remove the meat from the pot and set aside. Examine your drippings. If there are burnt pieces in the pot remove them with a slotted spoon. If there was too much fat released, remove the excess leaving about 2 tbls of drippings in the pot. If there is not enough dripping left in the pot, add an additional 2 tbls of olive oil to the pot, gently bringing it back to heat.
Once you have examined and adjusted your drippings, add the onion and garlic to the pot. Sprinkle with ½ tsp of large granule salt and saute for 2-3 minutes. Add the beer, mixing and picking up all the cherished browned bits from the bottom of the pot. Bring to a slow boil, reduce the heat to a simmer and cook until reduced by half; 5-8 minutes. Once reduced by half, mix in the tomato paste and beef broth and bring to a simmer for 2-3 additional minutes.
Once the braising liquid is finished, snuggle the meat into the sauce and add the reserved chili's as well. Place a piece of parchment paper on the pot and press it down a bit so that it stands about 1 inch above the meat. Cover and place in the 300F oven. Depending on the toughness of your meat, the braise can take anywhere from 2-4 hours.
After 2 hours, check the meat. If it's not fork tender, check it again every half hour until fork tender. Once the meat is fork tender, remove it from the pot and shred it with a pair of forks placing the meat into a large bowl. Remove the chili's from the braising liquid and toss.
Mix in the remaining braising liquid into the shredded beef. If you have a marrow bone, feel free to scoop out the marrow and eat it or you can scoop it out and mix it into the beef as well.
Serve as taco meat with a variety of your favorite condiments.
Notes
Depending on the toughness of your meat, the braise can take anywhere from 2-4 hours.
Diana Bauman
As a first generation American, Diana shares her family's traditional Spanish and Mexican recipes at her successful blog Spain In Iowa. She also writes about faith, family, organic gardening, raising backyard chickens and preserving the harvest.