This gorgeously looking bread, filled with rosemary, feta cheese and sundried tomatoes, brings the smells and flavors of the Mediterranean right into your own home.
By Jehanne Ali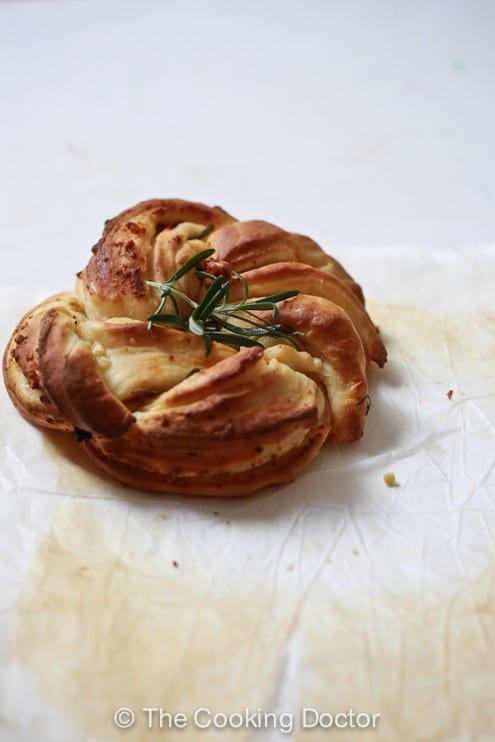 Mediterranean Rosemary Wreath
This gorgeously looking bread brings the smells and flavors of the Mediterranean right into your own home.
Ingredients
2½ cups bread flour
1 cup plain flour
10g instant yeast
10g salt
50ml extra virgin olive oil
1 large egg
¾ cup warm milk
½ cup crumbled feta cheese
½ cup chopped sun-dried tomatoes
a large handful rosemary leaves- chopped
a glug of olive oil
Egg wash as needed
Instructions
In a stand mixer with dough hook, combine the bread flour with the remaining ingredients except plain flour.
Knead slowly and add in the plain flour, just enough to form elastic tacky dough.
Keep dough in greased bowl until doubles in size.
Punch down the air after dough has bulked up, and roll to form 2 rectangles. You have an option of chilling half of the dough until later use.
Sprinkle the top with feta cheese, rosemary, sun dried tomato and drizzle of olive oil.
Roll tightly, and slit the dough all the way lengthwise. ( refer to pic above).
Twist the log and coil inward to form a wreath, combining both ends together.
Brush top with egg wash.
Bake at preheated oven of 395F for 12-14 minutes.
Notes
If hand kneading, follow the steps as above, it will take only slightly longer than stand mixer but totally doable.
Jehanne Ali
Jehanne is an enthusiastic baker, food blogger, mother and wife all in one. She swaps her scalpel from her day job as a doctor to kitchen utensils in the evening and creates magical treatment of healthy treats for her family, which she shares in her blog, The Cooking Doctor. She is a firm advocate of healthy eating and always believes that honest and healthy food will steer you clear from the doctors.