"If you're going to eat lobster, you might as well poach it in butter," says Matthew Tropeano, Executive Chef of La Silhouette in New York.  And boy, is he right.
By Matthew Tropeano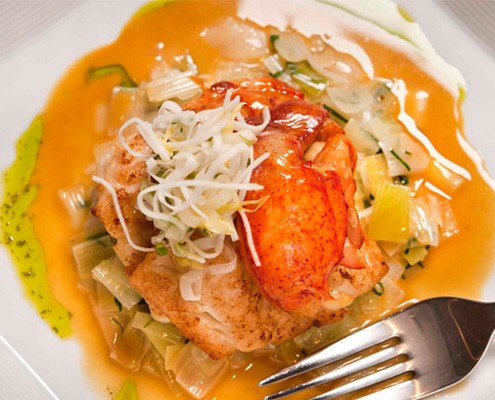 My lobster philosophy is very simple: "If you're going to eat lobster, you might as well poach it in butter.".
This succulent seafood dish utilizes a classic 'Sauce Americaine' and leek fondue. The end result is rich but not heavy, flavorful and in complete balance. It is a recipe that easily be used impress at any dinner party.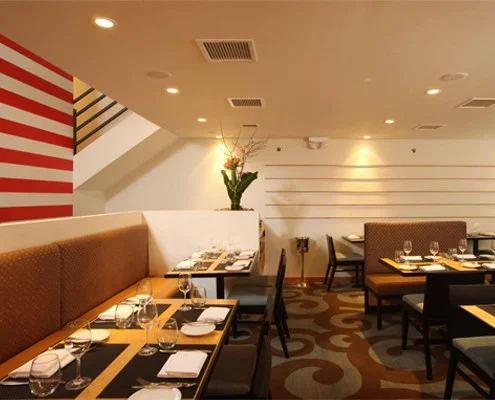 Print
Matthew Tropeano's Black Bass and Butter Poached Lobster
Black Bass and Butter Poached Lobster with Sauce Americaine and Leek Fondue
Prep Time:

20 mins

Cook Time:

1 hour 30 mins

Total Time:

1 hour 50 minutes

Yield:

2

1

x
1

2lb black bass, filleted and skin off

1

1lb Maine lobster

1

large leek, small diced white and light green parts only (save the dark green part for soups)
cup (118.3 g) of sliced onions, celery, and carrot (equal parts)
cup (118.3 g) of tarragon

1 cup

(.

236

L) of Cognac

2 cups

(.

473

L) dry white wine
cup (.118 L) Pernod

3

plum tomatoes, seeded and chopped
cup (59.15 mL) heavy cream

2

sticks of butter, unsalted
Instructions
FOR THE LOBSTER AND AMERICAIN SAUCE:
Boil ½ gallon of water with ½ cup of white vinegar.
Place lobster in a deep bowl. Pour boiling water over lobsters. Keep the lobster submerged for 3 minutes and no longer.
Remove the lobster from the water and take the meat out of the shells. The meat should be "undercooked". Reserve the lobsters and refrigerate. Save the lobster shells and bodies.
In a heavy sauce pot, saute the lobster shells in olive oil.
Add the cup of mixed onion, celery and carrot. Cook until vegetables are translucent.
Add in the chopped tomatoes. Cook 5 minutes.
Add cognac, Pernod, and white wine. Reduce liquid to half.
Finally, cover the shells and vegetables with cold water.
Bring stock to a boil, and reduce to a simmer. Cook for 1 hour.
Strain liquid into another sauce pot. Reduce this liquid half way. Add heavy cream and whisk in 2 tbsp of butter. Reserve sauce for plating.
FOR THE LEEK FONDUE:
Add 2 tbsp of butter to a medium heated skillet. Add 1 spoon of water to that. Add the leeks, some salt and white pepper for seasoning.
Cover leeks with parchment paper, to slowly steam while cooking for 10 minutes.
Reserve leeks for plating.
TO COOK THE LOBSTER:
Place a ¼ cup of water in a small sauce pan.
Cut 1 stick of butter into small cubes.
Warm the water on medium to high heat and gradually whisk in the butter to make buerre fondue. The butter should melt into the pan, but not separate.
Cut the lobster tail in half lengthwise.
Place the tail, knuckles, and claws into the buerre fondue on low heat. Gently warm the lobster and hold for plating.
TO COOK THE BASS:
In a medium sauté pan, heat ¼ cup of olive oil.
Saute the fish on high heat for 2 minutes on one side.
Then flip the fish and finish cooking for about 2 more minutes.
TO PLATE:
Place a mound of the leek fondue on the base of the plate.
Place the black bass on top of the leeks.
Top the bass with a half lobster tail, claw, and knuckle.
Sauce the dish with the Americaine sauce.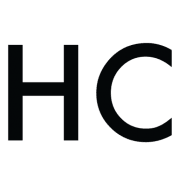 Matthew Tropeano
Executive Chef Matthew Tropeano brings his passionate approach to bold flavors and quality ingredients to La Silhouette, which opened its doors in January 2011 in the heart of Hell's Kitchen. After sharpening his skills in at The Bay Tower Room in Boston and Nana in Dallas, MA born Tropeano moved to New York in 2003. He took a line cook position at the famed La Grenouille, and just one year later - at the young age of 24 - owner Charles Masson saw Tropeano's potential and made him executive chef of the restaurant. Most recently Chef Tropeano's culinary expertise was awarded 3-stars from New York Times' critic Sam Sifton while Executive Chef at La Grenouille.