Of course matcha can be a wonderful addition to chia pudding. Coconut whipped cream to top it off? Yes please. Why didn't we think of these sooner?!
By Kristin Rosenau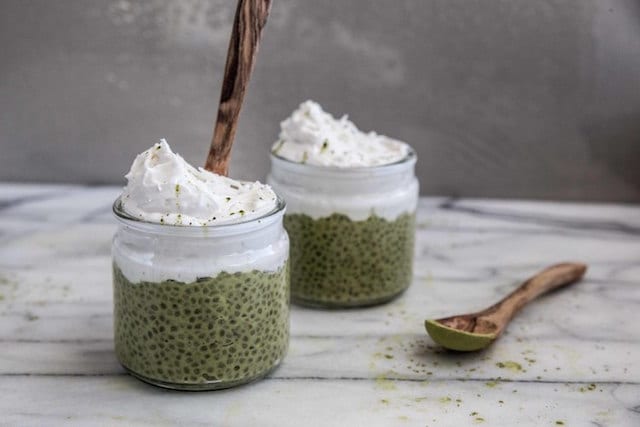 Coconut Matcha Chia Pudding is simple to make and visually striking. The matcha pudding is thickened with chia seeds and topped with a coconut whipped cream mixed with shredded coconut. The sweet, creamy nature of the coconut contrasts well against the earthy flavor of the green tea. The pudding and whipped cream balance each other beautifully—one should not be served without the other.
Matcha is powdered green tea and can be found at most tea shops and health food stores.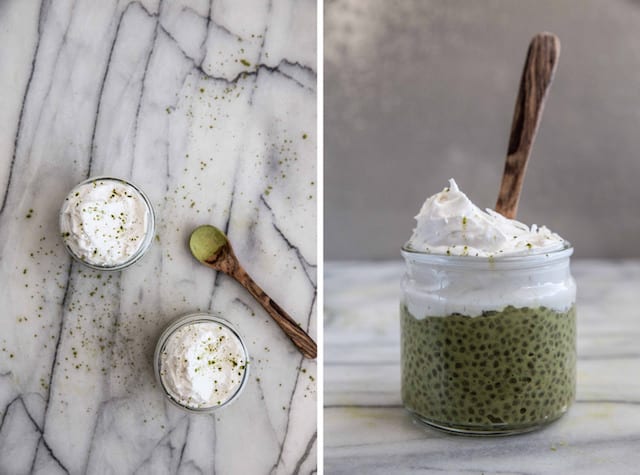 Matcha Chia Pudding with Coconut Whipped Cream
Recipe Type:
Dessert, Snack
Serves:
4 servings of ½ cup
Ingredients
14.5 ounces (1 can or 428 mL) canned coconut milk
1½ teaspoons matcha powder
1 teaspoon vanilla extract
1-2 tablespoons maple syrup (to taste)
¼ cup (50 grams) chia seeds
1 recipe Coconut Whipped Cream
⅓ cup (30 grams) shredded coconut
Instructions
In a food processor or blender, blend together the canned coconut milk, matcha powder, vanilla, and maple syrup. Transfer to a medium bowl and whisk in chia seeds. Cover and refrigerate for one hour. Then whisk the pudding once and return it to the refrigerator to set overnight.
Before serving, stir shredded coconut into coconut whipped cream. Set aside.
Divide pudding evenly between serving containers. Top with a generous amount of whipped cream and serve.