[adrotate banner="44"]
Coxinha de Frango or Brazilian Chicken Fritters, consist of a dough made with wheat flour and chicken broth, which is filled with spiced chicken meat, shaped into a chicken drumstick, and deep-fried. It is one of the most popular appetizers in Brazil, and for good reason.
By
Denise Browning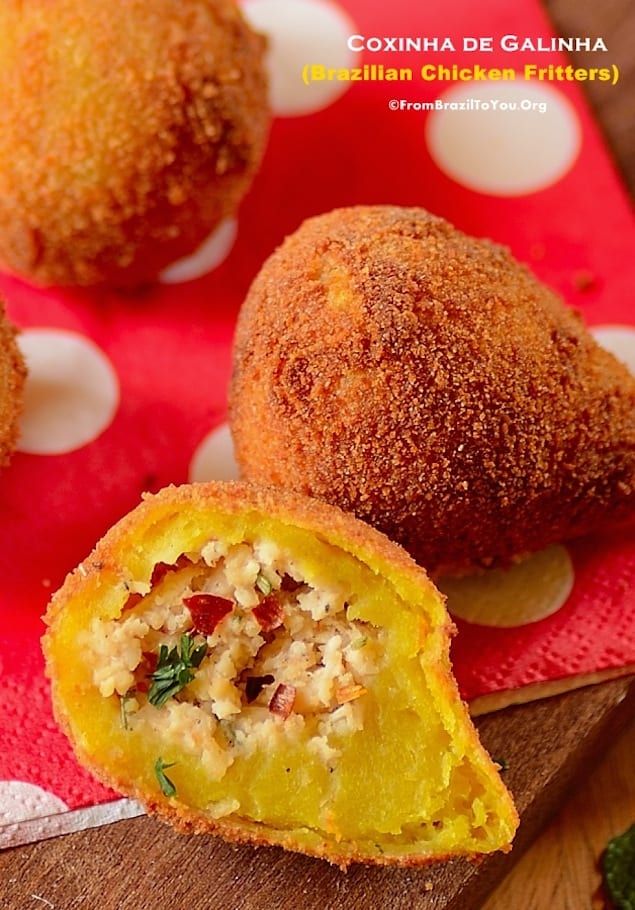 Have you ever heard about, or perhaps even gotten a chance to experience, a coxinha? "Hum? Come again!!!" Coxinha – a "little drumstick" that is actually a fritter molded into a shape resembling a chicken leg… Well, if you haven't, now is your chance… I would like to introduce to you a favorite of mine, a real star among Brazilian salgados or appetizers: Coxinha de Frango or Brazilian Chicken Fritters!
Coxinha de frango ( pronounced like koh-SHEEN-ya dee FRAHN-goo), also known as coxinha de galinha, originated in São Paulo about 2 centuries ago, having now become one of the most popular appetizers in the country. It consists of dough, originally made with wheat flour and chicken broth, which is filled with seasoned shredded chicken, shaped into a little chicken drumstick, and then deep-fried.
Coxinha de frango is a street food, although common in snack bars, bakeries, and cafés. It is also served at birthday parties and many other events as an appetizer. I have been a fan of coxinha de frango for as long as I can remember, just like everyone else who has taken a bite. The thing is unforgettable!
Well, as if this weren't enough, I am pairing this savory beauty with another star: Rioja Wine, of course!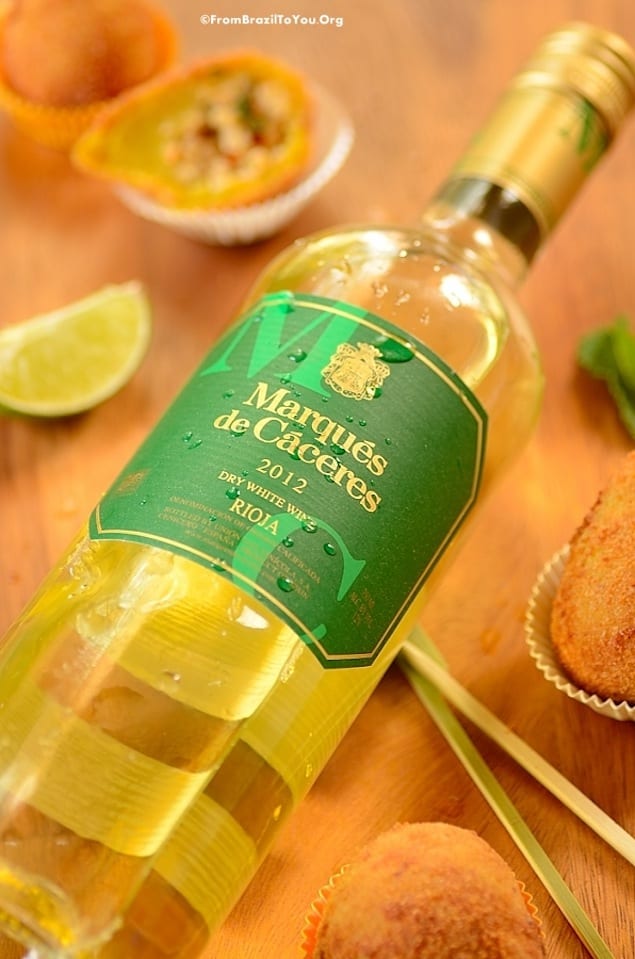 I know, I know… Rioja wine is not from Brazil (unfortunately)! But it doesn't have to be in order to pair well with coxinha de frango, our Brazilian tapas this time around. In fact, Rioja wine is so food-friendly that can perfectly complement a huge range of dishes from different cuisines — not just those from Spain and other Mediterranean countries. If you didn't know, Rioja reds, whites, and rosés are beautifully balanced in their alcohol content and acidity — complementing everything from fish to veggies, meats, and cheeses… most of the time without you even having to order different wines. How about that?!
Rioja wines are also "aged for you"! This means that Rioja winemakers age the wine for you in their cellars. When you pick up a bottle of Rioja, you can be sure it will taste great right away.
2012 Marqués de Cáceres is a dry, crisp, clean, and citrusy white wine from Rioha Alta, Spain. It goes well with our Brazilian tapas for at least 3 reasons:
1. Its clean acidity complements chicken, seafood, pastas, rice, hors d'óeuvres, sushi, fresh salads, etc.
2. This Rioja has both a long length, and lasting flavors that are not carried away by the intensity of garlic and spices in our coxinhas or chicken fritters.
3. This is a light wine that contrasts well with our heavy (fried) Brazilian tapas dish. Yes, its acidity cuts through the fat in fried foods!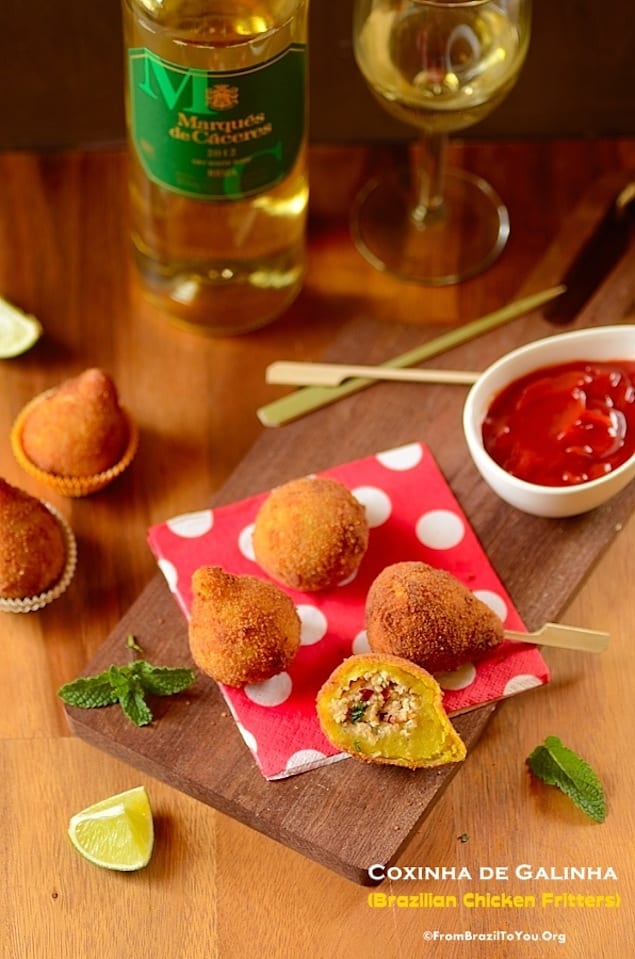 A Match Made in Heaven — Brazilian Chicken Fritters
Coxinha de Frango or Brazilian Chicken Fritters, consist of a dough made with wheat flour and chicken broth, which is filled with spiced chicken meat, shaped into a chicken drumstick, and deep-fried. It is one of the most popular appetizers in Brazil, and for good reason.
Ingredients
For the coxinha filling
2 Tablespoons olive oil
½ cup white onion, finely minced
2 garlic cloves, finely minced
3 cups cooked (or rotisserie) chicken, finely shredded
Salt and ground black pepper to taste
A pinch of red pepper flakes (optional and only if you enjoy heat)
3 Tablespoons mayonnaise (or if desired, Catupiry cheese spread - also called requeijão)
3 Tablespoons minced green onions or chives
For the coxinha dough
3-1/3 cup chicken stock (liquid)
A pinch of salt (enough to taste)
¼ teaspoon annatto or turmeric (optional)
2 teaspoons olive oil
3 cups sifted all-purpose flour
For dredging
2 cups all-purpose flour
8 large egg whites, divided
2-3 cups breadcrumbs, divided
For frying:
Enough vegetable oil to fully immerse the coxinhas for deep frying
Instructions
Prepare the filling:
In a large skillet, heat the olive oil over medium heat. Add the white onion and cook, stirring occasionally, until soft and translucent (about 2 minutes). Add the garlic and cook for about 1 minute.
In a large bowl, place the finely shredded chicken and stir in the cooked onion and garlic mixture, salt, pepper, red pepper flakes (optional) , the mayonnaise or Catupiry cheese, and green onions or chives. Set aside. NOTE: If desired, the coxinha filling can be prepared 1 or 2 days ahead and refrigerated in an airtight plastic container.
Prepare the coxinha dough:
In a large, non-stick saucepan, place the chicken stock (liquid), salt, annatto or turmeric (optional), and olive oil, and bring to a simmer over medium-low heat. When the stock is hot, add the sifted flour all at once while stirring very well. It will get more and more difficult to stir but continue to stir vigorously for about 1 minute or so until obtaining a uniformly lumpy dough.
Remove from heat and transfer the coxinha dough to an electric mixer fitted with a hook attachment. Knead dough at speed "2" for about 5 minutes or until it becomes soft and smooth (NOTE: If you don't have a mixer with a hook attachment, let dough cool enough to handle and knead by hand very well).
Scrape dough from mixing bowl onto a well-floured surface with a dough scraper or spatula, and knead a little bit more by hand. Shape the coxinha dough into a flat disk and let rest for 5 to 8 minutes at room temperature.
Using a rolling pin, roll out the dough onto a well-floured surface until it is about ¼ to ?-inch thick. Using a 3-1/4-inch round cookie cutter, cut out disks of dough and place them on a baking sheet lined with parchment paper (a metal spatula can be useful to help pry the disks from the rolling surface). Aggregate the dough leftovers, re-roll, and cut out more disks. With ?-inch thick dough, I was able to cut about 34 disks.
Scoop about 1 tablespoon of the chicken filling onto the center of each disk.
Lightly oil your hands and shape the filled disks into drumsticks by folding the dough up and around the filling into a beggar's purse shape, forming the neck of the coxinha between your encircled index finger and thumb, and gently press the filling down into the center as you close. Pinch and seal the edges. Pull the dough at the top out slightly so that it resembles a drumstick.
Use a moist towel to clean your fingers off each time they touch the filling. Make sure the dough has no cracks; if it does crack, wet your fingers in water and pinch the dough together. Flatten the rounded bottom of the coxinhas very minimally with the palm of your hand (just enough that they will be able to rest upright), and placed shaped coxinhas on a baking sheet lined with parchment paper.
Dredge coxinhas: Prepare three separate bowls for the all-purpose flour, half of the egg whites (i.e. 4 egg whites mixed with 1 teaspoon of water), and half of the breadcrumbs (i.e. about 1-1/2 cups of breadcrumbs). Pass the fritters through each bowl (flour, egg whites, and then breadcrumbs), shaking off any excess. The egg whites and breadcrumbs are divided for use in half-quantities because eventually the bowl of whites will accumulate excess of flour and the crumbs will accumulate excess whites. Both will need to be replaced in order to maintain effective coating of the coxinhas as they are dredged.
Fry coxinhas: Pour enough vegetable oil into a frying machine or heavy-bottomed pot. Heat to 350 degrees F. If you don't have a thermometer to measure the temperature, dip a small piece of the dough into the heated oil. If you hear a sizzling sound, the oil is ready. Fry the fritters in batches. Please, do not place too many coxinhas or chicken fritters in at the same time because this will lower the temperature, making the fritters oily. Make sure to turn all sides while frying the fritters so that they will brown evenly.
Transfer coxinhas or fritters to a baking sheet lined with a double sheet of paper towels to absorb any excess oil. To serve coxinhas warm, keep the finished batches in a warm oven until serving.
Coxinha can be served by itself or accompanied by ketchup, lime wedges, rosé sauce, or chimichurri sauce. Serve coxinha (s) with a chilled (and authentic) Rioja Dry White Wine, such as 2012 Marqués de Cáceres.
[adrotate banner="43″]
Denise Browning
Denise Browning is a native Brazilian foodie, trained Chef, cooking instructor, restaurant menu/recipe developer, and former lawyer. She is also the author of From Brazil To You - a blog that features Brazilian, fusion, and international dish recipes, stories, and photography of Brazil. Her writing has appeared in Cia Brasil Magazine, while her photography is frequently featured on Foodgawker, TasteSpotting, and Foodepix. She lives in Texas with her American husband and two children.