Marinated and chilled cauliflower florets play in the zesty, tangy tones and make a great side dish for hot weather.
By Ariel Rebel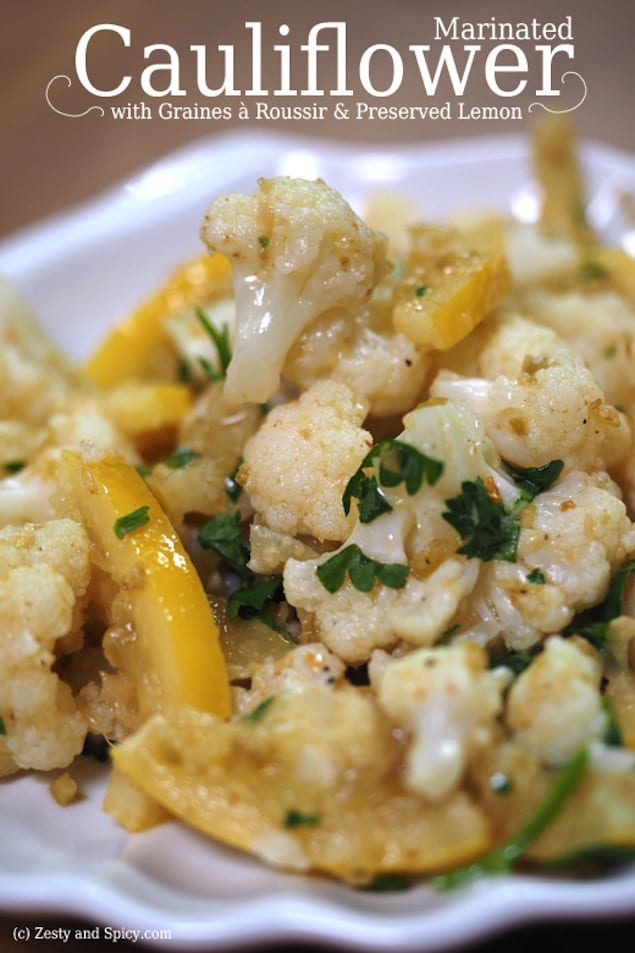 Marinated Cauliflower with Graines à Roussir and Preserved Lemons
Marinated cauliflower florets play in the zesty, tangy tones and make a great side dish for hot weather.
Ingredients
Cauliflower – small flowers 3 cups cooked for 10 min
¼ cup of green olives (about 10), finely chopped
3 garlic cloves, minced
3 tablespoon of olive oil
1 tablespoon of lemon juice
1 tablespoon of apple cider vinegar
1 preserved lemon, chopped
1 tablespoon of chopped fresh coriander leaves
½ teaspoon of powdered graines a roussir
Salt & pepper to taste
Instructions
Prep the cauliflower and keep only the florets. Measure about 3 cups of florets, steam them for 10 minutes.
Mix all the other ingredients in a big salad bowl and then mix in your steamed cauliflower.
Leave in the fridge for at least 1 hour.