Lean meat partridge basted with a sweet glaze and served with red lentils and greens.
By Bryan Picard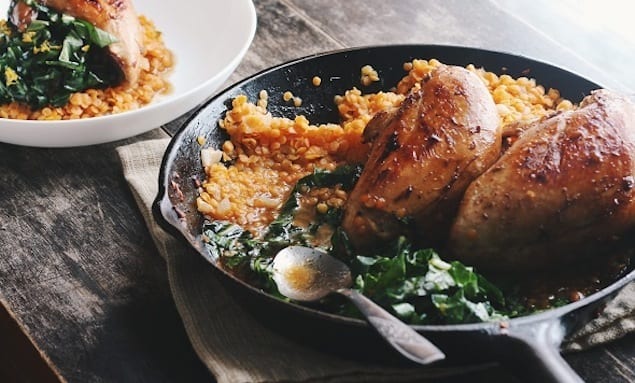 The partridge is a nonmigratory bird that nests and forages on the ground. Because it spends its life running through the heather and shrubs, it is very lean. In order to keep partridge moist and full of flavor, I baste often and leave them to rest once done. The resting period is particularly important – it allows the meat to finish cooking and also prevents it from drying out when you cut into it. Consider applying this to most of your cooked meats. I've served these sweet glazed partridges with red lentils and winter greens.
Maple-Chili Roasted Partridge
Lean meat partridge basted with a sweet glaze and served with red lentils and greens.
Ingredients
Meat
3 partridges
5 tablespoons maple syrup
1 tablespoon oil
1 garlic clove, chopped
1-2 chili pepper, finely chopped (or ½ teaspoon chili flakes)
1 tablespoon apple cider vinegar
4 tablespoons water
sea salt
Lentils
1 cup split red lentils
2 cups chicken stock or water
2 tablespoons butter
1 onion, finely chopped
1 garlic clove, chopped
1 bay leaf, crushed
sea salt
Instructions
Meat
In a bowl, add the partridge, garlic, maple syrup, oil, chili, vinegar, and a pinch of salt.
Let marinate in the fridge for about an hour.
Take the partridges out and keep the marinade aside.
Pre-heat the oven to 350° F.
Heat up a skillet on medium heat with a drizzle of oil. Once hot, sear the partridges on all sides until golden brown all around. Season them with salt. Remove from heat and add the leftover marinade and water. Cook in the oven for 20-25 minutes, basting them with the liquid every 5 minutes to get a nice glaze. If the liquid seems to reduce too much, add a bit more water. The internal temperature should be about 165° F, but remember the temperature will rise a few more degress once out of the oven, so it's best to take it out a little before that.
Leave to rest a least 10 minutes before serving. Serve with lentils and pan sauce.
Lentils
Melt the butter in a sauce pan and gently cook the onions for 5 minutes.
Add the garlic, bay leaf, and lentils. Cook for another minute then add the stock.
Simmer, half-covered, for about 10 minutes. Set aside and season with salt.
Bryan Picard
Bryan Picard is a wild and homegrown food enthusiast. He lives in the Maritimes in Canada and has worked the kitchens as a cook and chef for the past ten years. He writes on his blog The Bite House.