Mango and Pineapple Chutney with Chipotle Aioli on Hot Dogs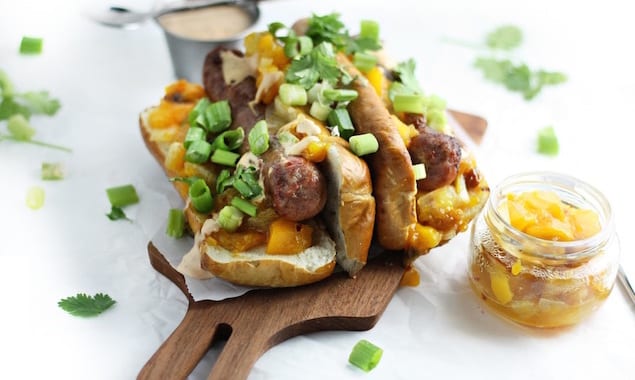 Summer is for grilling, especially hot dogs and sausages. Highlight summer fruits and flavors with a sweet mango pineapple chutney with a hint of spiciness from the red pepper flakes.
By Sarah Mason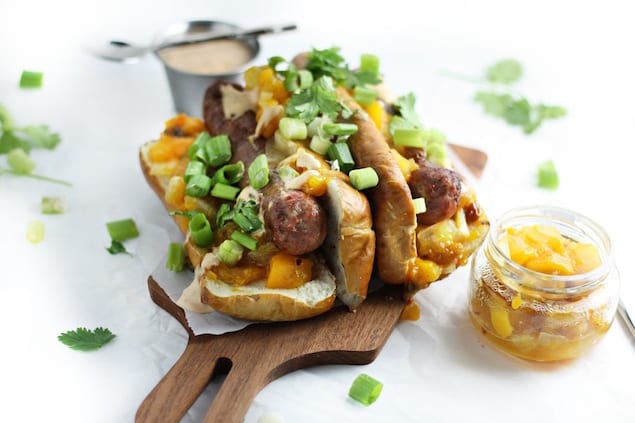 I'm going through a phase. A if-it's-not-grilled-then-I'm-not-eating-it phase. Did you see these pork belly BLTs? How about this grilled romaine salad? More smoked-pork-belly tacos? And now some amazing grilled hot dogs made with pork sausage and mango chutney and chipotle aioli. Yes.
How do you like your hot dogs? Ketchup and mustard? Relish and chili? Bratwurst? Sausage?
We used some local pork sausage we picked up at our nearby farmer's market. I knew already what was going to happen next – chutney! Summer fruit chutney.
See Also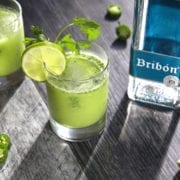 The mango pineapple chutney is my favorite part of this recipe. It's super sweet with a hint of spiciness from the red pepper flakes. It's also soft and warm and delicious. You can easily control your ratio of mango to pineapple to other stuff, especially if you want to tone down the sweetness. Which I know you don't.
Find the recipe for the chipotle aioli here.

Mango and Pineapple Chutney with Chipotle Aioli on Hot Dogs
Summer is for grilling, especially hot dogs. Highlight summer fruit in a sweet mango pineapple chutney with a hint of spiciness from the red pepper flakes.
Serves:
4 sausages or hot dogs
Ingredients
For the mango chutney:
3 mangoes, peeled, cubed
½ cup dried pineapple, chopped
1 tablespoon sugar
½ cup white vinegar
1 medium yellow onion, chopped
½ cup golden raisins
¼ teaspoon ginger powder
¼ teaspoon dried mustard powder
¼ teaspoon hot red pepper flakes (optional)
Salt, to taste
For the chipotle aioli:
(Find the recipe in the link above)
For assembly:
4 hot dog buns (we used pretzel buns)
4 pork sausages
Green onion, chopped (for garnish)
Cilantro, chopped (for garnish)
Instructions
Make the mango chutney
In a pot over high heat, combine mango, sugar and vinegar. Bring to a boil. Add in remaining chutney ingredients and reduce to medium heat; simmer for 45 minutes, stirring occasionally, until mango breaks down and thickens.
Make the chipotle aioli
Combine all chipotle aioli ingredients in a bowl. Chill.
Grill the sausage
Light your Big Green Egg (or regular grill) and bring to 400F. Cook sausages over direct heat for 30 minutes or until cooked through.
Toast your pretzel buns on the grill over indirect heat for one minute per side or until lightly browned.
Assemble sausage dogs with buns, sausage, mango chutney, a drizzle of chipotle aioli and green onion and cilantro for garnish.
Sarah Mason
Recipe developer, food photographer and the blogger behind "Drool-Worthy."