Don't forget your vegetarian friends this Labor Day. Veggie kebabs are a great way to get them in on the grilling.
By Jerri Green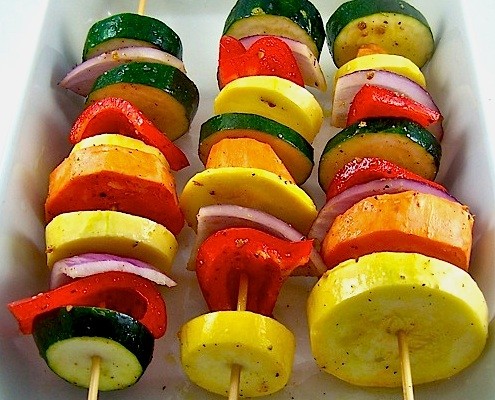 Labor Day weekend to many of us that means one thing – backyard barbecues. Many of you will be cooking burgers, hot dogs, chicken breasts, sausages, ribs, and whatever other kind of meat you can throw on the grill. It is a great thing…unless you are a vegetarian. Now there is no need to panic if you find out a vegetarian is attending your Labor Day barbecue. We are regular people, and we eat lots of food.
However, on behalf of all vegetarians out there, I beg this of you – please have something other than potato chips and rolls for us to eat. We eat those of course, and will stuff ourselves with them if need be, but we would rather not. Just have a few meat free side options and possibly one vegetarian friendly main dish. You will probably be surprised at how many of the meat-eaters want to partake in some fresh vegetarian fare.
What to do for a meat free main course? I suggest this – veggie kabobs. You are going to have the grill on anyway, right? So why not take advantage of all of the amazing vegetables that are at you local market right now and make some killer kabobs?
My carnivore hubby recently grilled some for me on a night when he indulged in a steak. To make these kabobs, simply slice up some of your favorite veggies. I used squash, zucchini, red peppers, red onion, and sweet potato. If you have not had grilled sweet potato yet you are truly missing out. But, in order to get them ready for the grill you will have to do an extra step of peeling and placing in your microwave for about two minutes to soften them some. You could also throw on cherry tomatoes or artichokes. After you have the veggies chopped, toss them in a bowl with olive oil, salt and pepper, and some seasoning. I have found a great veggie seasoning, but anything to give it a little more kick will be fine (think garlic powder, fresh herbs, and the like). Then skewer them through your pre-soaked sticks and grill for a few minutes. Just enough to soften the veggies and get a few char marks on them. Your vegetarian friends, and meat-eaters alike, will ooh and ahh over your barbecue skills. (Remember my grill master always keeps my veggies separate from the meat and uses different tongs too.)
But, don't stop there. Have a fresh salad available. Maybe some fruit or cheese for snacking. You can even have your traditional sides, like deviled eggs, potato salad, watermelon, and baked beans (as long as you leave out the bacon). And, of course, potato chips and rolls. So, enjoy your feast this Labor Day, but don't forget your vegetarian friends…