Once you get the hang of folding, these fried dumplings are so simple to make and are perfect for a halftime appetizer or a make-ahead dinner.
By Tina Putzing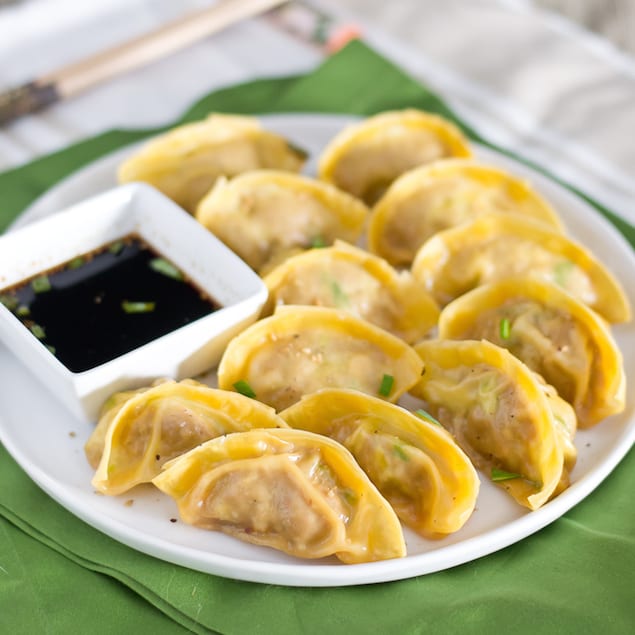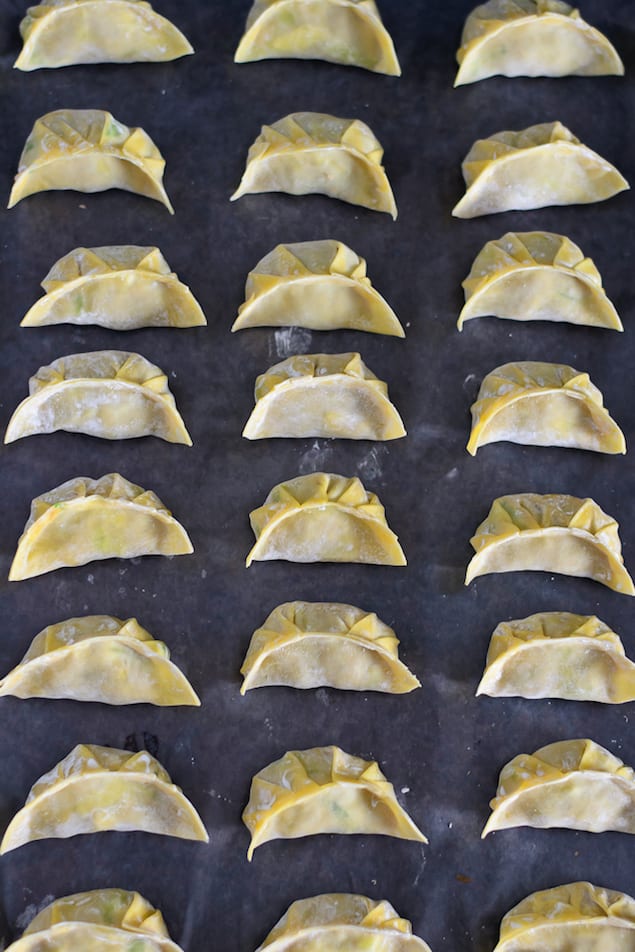 Make Your Own Pork Potstickers
Once you get the hang of folding, these fried dumplings are so simple to make and are perfect for a halftime appetizer or a make-ahead dinner.
Recipe Type:
Main, Appetizer
Ingredients
1 lb ground pork
¼ cup soy sauce
⅛ cup sesame oil
1 tbsp shaoxing wine
1 tbsp minced garlic
½ cup green onion, chopped
1-1/2 to 2 cups shredded/finely chopped cabbage
Salt (to taste)
Dumpling wrappers
Olive oil
Water
Instructions
To make your filling:
In a large bowl, combine ground pork, shaoxing wine, sesame oil, garlic, green onion, and cabbage. Mix well, by hand (this is how I do it) or with a fork.
Season with salt to taste.
To wrap the potstickers:
Prepare a small bowl of water.
Line a baking sheet with a piece of wax paper or parchment paper.
To wrap a potsticker, scoop about 2 teaspoons of the pork mixture into the center of the dumpling wrapper. Gently press the mixture into a round shape, so it will be easier to wrap.
Wet your finger with water and gently brush water all around the edges of the wrapper (this will help the wrapper stick to itself when pressed together).
Fold the wrapper into a half moon shape, using fingers to pinch the middle of the two layers firmly together.
When you start pleating, you will only be folding one side of the wrapper. Use your left hand to hold the dumpling and your right hand to fold 2 to 3 pleats in the outer layer (like a fan or accordion) towards the midpoint, and press pleats down firmly into the inner, unfolded layer to seal the filling inside.
Switch so that you're holding the dumpling in your right hand, and use your left hand to form more pleats in the same manner. Press the pleats again to seal the filling tightly. (FYI for reference, Omnivore's Cookbook has great step by step pictures of this pleating process)
Place your completed potsticker on your lined baking sheet.
Repeat above steps until all your filling is used up. (I got 34 dumplings) Make sure dumplings are not touching/sticking together on your baking sheet.
To cook the potstickers:
Heat a tablespoon of oil in a nonstick skillet over medium high heat. Swirl oil around the skillet so that the entire surface is oiled.
When oil is hot, place a few potstickers in the skillet, pleat side up. They should not be touching.
Pour about 2 tablespoons water evenly over the dumplings in the skillet, then cover immediately, and turn the heat to medium.
Cook covered until the water is evaporated and potstickers are cooked through, about 3 minutes.
Remove the cover and flip one potsticker to see whether the bottom side is charred/browned. If it's not, turn the heat up to medium high heat and cook until the bottom side turns golden brown, about 1 minute.
Transfer cooked potstickers to a plate.
Repeat above steps until all potstickers are cooked.
Serve immediately with soy sauce.
Tina Putzing
I am an attorney, a lover of reality television (esp if food is involved), a stress-eater, a voracious reader, and a shameless sci-fi/fantasy nerd. I love to eat, I love to cook, and I love to make other people eat what I cook.