Make a vibrant fermented cabbage and beet duo that is great as a side salad and even better on tacos, sandwiches, and beyond.
By Sylvia Fountaine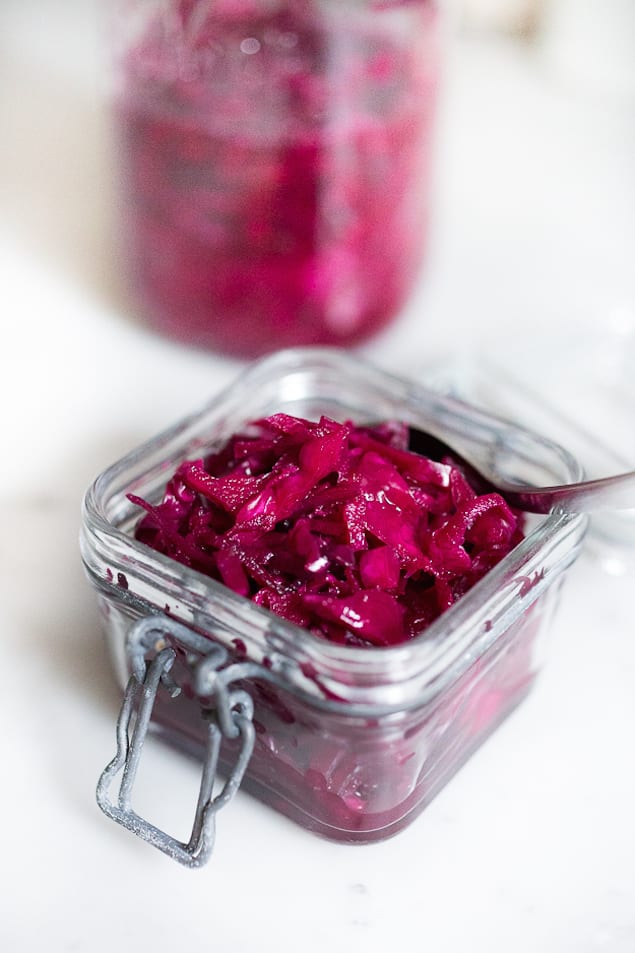 Making sauerkraut at home doesn't have to be a big ordeal. It's actually very easy to make small batches, requiring only a few minutes of prep time. Then stand by and watch as nature takes its course. This recipe is just lightly fermented, resulting in a kraut that is fresh, crunchy and not overly salty –making it a perfect side "salad" to any meal.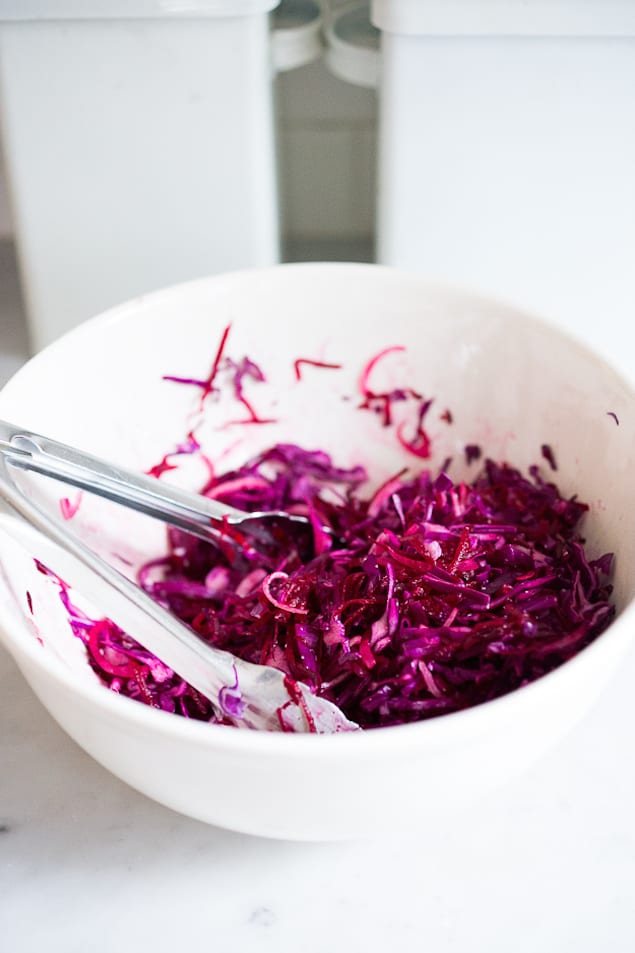 In this recipe I use purple cabbage and grated beets, which gives it this beautiful vibrant color. But feel free to use just cabbage if you prefer. The refreshing bite is such a welcome accompaniment to dinner, especially with heavier meals, providing good contrast in texture and flavor. It's also delicious on sandwiches, in tacos, wraps or have a bowl of it on its own. And you really don't need any special equipment to make this…. a mason jar works just as well as a crock.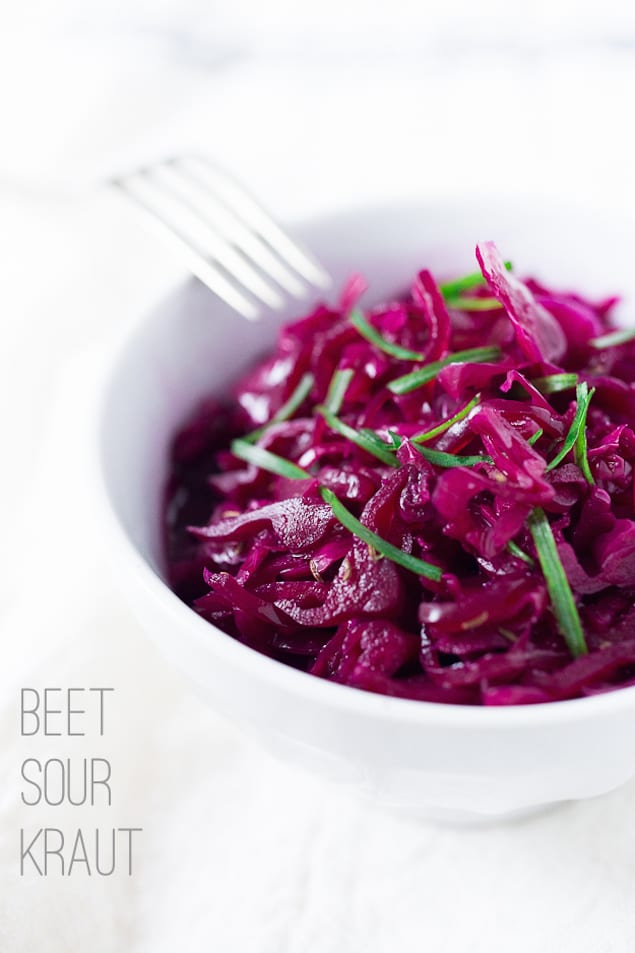 As cabbage ferments, it produces live bacteria. These bacteria, or "probiotics" replenish the good bacteria in our bodies and help stop the growth of bad bacteria, boosting our whole immune system. But if you eat sauerkraut that has been pasteurized (usually the store bought kind) the heat in the pasteurization process actually kills these good live bacteria, and so we won't benefit from the probiotics…and that's why I like to make it at home. Plus it's SO easy, and you can flavor it however you like.
See Also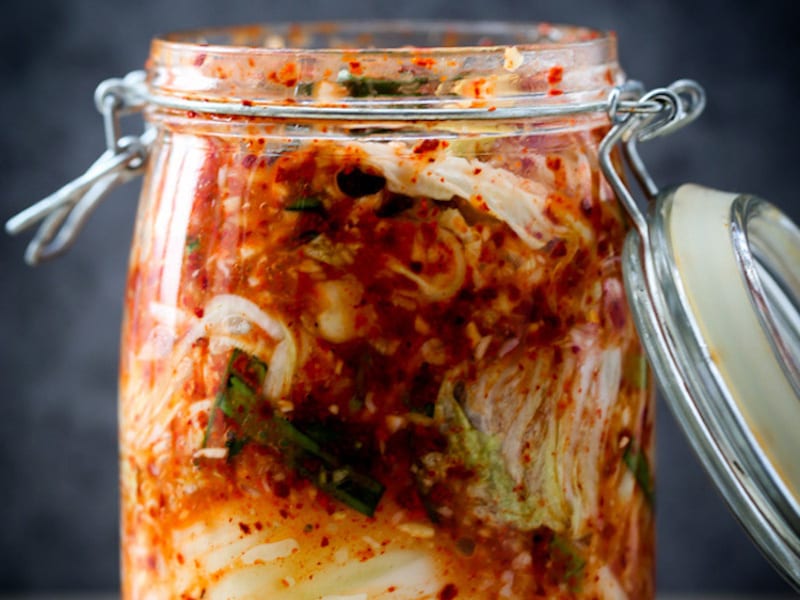 I add a ? to ¼ cup of sliced onion, and sometimes minced garlic. This is optional. It will make the smell slightly off putting as it ferments, but once it's refrigerated, its adds a really delicious flavor.
Once it chills, it's ready to eat. As it rests in the fridge, it will continue to ferment but at a much slower rate. It will taste better and better.
Print
How to Make Beet Sauerkraut
Make a vibrant fermented cabbage and beet duo that is great as a side salad and even better on tacos, sandwiches, and beyond.
Author:

Sylvia Fountaine

Category:

Side, Condiment
3 Cups

cabbage- finely sliced

1 Cup

grated beet- (or leave it out and add an extra cup of cabbage, or grated carrot)

1/8

–

¼

C up sliced onion – optional
Other optional ingredients:

1 teaspoon

caraway seeds

1

garlic clove grated

1

–

2

teaspoon grated ginger
Instructions
Finely slice and grate cabbage and beets.
You need about 4 cups total. I add a ? to ¼ cup sliced onion. This is optional.
Place in a bowl and massage with 1 teaspoon kosher salt. Let sit on the counter, mixing occasionally for 1-2 hours, until cabbage has wilted and released a little water.
Place cabbage beet mixture and all the juices in a very clean mason jar, pack it down with a muddler, or the end of a wooden spoon. Cover with a cabbage leaf. Pack it down once more. Cover it with a cloth, or the lid with a little opening – you want it to able to breath a bit.
Let it sit on the counter for 24 hours, occasionally pressing down on the cabbage, compressing. After 24 hours, if there is not enough liquid to cover the cabbage, mix 1 teaspoon salt with 1 cup water, and ONLY add enough to bring the water level to top of the cabbage. ( you will not need to use the whole cup of water).
Then leave on the counter for 3-4 days, occasionally pressing down on the cabbage.
Then place it in the fridge.
After its chilled, give it a taste.
Sylvia Fountaine
Caterer and chef of Feast Catering Co., my blog Feasting at Home is where I share wholesome, seasonal recipes we cook at home.