Lemon Risotto With Mint And Ricotta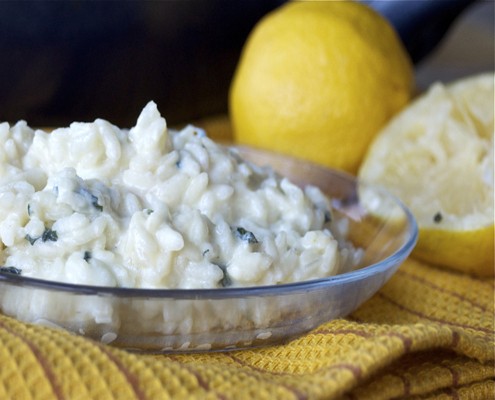 The light and refreshing ingredients that make up this summer dish make it a perfect side for any occasion. Add grilled shrimp for an excellent main course.
By Beth Ebin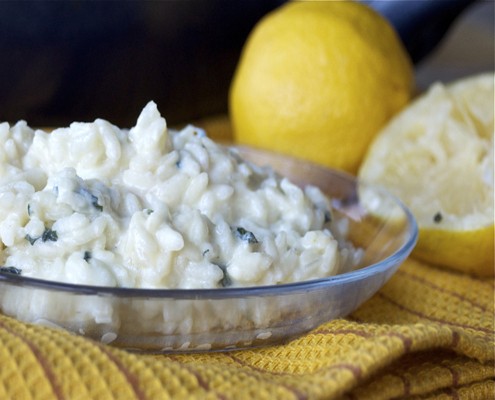 Summer is in full force here in the Middle East. Temperatures are soaring and everyone is looking for a reprieve from the sun. Citrus trees are ripe for the picking and the herb gardens are in overgrowth. Usually when this happens in Israel we make limoncello, a refreshing lemon mint drink that could be served over ice or frozen. This risotto is inspired by my favorite warm weather beverage.
The light and refreshing ingredients that make up this summer dish make it a perfect side for any occasion. Add grilled shrimp for an excellent main course.

Lemon Risotto with Mint and Ricotta
A summery risotto with fresh ingredients like lemon and mint.
Recipe Type:
Side Dish, Main Course
Serves:
6 side dishes, 4 entres
Ingredients
1¾ cup (350 grams) risotto rice
4 tablespoons (56.7 grams) butter
1 onion, chopped
½ cup (125 ml) white wine
2 cups (500 ml) chicken stock
½ cup (50 grams) Parmesan cheese
1 cup (200 grams) ricotta cheese
Juice of 1 large lemon
⅔ cup (10 grams) mint, chopped
Salt and pepper to taste
Instructions
In a medium sized pot, bring chicken stock to a boil then reduce heat and simmer.
In a large pan melt butter over medium high heat.
Add chopped onion to pan and saute until translucent.
Add risotto rice to pan and stir to coat rice evenly.
Add wine to pan and stir until all the liquids are absorbed.
Add chicken stock by the ladle to the risotto, stirring until liquid is absorbed.
Continue adding chicken stock in this matter until it is all absorbed and risotto is cooked through.
Remove pan from heat and add Parmesan and ricotta cheese to risotto, stir to combine.
Add lemon juice and mint to risotto and stir to combine.
Season to taste with salt and pepper.
Beth Ebin
Beth Ebin is a devout foodie who learns from epic failures in the kitchen as well as great successes. Beth is originally from New York and now lives in the Negev desert of Southern Israel. She spends her time blogging about her new life and sharing her tasty creations with newly discovered spices and produce she finds through her adventures. When not in the kitchen, Beth spends her time traveling and believes the best way to learn about a culture is through their food.