This creamy and refreshing lemon mousse cake is perfect for any time of the year and is super simple to make.
By Tamara Novakoviç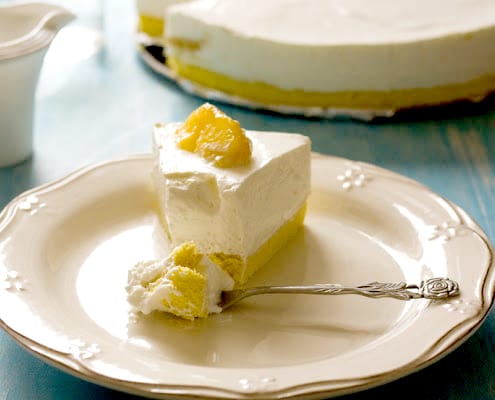 Lemon Mousse Cake
This creamy and refreshing lemon mousse cake is perfect for any time of the year and is super simple to make.
Ingredients
Sponge cake
3 eggs
3 tbsp sugar
2 tbsp all-purpose flour
1 tsp vanilla extract
Filling
1 lemon
13.5 oz (400 ml) whipping cream
12 oz (360 g) yogurt
3.5 oz (100 g) sugar
1 tbsp vanilla extract
Instructions
First, prepare the sponge. Separate yolks and mix them with sugar and vanilla until light and foamy. Add sifted flour. Beat whites until stiff peaks form, add to the mixture, combine. Spread the mixture into greased springform pan (24 or 26 cm).
Preheat oven to 392 F (200 C).
Bake for 10 minutes. Let cool.
In the meantime, prepare the filling. Beat whipping cream until stiff peaks form. Combine yogurt with sugar, zest and juice from 1 lemon and vanilla. Then combine with whipped cream. Spread evenly over sponge cake. Let cool in fridge over night.