Pair this sweet and tangy cake with your favorite warm beverage for the perfect, seasonal afternoon pick-me-up.
By Pallavi Gupta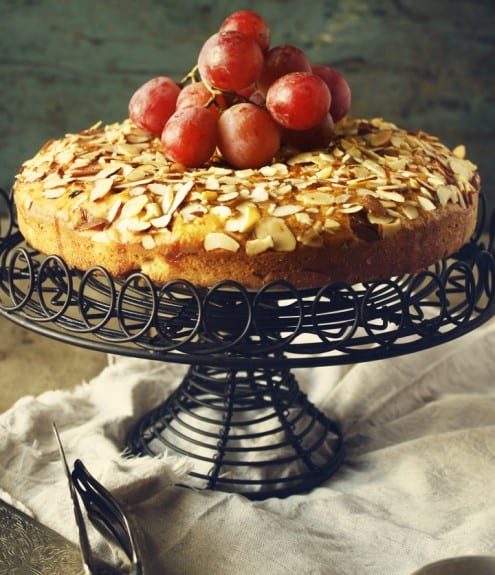 Lemon-Glazed Yogurt and Almond Cake
Pair this sweet and tangy cake with your favorite warm beverage for the perfect, seasonal afternoon pick-me-up.
Ingredients
For the Cake
2 cups all purpose flour
1 tsp baking powder
1 cup almond meal ( ground almonds)
1 cup sugar
1 cup plain yogurt
½ cup butter (room temperature)
3 eggs
zest of one lemon
½ apple, peeled and finely chopped
For the glaze
¼ cup confectioner's sugar
juice of half lemon
a few tsp of milk
Instructions
For the cake
Preheat the oven to 350 F. Oil and dust a round 9 inch cake pan and keep aside.
In a bowl mix flour and baking powder & keep aside.
In a large bowl cream together butter and sugar till the mixture becomes pale and fluffy.
Add eggs one by one while continuing to whisk the mixture.
Add yogurt & lemon zest and mix till well incorporated.
Fold in the flour and almond meal & apple just till the batter comes together. Do not over mix at all.
Pour into the baking pan and cover the surface with slivered almonds.
Bake for 30 to 40 minutes or a sewer comes out clean upon inserting into the center of the cake.
Cool the cake for 10 minutes in the pan.
Transfer on a wire rack and drizzle with glaze once its a little cool. Cool completely before serving.
For the glaze
In a bowl add all the ingredients and mix to form a lump free glaze.
Pallavi Gupta
Pallavi is a vegetarian globetrotter, who currently lives in the southern part of India. Past ten years of her life includes living in six cities in three different countries. It has added to her vast exposure of cuisines from different parts of the world which is now reflected in her cooking. She shares her knowledge of vegetarian and vegan recipe from around the world via her blog Veggie Zest. When not cooking or photographing, she does graphic design.