Lemon and Garlic Shrimp with Chickpeas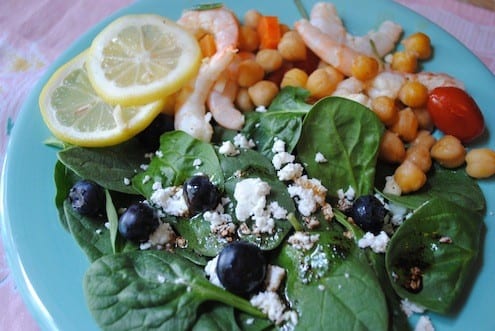 This simple, but impressive lemon garlic shrimp recipe, is perfect for those hot summer days.
By Katherine Ingui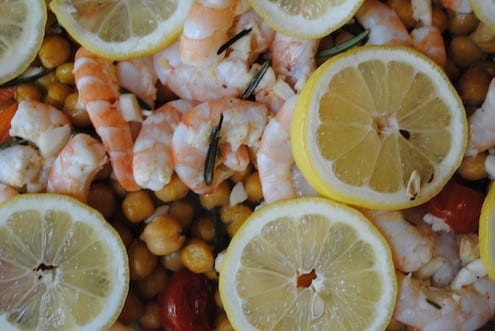 Let me first say: this recipe is must-have for hot, summer days. Second, it's strong aroma will spread throughout the house and you may have to share with everyone who comes to the kitchen with salivating mouths. Third, it's easy, simple, and impressive: exactly the recipe you want with you at the beach, when the sun and fresh salty air calls your name from sun up to sun down.
In this very hot month of May, I have found myself craving 1. the beach, 2. a suntan, 3. food from the sea, like fish, lobster, crab, shrimp, mussels, and oysters. I pretty much want it all. The light, fresh flavors combined with fresh garden herbs and citrusy fruits creates such a wonderful base for seafood of all shapes and sizes. That, and I love adding garlic to any and all things. It's what living in Italy did to me- cook more simple dishes that highlight few star ingredients.
See Also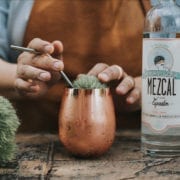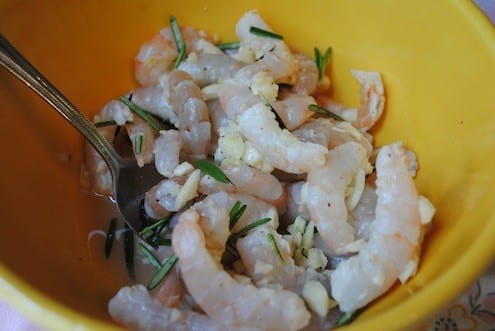 I saw this recipe while searching around Pinterest (which may or may not be the best distractor on the internet) and changed a few things, adding local cherry tomatoes and rosemary, as well as a little creole seasonings to spice it up a bit. This may become one of my staple summer meals- it was delicious. The chickpeas added a great degree of health benefits, as they are a great source of fiber and protein. With a side spinach salad with goat cheese and blueberries, this shrimp dish made the perfect summer lunch.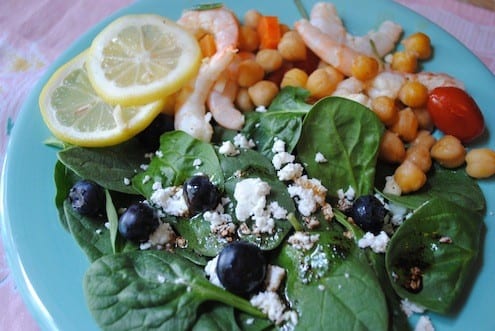 Lemon and Garlic Shrimp with Chickpeas
This light and easy seafood dish is full of flavor from garlic, lemon, and rosemary, making it a delicious choice for a summery lunch or dinner. The chickpeas were great- I added carrots, tomatoes, and substituted fresh rosemary for parsley (simply because I had them on hand). Throw in some creole seasonings to spice it up a bit!
Author:
Katherine Ingui, adapted from Kelly at eat-yourself-skinny.com
Ingredients
2 (15oz) cans of chickpeas, drained
A handful of cherry tomatoes and carrots (or whatever veggies you may have laying around- options are limitless)
1.5 lbs of shrimp, peeled and deveined
2 Tbsp olive oil
3 Tbsp lemon juice (1 lemon)
4 cloves garlic, minced
1 tsp. grated lemon zest
½ tsp. creole seasoning
1.2 cup rosemary
salt, pepper to season
1 lemon, sliced
Instructions
Preheat oven to 450 degrees F.
Rinse and drain your chickpeas and toss with olive oil, pepper, and salt.
Arrange chickpeas, tomatoes, and carrots in a layer on the bottom of your baking dish and bake for about 20 minutes, until golden.
Toss your shrimp, olive oil, juice of one lemon, rosemary, garlic, lemon zest, creole seasonings and salt in a large bowl.
Allow shrimp mixture to marinate for 10 to 15 minutes.
Once your chickpeas have finished baking, spread your shrimp mixture over the roasted chickpeas and place a few lemon slices over top.
Return your dish to the oven and bake for 5 to 8 minutes longer. Shrimp should be pink in color.
Once done cooking, squeeze additional lemon juice over top and adorn with lemons and leftover rosemary.
Katherine Ingui
Katherine Ingui is a photographer, an art educator, and a lover of healthy and adventurous food, in her home or on the road. A devout supporter of creativity in the everyday, she appreciates the glorification of what we all essentially crave: food.