Lamb, Feta and Spinach Sausage Rolls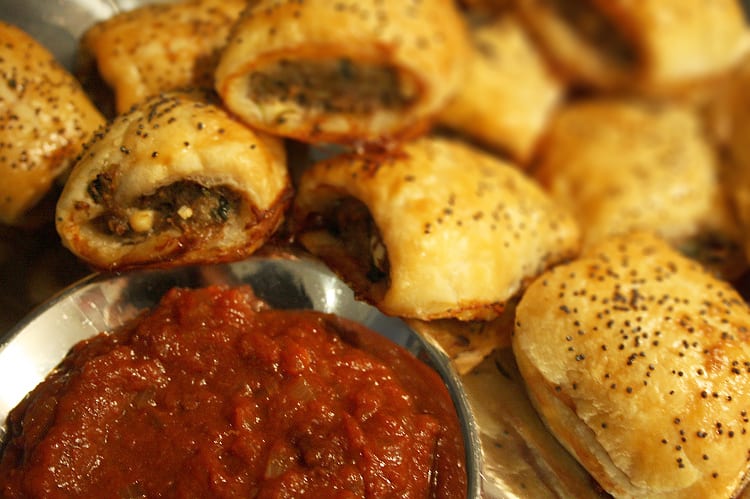 Who doesn't love sausage rolls? Proper sausage rolls by the way – not the ones you can purchase from shotty bakeries or the local servo.
By Lauren Tangey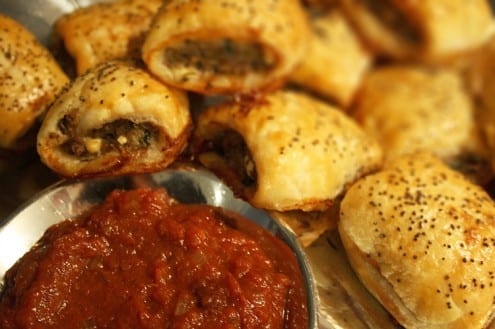 A recent dish at work has made me think about sausage rolls. After some deliberation – it was simple… some of my favourite flavours wrapped in golden puff pastry.. delicious.
Lamb, Feta and Spinach Sausage Rolls
Who doesn't love sausage rolls? Proper sausage rolls by the way - not the ones you can purchase from shotty bakeries or the local servo.
Ingredients
- 1kg lamb mince
- 2 sprigs of rosemary, leaves pulled and chopped finely
- 1½ blocks of firm reduced fat fetta
- ½ cup of roasted pistacios
- 2 cloves of garlic
- 3 eggs
- ¾ cup of frozen spinach, drained very well of all excess moisture
- 4 sheets of puff pastry
- poppy seeds
- salt and pepper
Instructions
Pre-heat oven to 180*C
In a large mixing bowl combine the lamb mince, rosemary, garlic, pistacios, spinach and one egg. Crumble in your fetta and add a good pinch of salt and pepper. Combine well using your hands to make sure everything is evenly distributed.
Lay out a sheet of your puff pastry, and cut it in half from top to bottom. On one half of the pastry lay your meat mixture out in one long segment, it needs to be as thick as about two fingers wide.
Once the meat mixture is even in width and thickness, its time to roll. Place one end of the pastry over the meat and roll from there. Repeat until you have used all your pastry.
Lightly cut the sausage rolls in half with a sharp knife, and then in half again. Then with a fork prick the top of the pastry so that it can breathe in the oven.
Prepare an eggwash using the remaining 2 eggs. Baste this onto the sausage rolls until glistening. This will help them develop a lovely golden brown crunch. Sprinkle with poppy seeds, place on a baking tray lined with parchment or baking sheets, pop into the oven for 45minutes to an hour.
Remove from the oven and serve warm.
Lolly
Food Lover. Food Blogger. Chef. Mother. Lover. Free Spirit. Ever Evolving... Lauren Tangey thinks food is exciting and not to mention versatile. It's time to get back to basics. It's time to get involved in the food we eat.