Mother's Day is almost here! And we will celebrate it with a magnific recipe: Romeo and Juliet en Croute or Baked Brie with Guava Paste.
By Denise Browning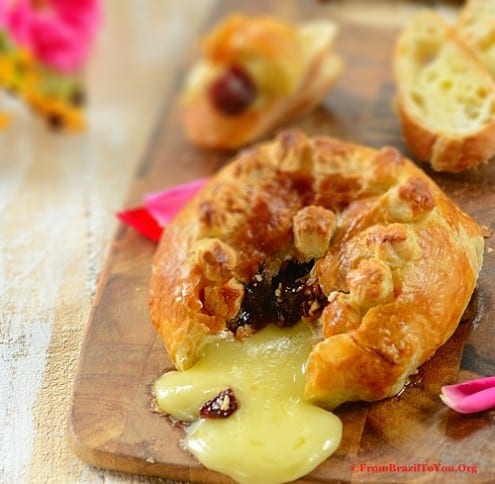 To all the mothers around the globe, I wish you a very Happy Mother's Day — because you deserve what you give every day: Happiness, respect, and love.

Baked Brie with Guava Paste to Celebrate Mother's Day
Mother's Day is almost here! And we will celebrate it with a magnific recipe: Romeo and Juliet en Croute or Baked Brie with Guava Paste.
Author:
Denise Browning, adapted from Pepperidge Farm Puff Pastry
Ingredients
½ standard package (17.3 ounces or 490 g) frozen puff pastry, thawed (I used Pepperidge Farm)
1 medium egg
1 tablespoon heavy cream or water
All-purpose flour, for dusting
⅓ cup guava paste, small cubed*
2 tablespoons chopped toasted cashew nuts
1 ( 8 ounces or 226 g) mini wheel of Brie (I used Président)
French bread or baguette toasts, or crackers as an accompaniment
Instructions
Unpack one sheet of the pastry and leave to thaw at room temperature for about 30-40 minutes.
Heat the oven to 400°F (204° C). Line a baking sheet with parchment paper or a silpat (French non-stick baking mat). In a small bowl, beat the egg and heavy cream or water with a fork or whisk.
Unfold one (1) pastry sheet on a lightly floured surface. Roll the pastry sheet into a 15-inch (38 cm) square. Spoon the cubed guava paste into the center of the circle and sprinkle the chopped nuts on top of the guava paste. Top with the wheel of cheese.
Brush the edge of the square with the egg mixture. Fold the two opposite sides of the pastry up over the cheese to cover (overlap), trimming the excess of pastry on both the left and right sides (leave about 2-inch or 5 cm remaining of the pastry from the edges) and press the ends over the cheese to seal. Brush the seam with the egg mixture. Place seam-side down onto a baking sheet. Decorate the top with the pastry scraps (I used mini flower-shaped cookie cutters). Brush both the top and sides of the pastry-wrapped cheese with the egg mixture.
Bake for 22 minutes or until the pastry is golden brown. Let stand for 20-30 minutes. Serve with toasts or crackers.
Notes
*Guava paste is available online, and also in Latin Markets and American supermarkets (Latin aisle).
Denise Browning
Denise Browning is a native Brazilian foodie, trained Chef, cooking instructor, restaurant menu/recipe developer, and former lawyer. She is also the author of From Brazil To You - a blog that features Brazilian, fusion, and international dish recipes, stories, and photography of Brazil. Her writing has appeared in Cia Brasil Magazine, while her photography is frequently featured on Foodgawker, TasteSpotting, and Foodepix. She lives in Texas with her American husband and two children.