Allison Block takes us to the place that makes her favorite Turkish dessert.
By Allison Block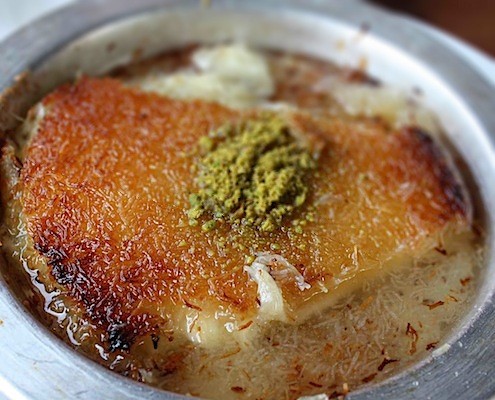 In Turkey, desserts are a plenty, but my absolute favorite is this one, which comes from the Hatay (Antakya/Antioch) Province in the south. Kunefe has been a staple dessert in this region for centuries, with varying names and preparation styles. One can find hundreds of restaurants and shops that specialize solely in kunefe, but I recommend a hidden treasure, tucked away on the back streets called "Cinar Alti, Yusuf'un Yeri" (Yusuf's Place Under the Sycamore Tree).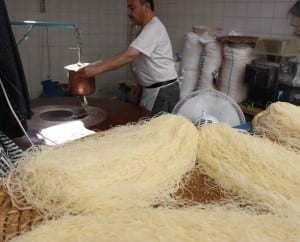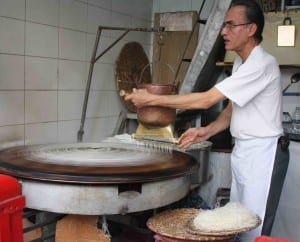 The fundamental ingredient of kunefe is tel kadayif, a wiry dough resembling shredded wheat. When tel kadayif is made fresh, as it is in the Hatay region, a liquidy dough is spun over a turning hot plate, lending to its thread-like texture. The crispy threads are then mixed with butter and pressed onto a shallow copper baking dish. The next layer is a special unsalted regional cheese (stringy and similar to mozzarella), followed by another layer of buttered tel kadayif. The distinctive taste of Cinar Alti's kunefe comes from the fact that it is cooked slowly over hot coals and tossed in the air halfway through cooking to ensure an even, crispy, brown texture on both sides. In the final minutes of baking, a simple syrup (sometimes with a hint of rose water) is drizzled over the top. It is served hot, topped with clotted cream or pistachios. You'll find that it's just as much fun to watch this delectable dessert being made as it is to eat!
Cinar Alti, Yusuf Usta'nin Yeri Ayakkabicilar Çarsisi, Pazar Sokak, Ahmediye Camii No:2 Antakya, Turkey Tel: +90. 326.212.6888