Fried balls of spinach and potatoes simmering in a green gravy is the perfect side-dish for flat bread like rotis and goes well with steaming hot rice.
By Priya Sreeram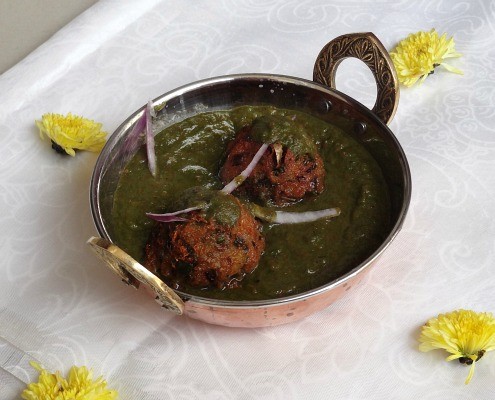 Kofta is a Middle Eastern and South Asian name for a Meatloaf ! It has a variety of vegetarian versions with Bottle Gourd, Potato, Cabbage, Peas, carrots, corn, Cottage Cheese etc and they go well with Naan/Parathas (Indian FlatBread). The dish is extremely versatile in sense that the ingredients can be spiced up in a whole lot of ways. The star ingredient for the kofta is spiced as per taste buds and rolled in to a particular shape -cylinderical (oblong), spherical (round). They are then grilled or poached or fried or marinated or baked acordingly.These koftas are then served in a hot spicy sauce/gravy.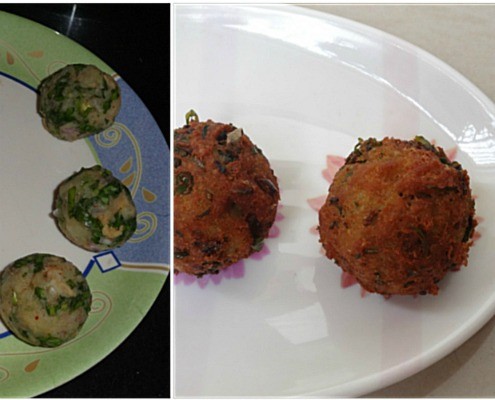 In this recipe spinach and potatoes are blended with a variety of spices and fuse together for the koftas which then are deep fried and dunked in a green coloured gravy. The dish is hearty as well as exotic and sure to reap praises all over ! The recipe has been taken from 4th Sense cooking and suitably adapted to tingle our taste-buds.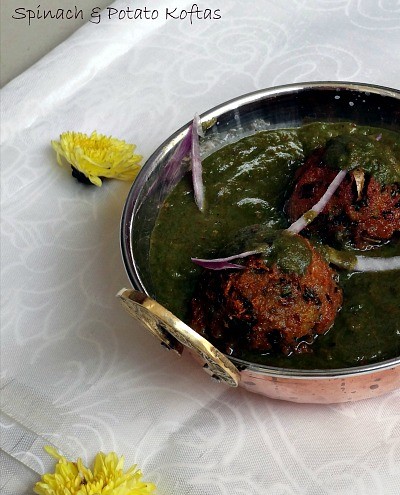 Spinach and Potato Koftas in Green Gravy
Fried balls of spinach and potatoes simmering in a green gravy is the perfect side-dish for the flat bread like rotis or goes well with steaming hot rice
Ingredients
For Koftas
Spinach (palak) - a small bunch - finely chopped
Potatoes - 2 - big - boiled & mashed
Bread slices - 3
Onion - 1
Green chillies - 2
Garam masala powder - ½ tsp
Mango powder - a pinch
Coriander leaves(Finely chopped) - 2 tblsp
Salt - for taste
Oil - for deep frying
For Gravy
Spinach - 1 big bunch
Whole Spices - cinnamon,Mace,Cardamom- little of each
Milk - ½ cup
Onions - 2 - chopped roughly & ground to a fine paste along with whole spices
Ginger & Garlic Paste - ½ tsp of each
Chilly powder - for taste
Turmeric powder - a pinch
Dry mango powder(aamchur) - ½ tsp
Garam masala powder - 1 tbsp
Salt - to taste
Butter - 2 tsp
Instructions
Wash the green well and finely chop them.Pressure cook the potatoes, peel and mash them well.Chop the onion, chillies and coriander finely.Dip the bread in water, squeeze and mix it along with mashed potatoes, chopped spinach,onions,chillies, coriander leaves, garam masala, mango powder and salt.Pinch out a lemon sized quantity and roll it into a fine ball. Repeat the same for the rest of the mix.Deep fry the balls in hot oil. Keep the flame low and fry for few mins till they turn into golden brown color.Place them on kitchen tissues to remove excess oil.
For the gravy,Wash the greens well. Put them in a pan with little water and let it cook/boil for a few minutes till they all wilt. Now drop them in to a bowl of cold water immediately.This not only stops further cooking but also helps maintain the color of the greens. Take it off flame and allow it to cool. Grind the greens into a smooth paste.
Heat butter in a pan and fry onion-spices mix till the onions turn golden brown. Add ginger-garlic paste to it and let the mix sizzle for a while.Now add the salt, chilly powder, mango powder, garam masala and turmeric powder to it. Let the contents boil for a while.Add the ground spinach and the milk slowly, stirring it continuously. Now let it simmer till it becomes thick and creamy.
Add the above done koftas just before serving the curry.
Yummy and healthy spinach kofta curry is ready to eat.
Serve hot with chapathi, roti or ghee rice - Enjoy