PARTNER POST – Inspire your spring cooking with bold meals featuring Eggland's Best Eggs.
In less than ten minutes, create a bowl of spicy kimchi and pork belly fried rice topped with a glorious egg.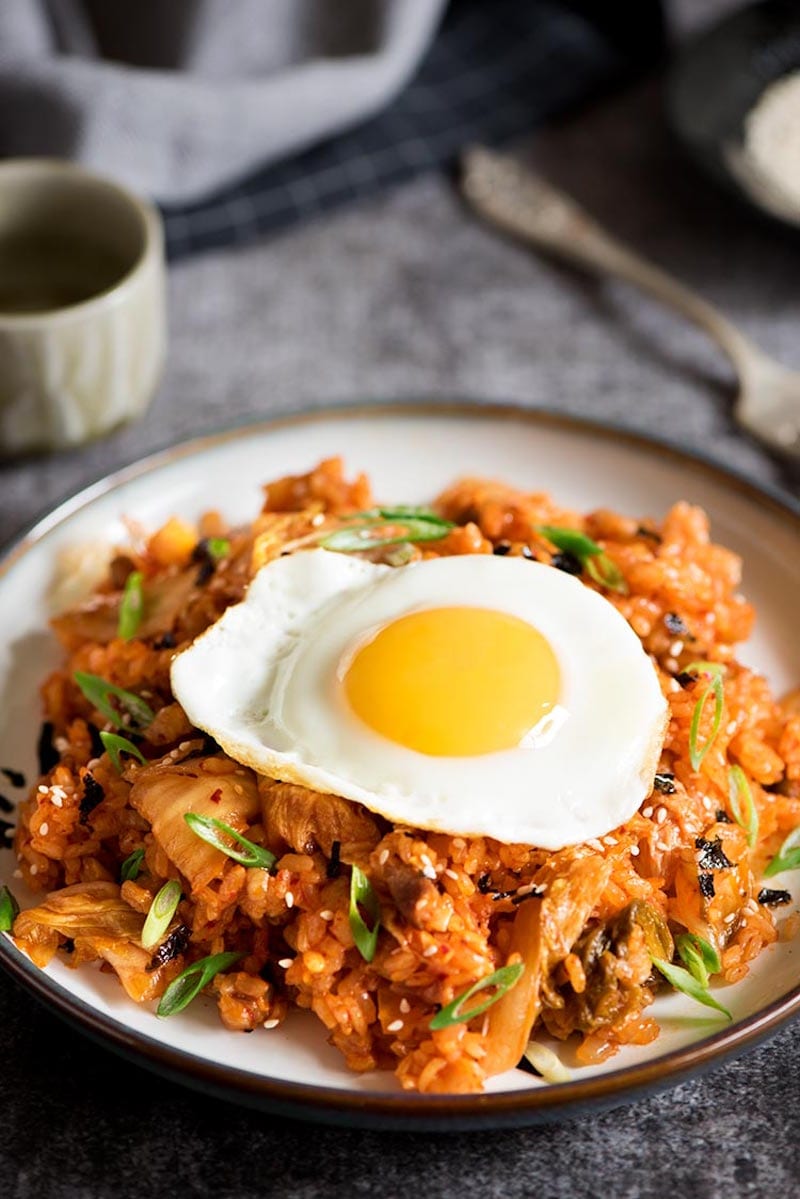 I love kimchi. I always have a jar of it in the refrigerator. No need to mention how delicious and nutritious it is. I also always have Eggland's Best eggs in the refrigerator. I love them to death.
With kimchi and eggs always available, a healthy, delicious spicy kimchi fried rice with sunny side eggs is just a 10 minute stir-fry away. Add some oh so good pork belly and I have a happy tummy.
Besides, with spring just around the corner, all that chocolate cake and fried chicken in my tummy has to go (for now). It's time for some spring cleaning.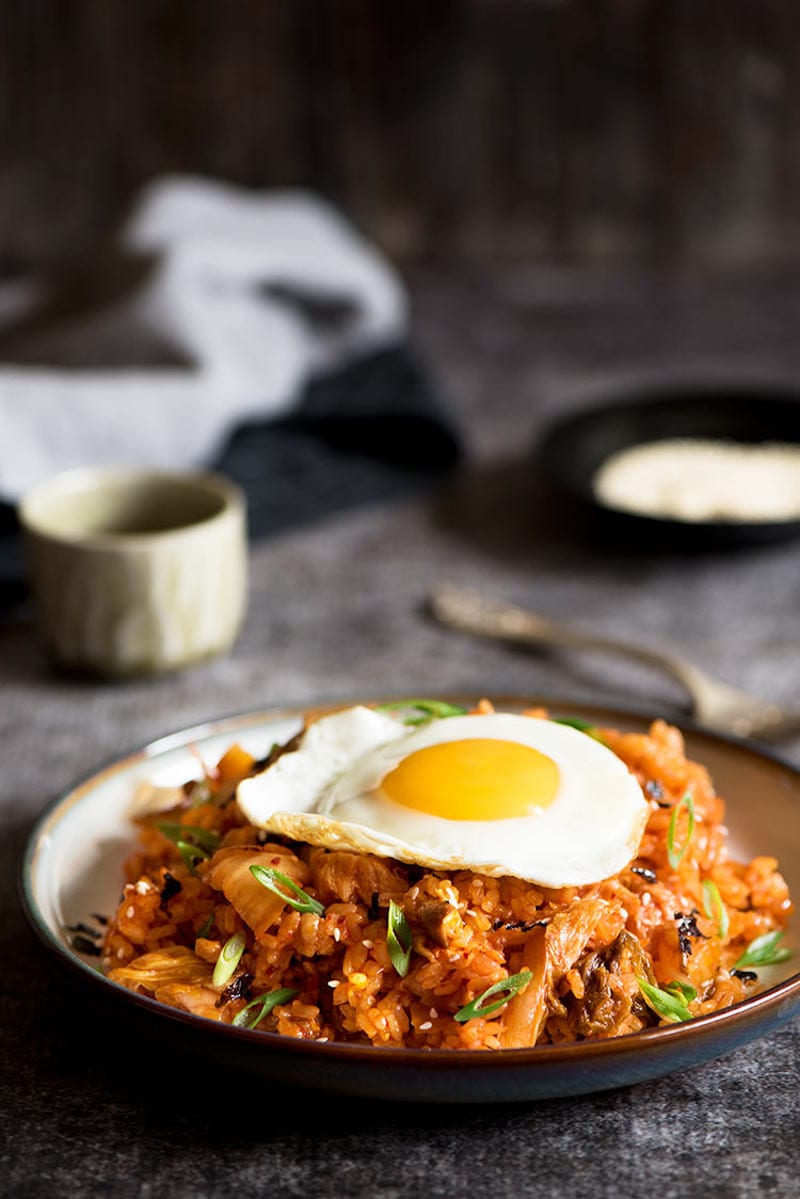 Tips:
1. Rice: For kimchi fried rice, I use freshly cooked sticky short grain rice. Yup. I like it slightly soft and moist for some reason. For other types of fried rice, I'd use Jasmine (long grain) overnight rice. Choose whatever your preference is.
2. Eggs: I use Eggland's Best eggs. They're an excellent source of Vitamin D and E and they have more than double the Omega-3 than regular eggs. In terms of the kind of eggs, some people like sunny side eggs with different consistency in the yolk while others may like over easy eggs.
3. You can choose not to add the pork belly (and replace with tofu) for a vegetarian meal, or you could add other meat or seafood of choice. I've made beef, shrimp and tuna kimchi fried rice and all taste super delicious.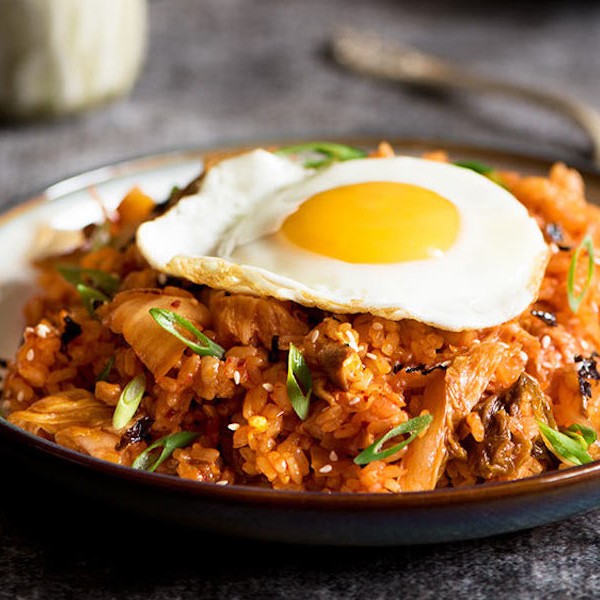 Kimchi and Pork Belly Fried Rice
Ai Ping
In less than ten minutes, create a bowl of spicy kimchi and pork belly fried rice topped with a glorious egg.
Ingredients
2

tbs

oil

1

small yellow onion

diced

3

garlic cloves

finely chopped

6 - 9

oz

skinless pork belly

1¼ - 1½ cups, cut into ¼" x ¼"

1 - 1½

cups

tightly packed chopped kimchi

1

tbs

kimchi juice

1

tsp

light soy sauce

3

cups

cooked rice

short grain Korean or Japanese rice or 1 cup uncooked

1 - 2

tbs

gochujang

Korean red chili paste

Pinch

of sugar

Salt

to taste

1

tsp

sesame oil

2

large Eggland's Best eggs

sunny side up
Garnish
2

green onions

sliced

Nori Flakes

Roasted Seaweed

White sesame seeds

Red pepper flakes

optional
Instructions
Over medium high heat, heat the oil in a wok or a large pan. Once almost smoking, add the onions and fry until translucent. Add the garlic and fry until they soften.

Push the onions and garlic aside and sear the pork on all sides. Once the pork is almost cooked, add the kimchi, kimchi juice and soy sauce. Stir to combine. The pork will start to absorb the flavor.

Once the pork is cooked through, add the rice, chili paste and sugar. Fry to combine. Taste and add salt according to your preference. Swirl in the sesame oil and give it one last stir. Garnish and serve with delicious runny yolk sunny side Eggland's Best eggs.
Notes
How much pork you add will be dependent on how much meat you like in your fried rice.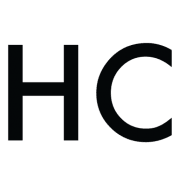 Ai Ping
Ai Ping is from Malaysia but also calls Taiwan and the U.S. her home. Though armed with an IT and business background, she still prefers cooking, photography & blogging. Her website, Curious Nut says it all with its motto 'exploring life through the lens'. She loves to eat and cook, eat and play, eat and explore and share the love with everyone.