PARTNER POST: Let Blue Apron help you keep things simple when it comes to dinner. Have your next nutritious meal delivered straight to your door.
This week, make these kale tahini flatbreads topped with crunchy roasted chickpeas and served with a side of pear-beet salad for an easy, delicious, and nutritious dinner.
Give yourself more time to plan, prepare or just relax. Head over to Blue Apron for $30 off your first order or three meals free. You'll be eating delicious meals like this!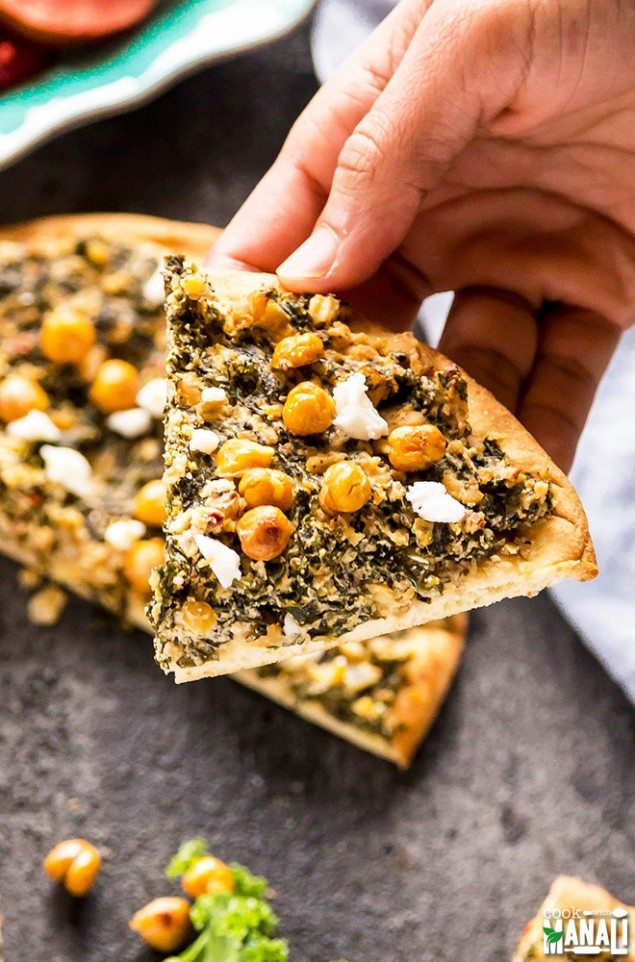 Happy New Year guys! I hope you all had a wonderful start to 2017. It can certainly get busy at this time of the year. We all are looking for quick dinner options and lesser trips to grocery stores. And if you are in the same boat, then you need to try Blue Apron!
The first time I heard about Blue Apron, a meal delivery service was some 2 years back when I visited my brother and sister in law in New York. I remember my sister in law had made these delicious zucchini fritters and I loved them so much that I ended up asking her the recipe. So in stead of giving me the recipe, she just handed me a recipe card which had all the instructions with pictures! I was so impressed and that's when she told me about Blue Apron. I quickly went through all the other recipes cards that she had and everything sounded so interesting. I actually ended up making an account on their website that very day, thinking that I will order one once I get back to Seattle. But as you guys know, we all get busy with our lives. So I totally forgot to order my meals with Blue Apron until last week. And I am so glad I finally did it because I really can't tell you guys enough about how amazing Blue Apron is! These Kale Tahini Flatbreads with roasted chickpeas is one of the meals that I prepared last week from my meal box.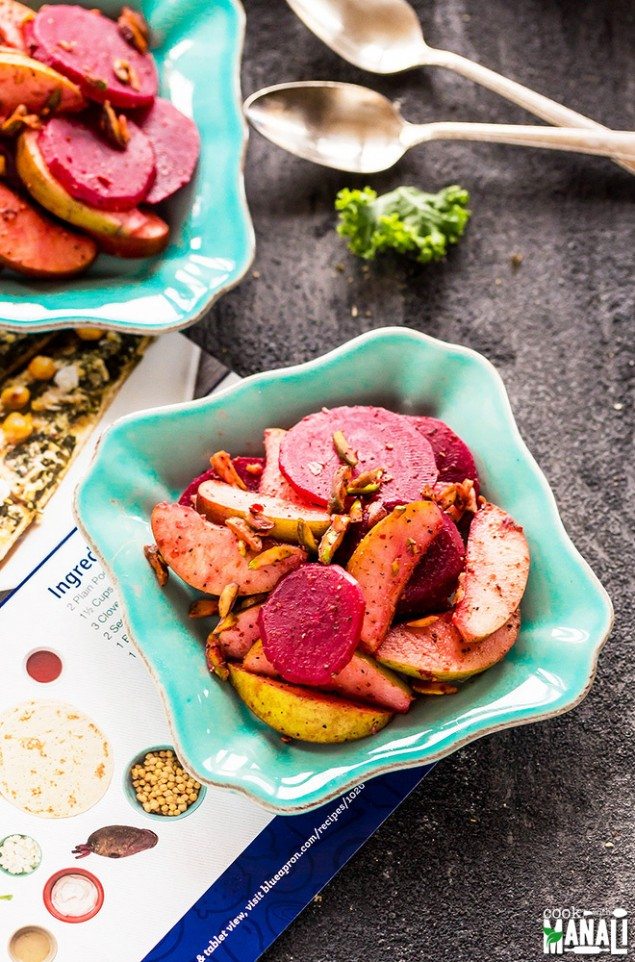 So how does this work? Blue Apron chefs create delicious recipes and they have a new menu every week. When you order the meals, the ingredients are delivered right at your door step! And my absolute favorite part is that 50% of the recipes on their menu are vegetarian. Yay for more delicious vegetarian recipes! So basically cooking with Blue Apron means
– cooking incredible meals from scratch at home. They have some amazing recipe ideas from all over the world.
– saves time and energy since you don't have to go grocery shopping and also not think about what are you going to cook for dinner!
– all ingredients required for the recipes are pre portioned. [I love this!! Seriously it's so cool when everything is already pre-measured!]
– you get to use high quality ingredients from local farms.
– all recipes come to with a recipe card which has step by step instructions. The nutritional information for each recipe is also included.
I know you guys are tempted to try it now. Order your first Blue Apron delivery and get $30 Off. I think that's a great deal to start with!
So when I ordered my Blue Apron meal these are the 3 meals that I received – Kale Tahini Flatbreads with Roasted Chickpeas, Spicy Cauliflower Potato & Egg Tostadas and Butternut Squash Risotto. I made all 3 but decided to share with you guys the Kale Tahini Flatbreads with Roasted Chickpeas & Beet Pear Salad because it was my favorite of the lot. These vegetarian flatbreads have pita bread as the base are are topped with chickpeas, kale & tahini. And you serve them with a side of a delicious beet and pear salad. Yum!
See Also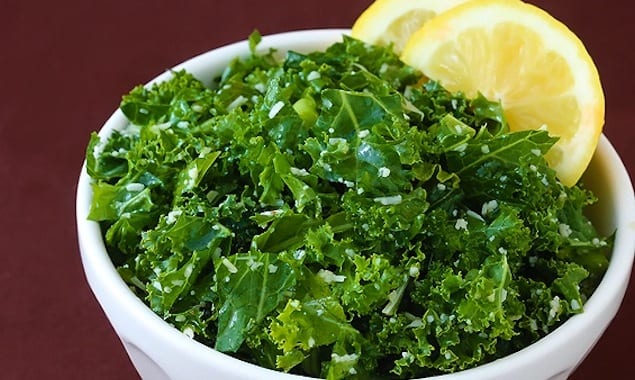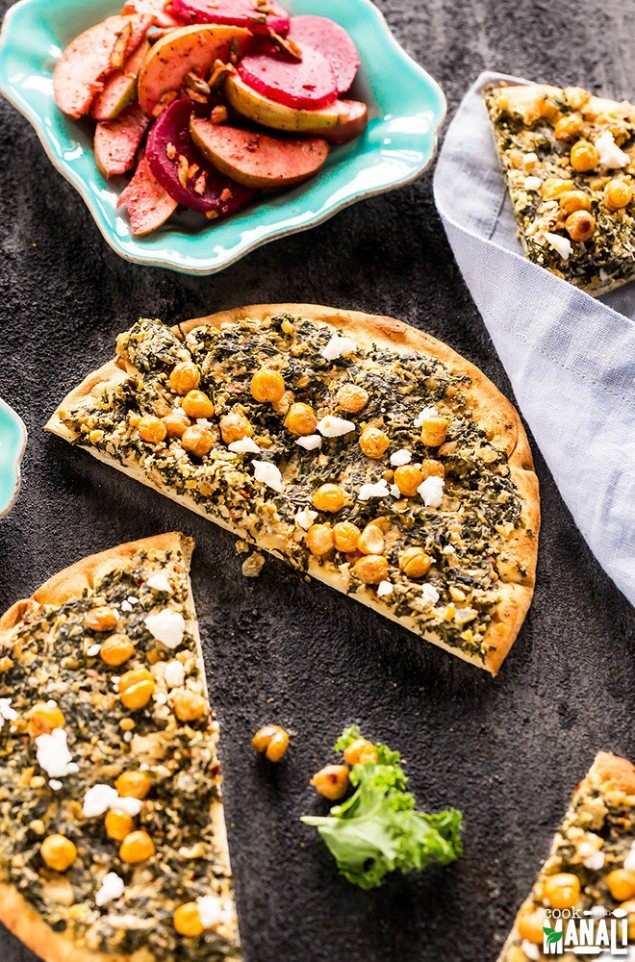 I have always loved Mediterranean flavors and that's exactly what I loved the most about this dish. The addition of labneh, tahini and sumac made these flatbreads really flavorful. My favorite part was the crunchy roasted chickpeas on top! The beet and peer salad with roasted pistachios was the perfect accompaniment to the dish. The recipe card that came with the box made the entire process really simple. Since everything was pre-measured, I just had to follow the instruction and cook. And let me tell you, my hubby also helped me while making this dish. He made the salad while I made the flatbreads. So it's also a great way to cook together and have some fun in the kitchen!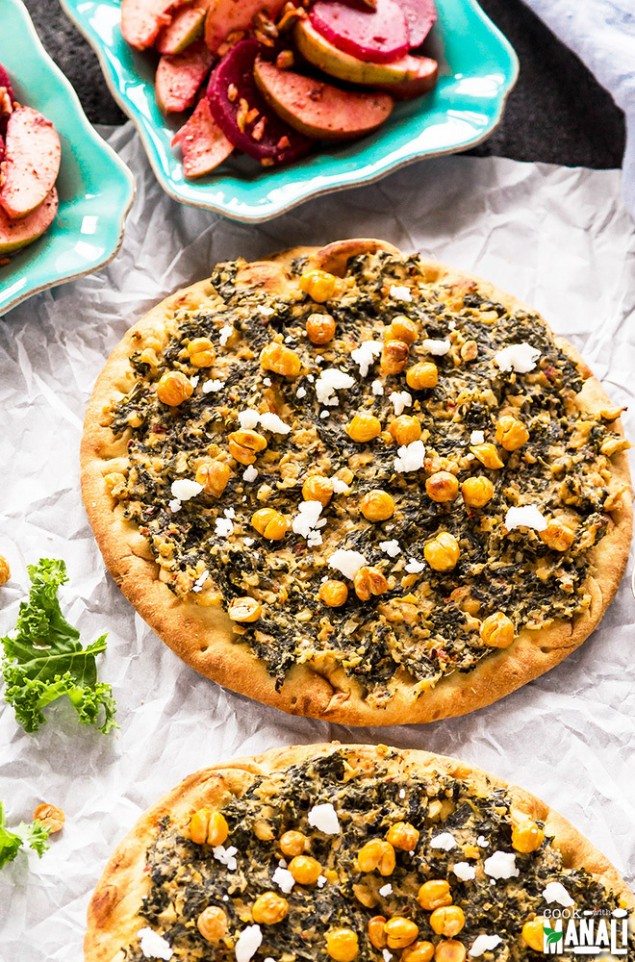 Check out another Blue Apron recipe for a cod sandwich.
Print
Author:

Manali Singh

Prep Time:

15 minutes

Cook Time:

40 minutes

Total Time:

55 minutes

Yield:

2

servings

1

x
Category:

Main

Cuisine:

Vegetarian
2

plain pocketless pitas

1.5 cups

chickpeas (canned)

1

bunch kale (chopped)

3

garlic cloves (minced)

2

seckel pears (thinly sliced)

1

beet (cut into rounds)

2 tablespoons

crumbled feta cheese

2 tablespoons

roasted pistachios

2 tablespoons

red wine vinegar

2 tablespoons

tahini

¼ cup

labneh cheese

2 teaspoons

spice blend (mix of ground sumac & aleppo pepper)

1 teaspoon

olive oil + more to drizzle
salt (to taste)
pepper (to taste)
water
Instructions
Pre heat oven to 450 F degrees. Drain and rinse the chickpeas.
Transfer half of the chickpeas to a bowl and roughly smash them with a fork. Set aside.
Leave the remaining chickpeas whole. Pat dry the whole chickpeas and transfer to a baking pan.
Drizzle with olive oil, salt, pepper and roast for 20-22 minutes until crispy at 450 F. Set aside once done.
While chickpeas are in the oven, add the cut beets to a pan of boiling water. Cook for 17-19 minutes or until tender.
Drain and transfer to a bowl. Add half of the spice blend and ¼ of the vinegar.
Drizzle with ¼ teaspoon olive oil, add salt, pepper and toss to combine. Set to marinate for 10 minutes.
Add pears and pistachios to the bowl of marinated beet. Season with salt and pepper. Salad is now ready!
To make the flatbread heat 1 teaspoon olive oil in a pan on medium-high heat. Add garlic and cook, until fragrant, around 30 seconds.
Add kale, salt, pepper and cook for 1-2 minutes until kale is slightly wilted.
Add the prepared smashed chickpeas and ¾ cup water. Cook for 5-7 minutes, stirring occasionally on until the kale has wilted and water has cooked off.
Transfer to a large bowl. Stir in tahini.
Add labneh, remaining vinegar, remaining spice blend, salt and pepper and mix.
Place pitas on a baking sheet lined with parchment paper. Evenly top each pita with the kale spread, season with salt & pepper.
Bake 10-12 minutes at 450 F degrees or until pitas are golden brown and crispy.
Cut the kale tahini flatbreads in half, garnish with roasted crispy chickpeas and feta cheese. Serve with the salad on the side!
Manali Singh
Food lover, recipe developer, food photographer and a big time baking addict. I live in Seattle with my husband and share simple and delicious vegetarian recipes on my blog Cook With Manali.