Cook this with love. Serve with love. Eat with love. And enjoy!
By Lauren Hardy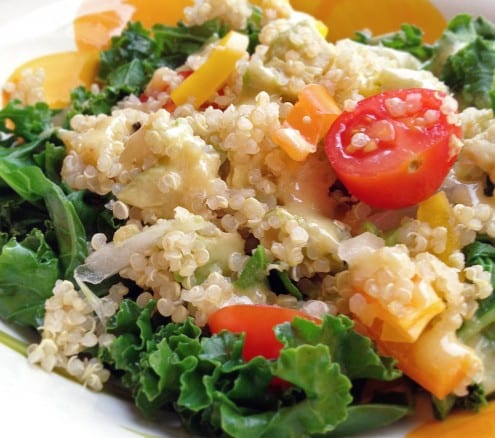 Kale, Quinoa and Avocado Salad
Cook this with love. Serve with love. Eat with love. And enjoy!
Ingredients
⅔ cup quinoa
5 kale leaves, torn into bite-sized pieces
½ avocado, diced
1 cup cherry tomatoes, halved
¼ cup vidalia onion, chopped
¼ cup bell pepper, chopped (orange or yellow)
⅓ cup sweet corn, cooked
For the dressing:
¼ cup olive oil
2 tablespoons lemon juice
2 tablespoons Dijon mustard
Salt and freshly ground black pepper to taste
Instructions
Cook the quinoa according to package instructions. Set aside to cool.
Place the kale in a steamer basket over 1 inch of boiling water in a saucepan. Cover and let steam for 5 minutes. Transfer to a large serving plate.
In a large bowl, combine the quinoa and remaining ingredients. Pour the quinoa mixture over the steamed kale. In a small bowl, mix the dressing ingredients with a fork until combined and drizzle over the salad.