Elisa Gennari tries her hand at making homemade okonomiyaki – Japanese savoury pancakes.
By Elisa Gennari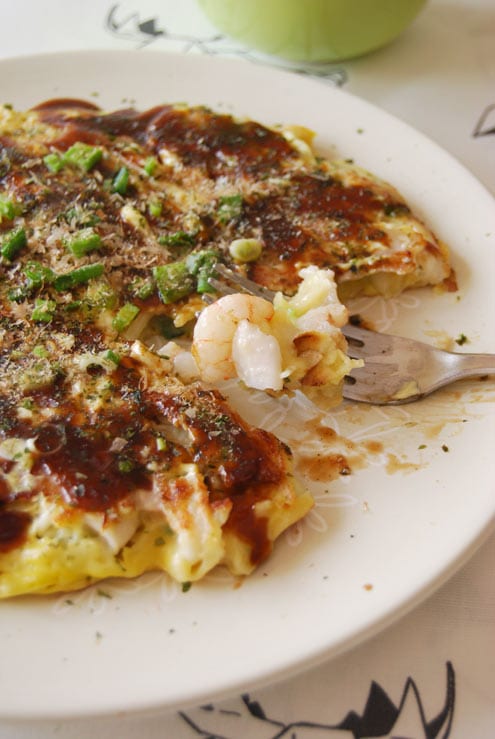 When I first stumbled upon Okonomiyaki I thought it was a greasy heavy and messy food, I couldn't imagine how such different ingredients could blend together without covering each other. Then I was told it was a really healthy food, so one night I faced my prejudices and, at the top floor of Kyoto station mall, I decided it was the right time to try it.
The restaurant was amazing, everyone could see what was happening in the kitchen and each table had a large hotplate to keep the okonomiyaki warm.  I ordered it and it was absolutely delicious. I imagined I was about to eat a huge mix of flavours packed in a soggy pancake. I couldn't be more wrong.
Starting from the smell.. it was yummy and mouthwatering, it was covered with a thick sauce similar to tonkatsu (a sort of fruity ketchup – each restaurant has its own) and then topped with a little mayonnaise, aonori (dried seaweed) and bonito flakes. The outside was crispy while the inside was juicy and fluffy and, most of all, it was not at all greasy or heavy.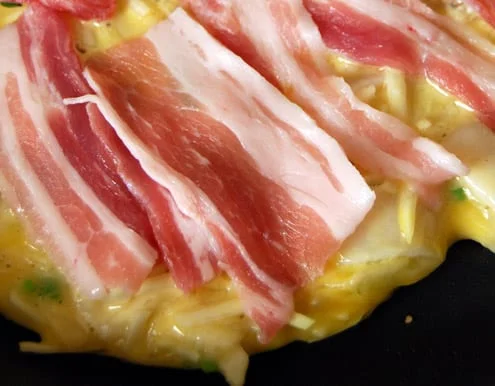 See Also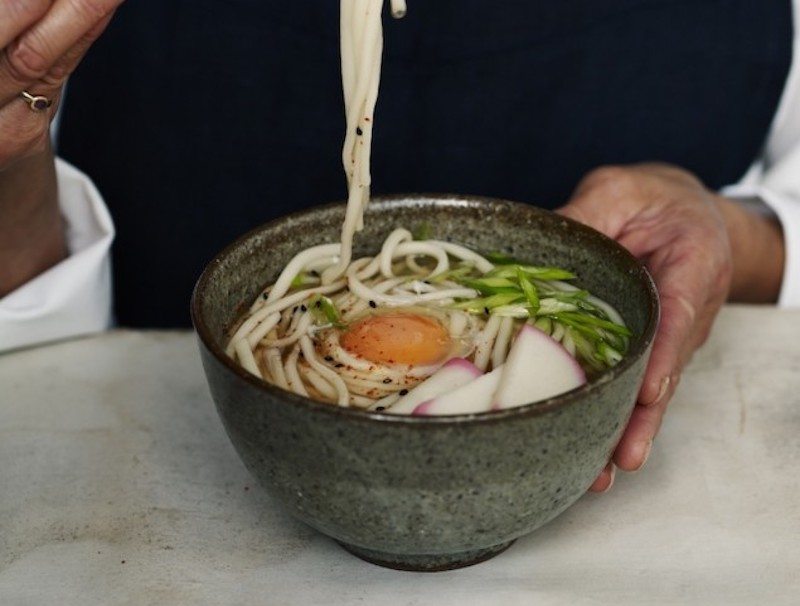 If you think that pork belly, mayonnaise and eggs can turn this dish into a liver-killer, I assure you it's nothing of that kind, actually this is a really healthy dish, low in calories and rich in nutrients. The word okonomi-yaki literally means "your favourite – cooked" so it means that you can use whatever you like to prepare this dish, so you can also choose the amount of calories and fats.
Around Japan you will find countless recipes made mainly with local ingredients, from oysters to noodles. The basic dough is made with cabbage, and cabbage is known to help our health in many ways (is mostly known to be really active in cancer prevention), then you can add whatever you like and try to develop your own okonomiyaki recipes.
Now let's go prepare a great okonomiyaki.

Japanese home cooking: Okonomiyaki
A simple and quick homemade Okonomiyaki recipe
Ingredients
100g all purpose flour
140ml dashi stock (you can find it in asian grocery stores)
¼ baking powder
salt
200g cabbage
50g boiled octopus
8 shrimps
Tenkasu (little beads of tempura fried batter - optional)
Beni Shoga (pickled ginger)
2 eggs
100g slices pork belly
Instructions
Sift the flour into a bowl with the baking powder and mix. Add some dashi alittle at a time until you get a silky batter. Add a pinch of salt and mix.
Wash the cabbage leaves and cut them into 7mm strips, chop finely the spring onion and the pickled ginger add the vegetables to the batter.
Slice the boiled octopus and the shrimps and add them to the batter.
Add the eggs and the tenkasu (this is optional, it's not easy to find it everywhere).
Mix the batter until the ingredients are evenly blended. Do not overmix the batter, otherwise the okonomiyaki will become gummy.
Heat an electric griddle or a large non-stick pan (about 35cm), grease it with a teaspoon of oil and remove the eccess with a kitchen paper. (you can also prepare 2 smaller okonomiyaki in a smaller pan)
When the pan is hot pour half of the dough and flatten it with a tablespoon. It should be about 1,5/2cm thick.
Lay half of the pork belly slices onto it, to completely cover the surface of the pancake. Sperad a little dough over the pork. Cover with a lid and cook for 7 minutes.
Flip over the pancake with the help of a flat lid, and cook for other 5 minutes
Serve on a plate and cover with tonkatsu sauce, mayonnaise, aonori, bonito flakes and finely chopped spring onions.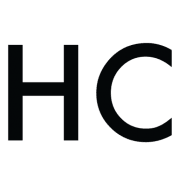 Elisa Gennari
Elisa Gennari was born and raised in Rome, with a true passion for home made food. Her goal is to share her ideas about eating delicious food while still staying healthy. In her blog she teaches her secrets on how to cook Italian recipes, always with a healthy twist.