Situated on St. Lucia's southwestern Caribbean coastline, Jade Mountain is a cornucopia of stunning architecture, celebrating the island's incredibly scenic beauty.
I knew my trip to St. Lucia would be memorable, but I didn't realize how incredible it could be until I stepped onto the Jade Mountain resort.
It took almost an hour for my friend Vanessa and I to arrive at Jade Mountain. And it was well worth the bumpy commute. Situated on St. Lucia's southwestern Caribbean coastline, a cornucopia of stunning architecture celebrating the island's scenic beauty awaited us.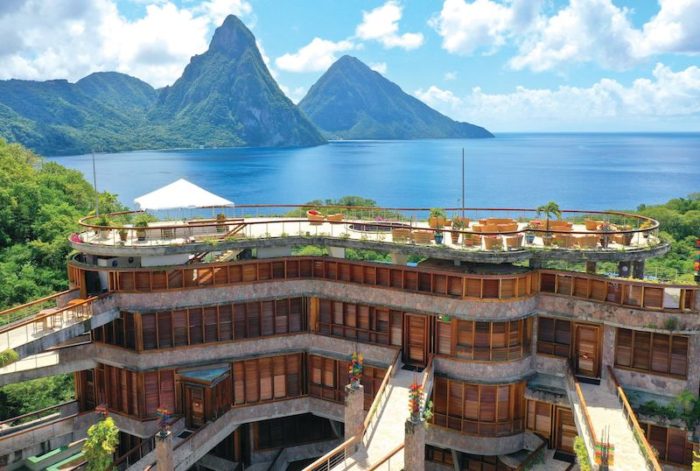 Jade Mountain
When we entered the property that sits majestically above its sister, the 600-acre beachfront resort of Anse Chastanet, resort staff, Erwina, greeted us with a minted towel to help alleviate the Caribbean heat. Giddy with excitement, we entered, and our jaws immediately dropped. Stunned by the architecture of owner Nick Troubetzkoy, the bold design will instantly make you feel like you are in an M.C. Escher-meets-"Jurassic Park" scene. Slate-gray stones drape with lush, hanging greenery and pops of colorful blown glass. Staircases zigzag, and each space boasts views of Soufriere Bay, the Caribbean Sea, and the majestic Piton Mountains, a UNESCO World Heritage Site. It is easily one of the most atmospheric and romantic scenes our eyes set upon.
Our eyes remained glazed as we walked to the Jade Mountain Club, the resort's main dining area. While we waited for our room to be ready, other staff members, Lester and Jerome, made us a refreshing cocktail with grenadine and informed us to visit the above Celestial Terrace. The terrace, like every other corner of the resort was simply beautiful. Not only does it offer awe-inspiring views of the island, but it's also where you can start your day with peaceful yoga and end your day by sipping a cocktail as the sun sets over the Piton Mountains.
The Sanctuary
During the construction of the luxury suites, Nick and his wife Karolin Troubetzkoy realized that the term "suite" was far too conventional. A suite usually refers to a technical separation of bedroom and living room which is not the case at Jade Mountain where large open spaces are celebrated.  To capture this popular comment made by visitors "Why ever leave this heavenly place, we don't want to come out again," the term "sanctuary" was discovered. It was the perfect description of both physical and psychological space.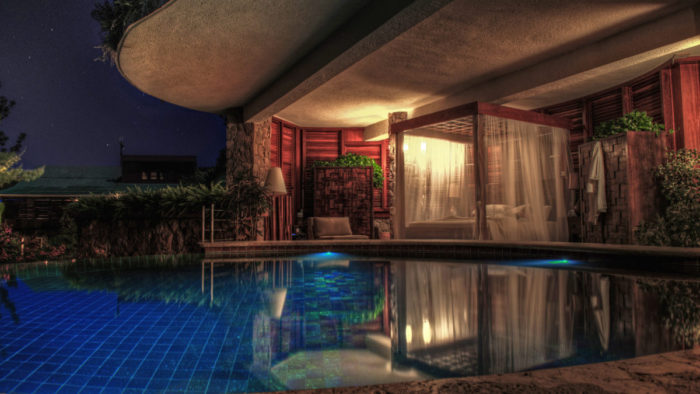 The resort houses twenty-nine heavenly Sanctuaries and each has its own aesthetic shape and scheme. Twenty four of which has its own infinity pool that differs with the hues of iridescent glass tiles that glimmer in the changing light, like ours in jade. Additionally, the Sanctuary's living areas are finished with more than 20 different species of tropical hardwood flooring and trims harvested in an environmentally friendly way.
We thought the sights couldn't beat what we soaked in on the Celestial Terrace. That was until we met Vince, our friendly butler, also giddy with excitement for the views awaiting us in our Sanctuary. Beyond the large wooden door, our Sanctuary gave us an unimaginable picture of the Piton Mountains. There was also no telephone, T.V., or clock in sight, reminding us that we came to St. Lucia to disconnect from our realities at home. The sounds of nature felt eminent, like we were a part of it. We looked at each other and whispered, "This is paradise."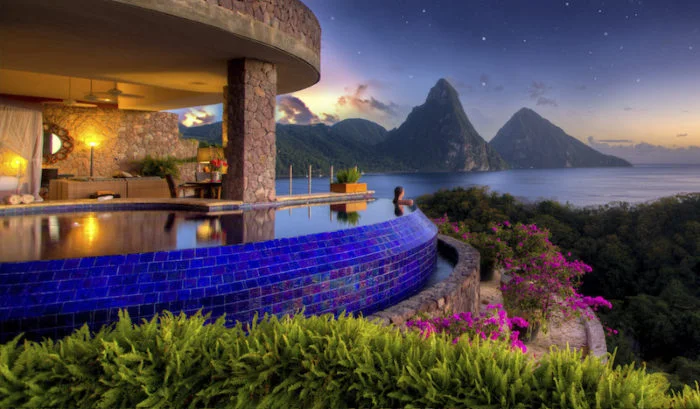 The Jade Mountain Club
Bridges connect each of the individual sanctuaries to the Jade Mountain Club, which sits at the resort's highest point. It is home to an open-sided restaurant helmed by Chef Allen Sesser and his culinary team. At dinner you can expect something different each night as the menu changes. This point also emphasizes Jade's approach to seasonality and sustainability. Depending on what's caught by the fishermen and what's picked on the fruit trees, that will determine the outcome of what's on the menu.
As fine dining menus are contrived to be, the menu was a non-stop showcase of St. Lucia's exotic and impressive cuisine, and Vanessa and I were excited for our palates to explore them. Before the amuse-bouchées arrived, our waiter enticed our tastebuds with a breadbasket. It featured fresh house-made bread, including a lavash cracker and coconut roll. Several unique dips accompanied them, such as the smoky eggplant ash. After several nights of sweet and strong rum punches and many other rum-based concoctions, we decided to have a simple glass of white wine, a classic Pinot Grigio which went well with our forthcoming meals.
Live music played in the background while couples shared intimate moments and gazed at Piton Mountain's silhouettes in the darkness. Captivated by the romantic setting, our waiter surprised us with our amuse-bouche. For the night, it was tiny cubes of mango marinated in salt and local spices, at which point, any speculation as to what awaited our tastebuds was crystallized – it was pure happiness. From that point, we knew that the dishes ahead would be beautiful in their presentation and flavor profile.
We had a couple of starters following the breadbasket and amuse-bouche. The first was the Thai Curried Diver Scallop. The Diver scallops, Fried Dasheen Croquette, and Zucchini Pico sat in a flavorful pool of Thai and Caribbean spices topped with a Cauliflower Puree. It was an impressive dish giving the sight of the Piton Mountains some competition.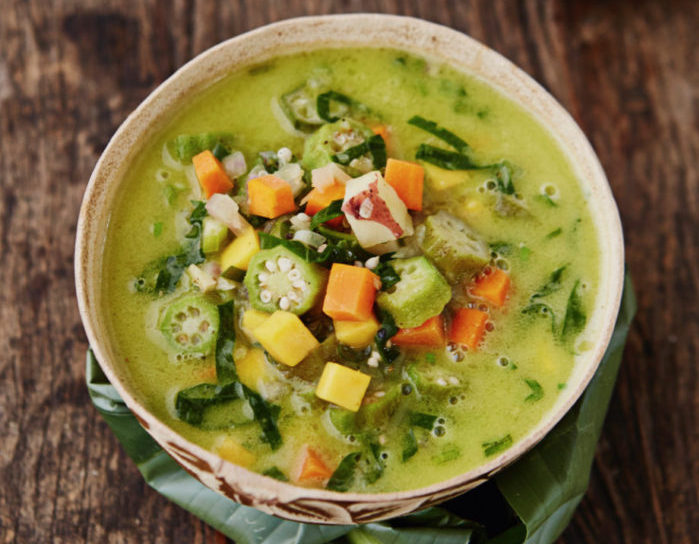 Growing up in the Caribbean, I am familiar with the ingredients featured in Jade Mountain's dishes, but how they prepared and presented them was exciting and refreshing. One of those surprising dishes was the Emerald Farm Green Callaloo Soup, our second starter. While nothing can compare to the Trinidadian version, made with coconut milk and dasheen bush, I appreciated Jade Mountain's rendition. It emphasized a more earthy flavor of spiced Sunflower seeds, herbs, and baked Spinach Cake. Following the earthy soup, we enjoyed a brighter and lighter dish, the Roasted Artichoke. It came with brie cheese, roasted mushroom, and delightful honey mustard dressing.
Our mains were centered on locally caught fish because it would be wrong to forego fish while vacationing on an island. That being said, we had the Coriander Spiced Rainbow Dorado (better known as Mahi Mahi). This rich and meaty option came with fettuccini, farm vegetables, and rich seafood bisque, taking the ocean flavors to another level. Accompanying the Dorado, the Pan-Seared Rainbow Runner was a buttery white fish that came with Dasheen Fricassee, a local root vegetable cut into cubes to make a flavorful stew. This dish also delivered a whisper of sweetness from pineapple and Coconut Nage.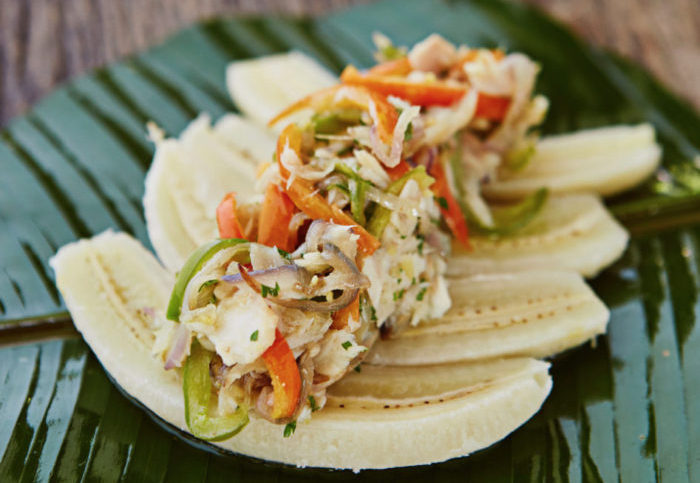 We ended dinner with the Jade Mountain 2023 Banana Foster. This dessert slightly differed from the classic banana foster, and in the best way possible. Instead of vanilla ice cream, the dessert had slices of banana encrusted with dried corn, giving it a nice crunch, and a creamy cocoa tea ice cream. The classic banana foster transforms into St. Lucian one with cocoa tea. This tea is made from cocoa grown at the resort, which native St. Lucians have enjoyed for generations.
See Also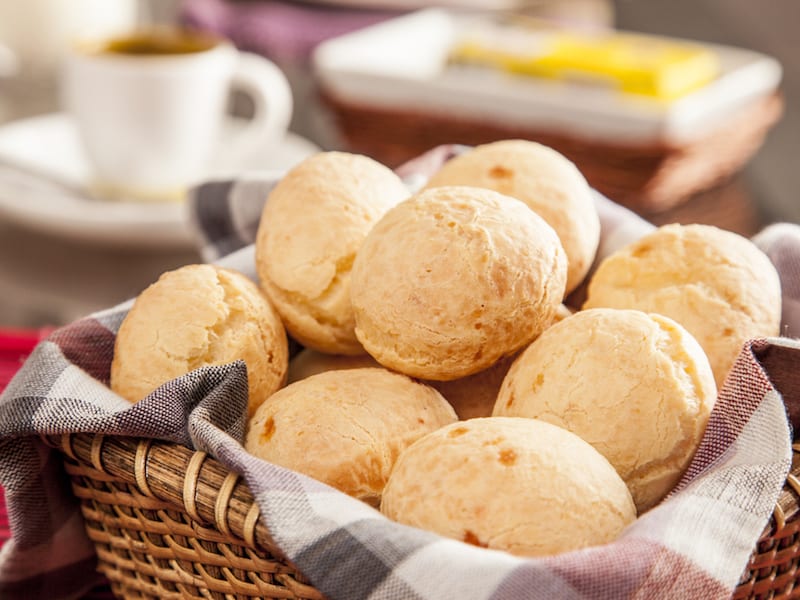 If you are wondering if Jade Mountain has a cocoa estate, the answer is yes, called the Emerald Estate. Unsurprisingly, having a cocoa estate supports the resort's ethos. At this bean-to-bar factory, you can make your own chocolate. While Vanessa and I didn't have enough time to try chocolate making, we got a taste of the cocoa from our banana foster dessert. When we returned to our Sanctuary, we were surprised with a couple of chocolates on our bed.
Another way to try Jade Mountain's authentic cocoa is at breakfast, also hosted at the Jade Mountain Club. If it's a Sunday, do as the locals do and sip on a rich cup of cocoa tea. Jade makes theirs with coconut milk paired with its national green fig and saltfish dish. Jade's version features House-Cured Dorado, Green Banana, Avocado Dip, Cucumber-Tomato Salad, and Coconut Oil.
Activities
To truly know an island, one must see and experience it from the water. Vanessa and I boarded the Jazzy Sunset Cruise before devouring our fantastic dinner. Led by a small crew and accompanied by several couples, we sailed around the resort while enjoying live jazz music. Instrumental rifts on Ed Sheeran, Celine Dion, and Bob Marley's classic songs played throughout the evening. Before the sun slowly transformed from a bright yellow to burnt orange, the cruise entered an area where fins flapped in the glistening waters––we saw dolphins. These majestic sea creatures gave us another outstanding performance that accompanied the music and extraordinary views of the Pitons.
Beach Time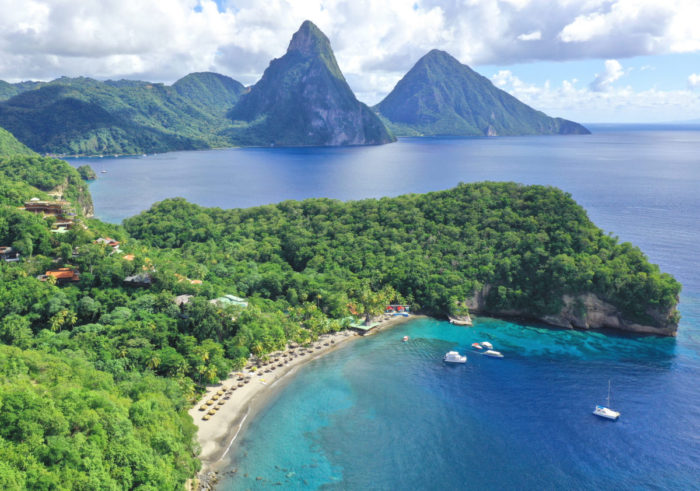 Succumbing to relaxation and becoming a total beach bum is perhaps the top priority when visiting any island. At least, it was for Vanessa and me. Although our time was limited, we made it our mission to visit one of the two beautiful, natural, soft sand beaches near Jade Mountain. We took a free shuttle to Anse Chastanet Beach in the wee hours of the morning before returning to reality, where the rhythmic waves rolling ashore would be replaced by aggressive drivers honking their horns.
If you have more time, you should also visit the Anse Mamin, accessible by the resort's complimentary shuttle service. Like Anse Chastnet, this beach is listed as one of the island's most exotic beaches.
Whether you're a guest of a resort or not doesn't matter – in St. Lucia, all beaches are public property. As a result, everyone has the right to enjoy any beach on the island, regardless of its location.
When Vanessa and I passed security check at Hewanorra International Airport, we both sat in silence, reminiscing our short and magical experience at Jade Mountain, a paradise offering us a world of unmatched beauty.
Jade Mountain Resort
Website
Mamin, St. Lucia