Indian-style Sweet and Sour Pickled Rhubarb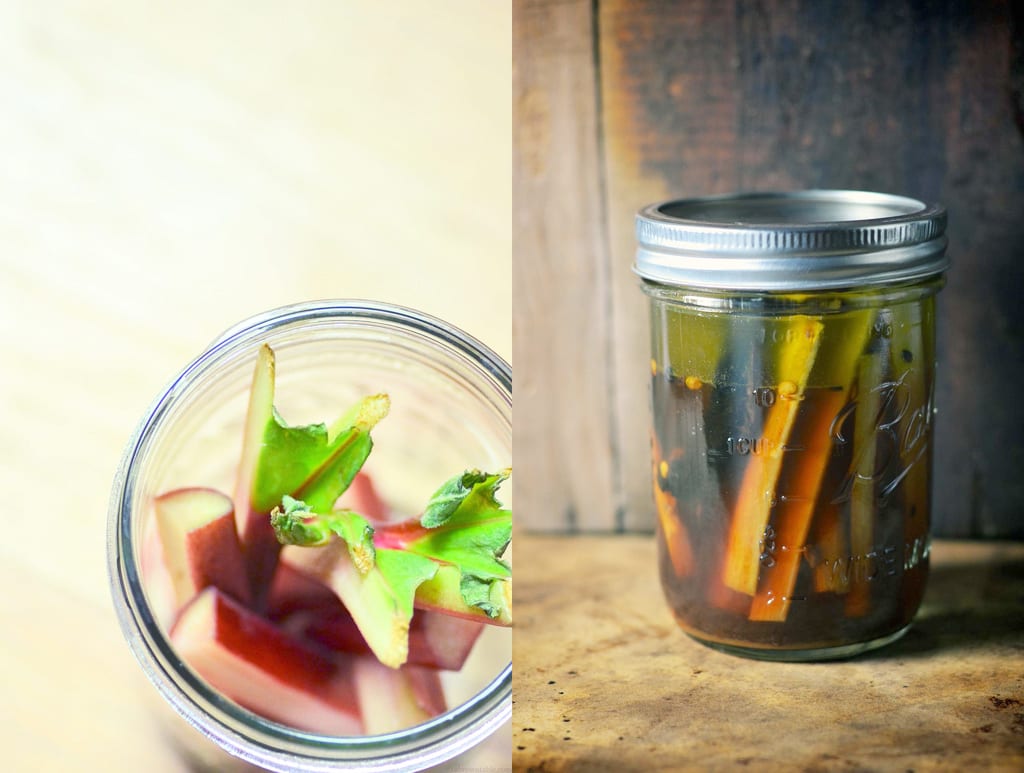 Indian pickles are very different from western pickles. They combine a complex mix of flavors and spices. The diversity in flavors can vary from super hot to mild, to sweet to tart, or a combination of all or some.
By Nik Sharma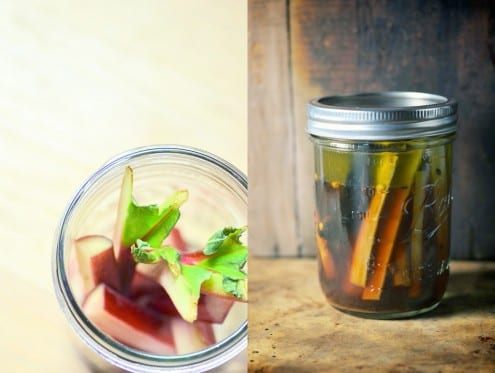 They generally use a bit of oil and some acid and sometimes sugar to preserve the vegetable or fruit that's being pickled. This pickled rhubarb recipe incorporates all of those tastes and preserving agents.

Indian-style Sweet and Sour Pickled Rhubarb
Indian pickles are very different from western pickles. They combine a complex mix of flavors and spices. The diversity in flavors can vary from super hot to mild, to sweet to tart, or a combination of all or some.
Ingredients
8 rhubarb stalks, cleaned and trimmed
1 cup extra virgin olive oil
1 dried chipotle chili pepper, whole
2 tablespoons ginger root, peeled and julienned
½ teaspoon cumin
½ teaspoon turmeric powder
½ teaspoon fenugreek seeds
¼ cup jaggery or brown sugar
2 cups red wine vinegar
½ teaspoon salt
Instructions
Cut the rhubarb stalks length-wise in half and then cut them into 4 inch pieces. Divide them equally into two clean sterile canning jars. Keep covered with a clean sterile cloth or paper towel.
Heat up a thick bottomed-sauce pan on a medium-high flame. Add the olive oil and heat till the oil. When the oil is hot (but not smoky), slice the chipotle pepper in half and add it with the seeds into the hot oil. Reduce the flame to a gentle simmer and immediately add the ginger, cumin, turmeric, and fenugreek seeds. (If anything burns toss the oil out and begin again).
Carefully add the jaggery and stir continuously. The jaggery will melt and being to caramelize a little in the oil. Slowly fold in the vinegar (be careful at this stage) and stir to dissolve the sugar. Cook the liquid for another minute or two. Switch the stove off and add the salt (taste the liquid to make sure the salt and sweetness is enough and adjust accordingly. Do not add water at any stage, just add more vinegar).
Pour the hot liquid along with the spices into jars containing the rhubarb. Place one chipotle pepper in each jar. Seal with sterile lids and process for 20 minutes to can. Store in a cool, dark and dry place. Let the pickles age for a week before opening.
Nik Sharma
Nik Sharma is the cook, author and photographer behind "A Brown Table" and currently resides in Washington D.C. He is a self-taught cook that is constantly trying to infuse "exotic" spices and ingredients by learning different cooking techniques in day-to-day meals with the motto of keeping all cooking methods fun, simple and useful.