This Hummus with Pickled Jalapeños is super smooth, zippy, and tangy with a slow-warming kick of heat. Slather it on toast, crackers, or your favorite veggies.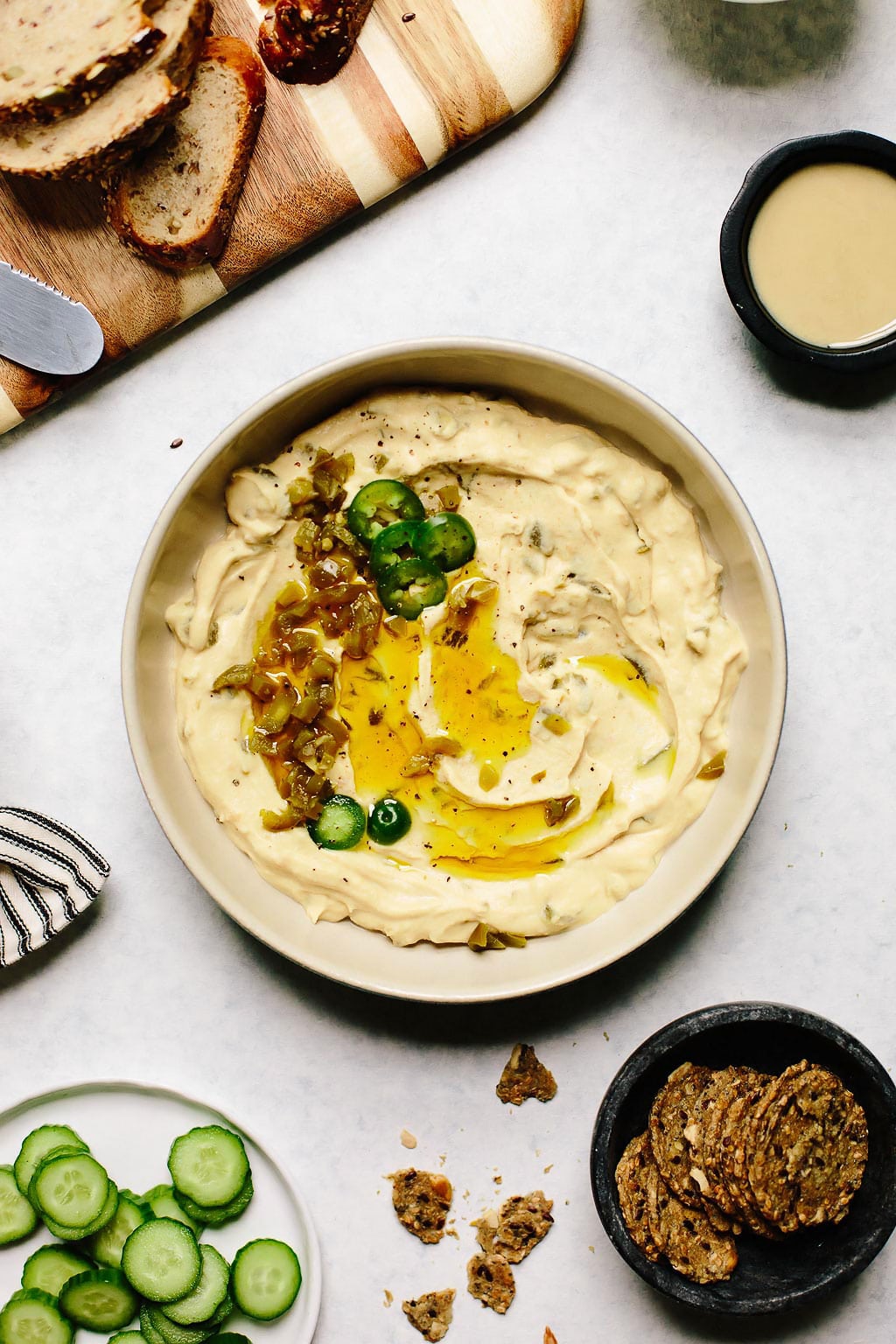 Pickled [insert any veggies here] are my favorite. I'm not entirely sure that sentence makes sense, but you get the idea. I love pickled things.
So much so that I've been known to drink pickle juice (sometimes even pickled jalapeño juice if I'm craving a real ZING). Something about the salty tang gets me good.
As a food blogger of nearly 9 years (seriously, where'd the time go?), I noticed about a year ago that there weren't nearly enough vinegary hummus recipes out there. And so I made it my mission to bring more pickle-y hummus goodness to the recipe world.
If what you're seeking is an ultra creamy, cloud-like hummus with a kick of heat and a tang of vinegar, look no further. This recipe has your name all over it.
It's inspired by this pickle hummus and this pepperoncini hummus, so be sure to check those out if you haven't already.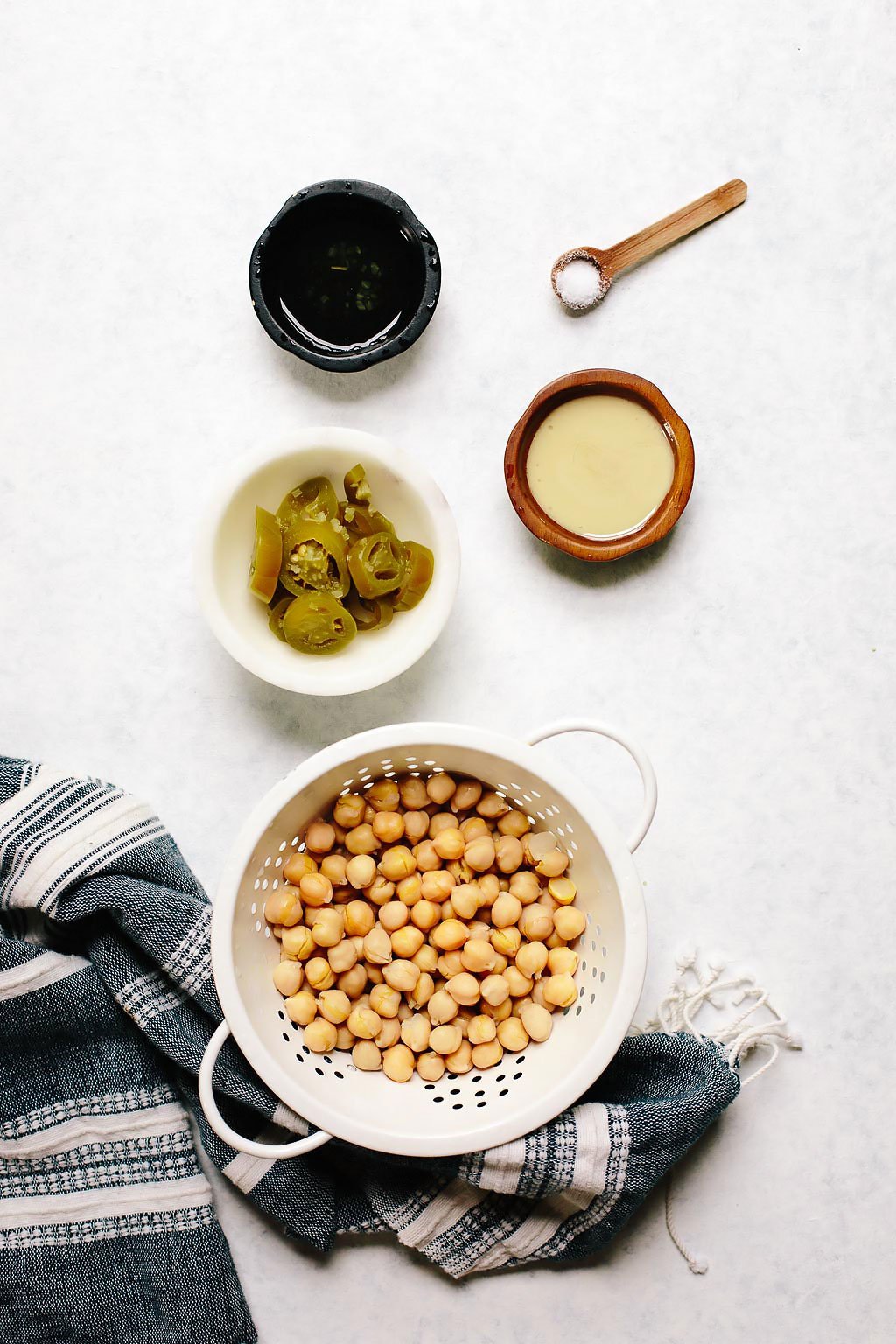 Just six simple ingredients are needed for this recipe:
Chickpeas.
Pickled jalapeños.
Pickled jalapeño juice.
Olive oil.
Tahini.
Salt.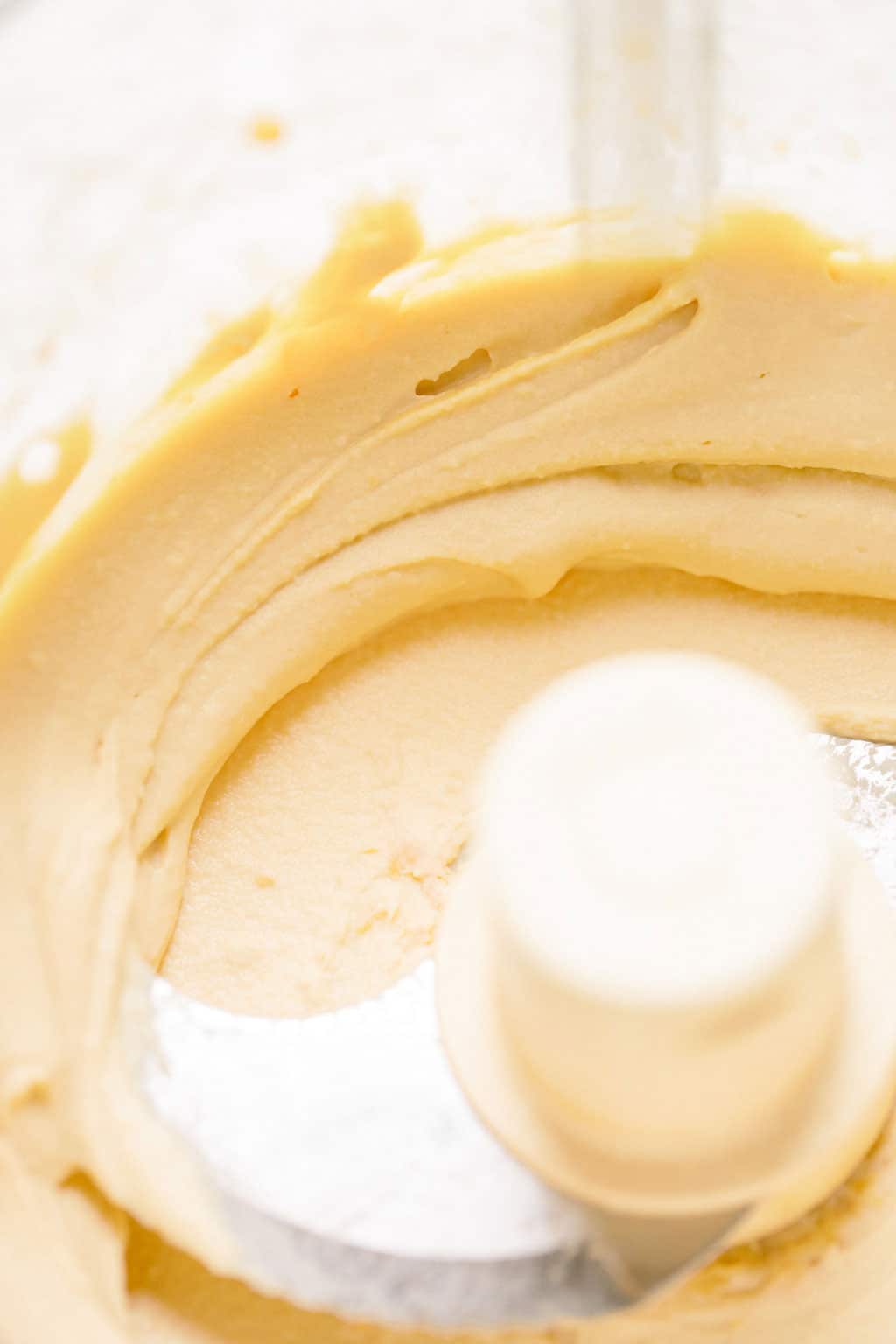 To make this hummus, you'll add the chickpeas, jalapeño juice, tahini, and salt to a food processor and process until smooth.
How you approach the chickpeas is entirely up to you. Leave the skins on, pop them off? Your call.
Your hummus will be smoother without the skins, but it'll take you about 10 minutes longer to make.
Personally, I pop most of the skins off, inevitably coming to the conclusion about three-quarters of the way through that, Dang, this is taking forever, and I'm hungry. And so I throw the last beans in skins intact.
(Hummus) progress, not perfection, right?
Thankfully, the vinegary jalapeño juice works wonders when it comes to creating a super smooth, almost fluffy hummus.
Checkout the smoothness (even with the skins left on that last dainty handful of chickpeas)…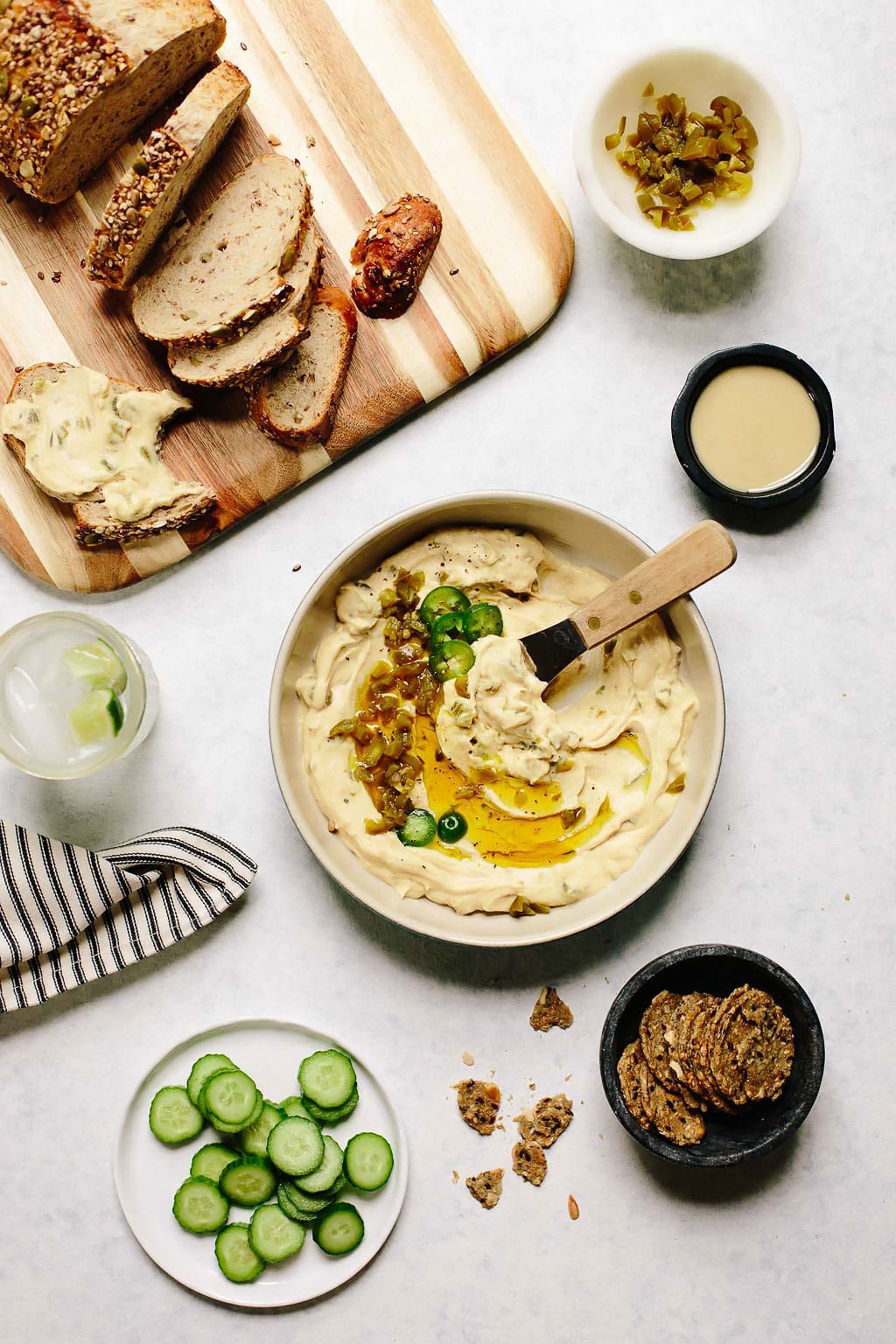 Once your hummus base is ready, you'll stir in half a cup of roughly chopped pickled jalapeños. I like to chop up a bit more for topping as well, but the garnish situation is also yours to explore.
A drizzle of olive oil, a sprinkle of pepper, a cozy cluster of fresh jalapeño slices…?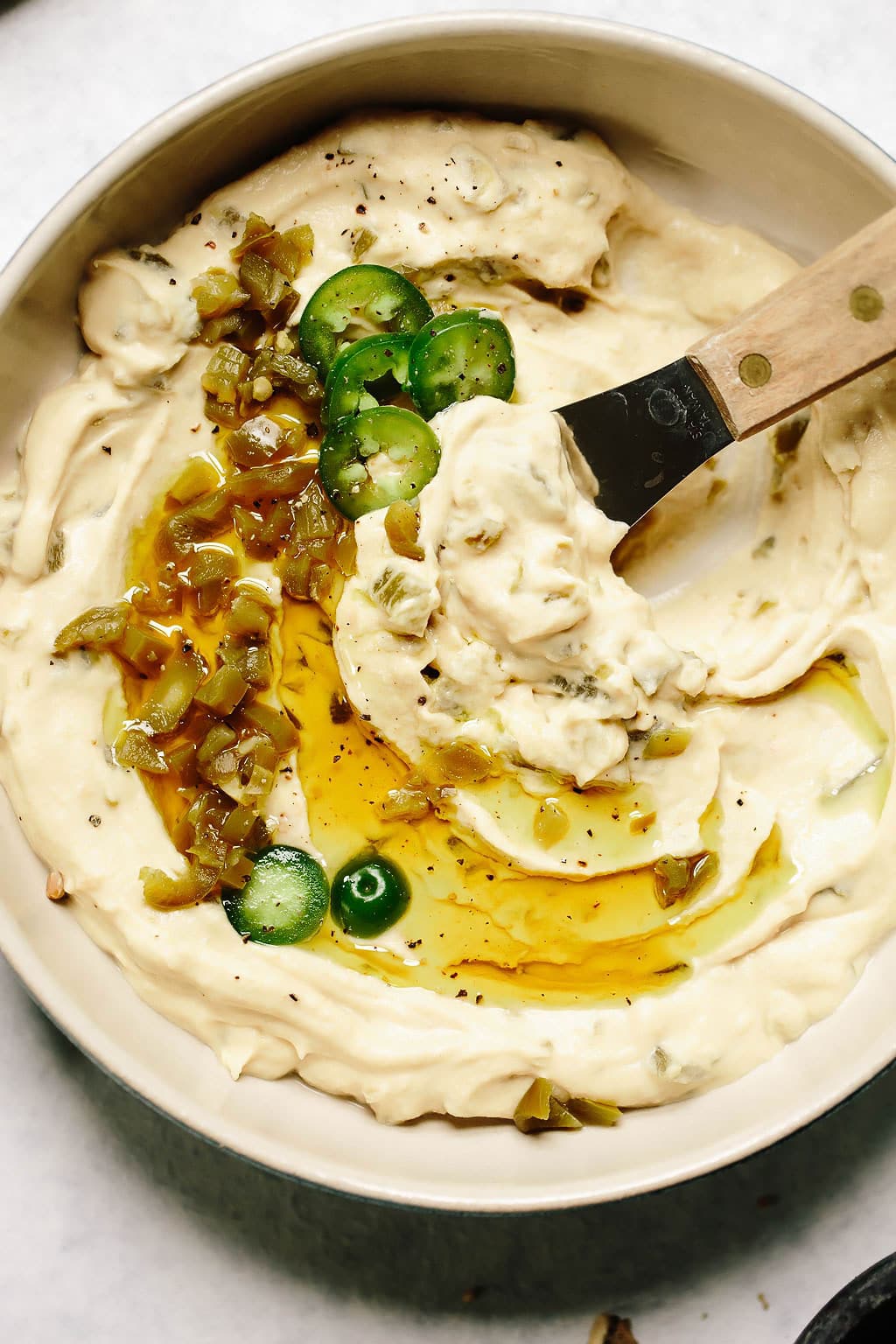 Serve this hummus alongside your favorite dipping devices. Here are a few ideas to get the wheels turning:
Multigrain bread slices.
Baguette slices.
Cucumber wedges.
Grape tomatoes.
Tortilla chips.
Seeded crackers.
You can serve this hummus straight away or make it ahead of time and refrigerate it until ready to serve. I find it's even tastier on the second day once all the flavors have had a chance to meld and mingle.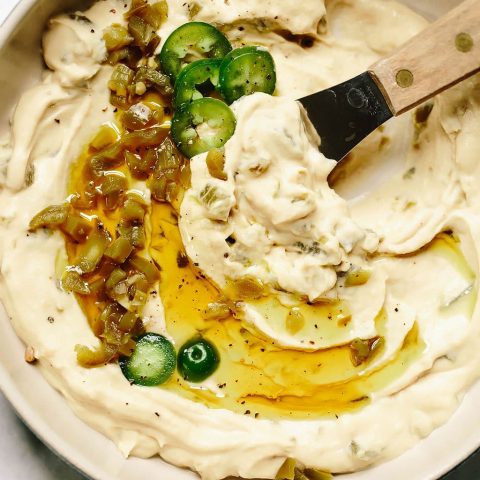 Pickled Jalapeño Hummus
This Hummus with Pickled Jalapeños is super smooth, zippy, and tangy with a slow-warming kick of heat. Slather it on toast, crackers, or your favorite veggies.
Course
Appeitzer, Side Dish
Ingredients
1

can

garbanzo beans, drained and rinsed

1/4

cup

pickled jalapeño juice

1 1/2

tbsp

tahini

1/4

tsp

sea salt

1/2

cup

pickled jalapeños, chopped

1/3

cup

olive oil

extra virgin
Instructions
For extra creamy hummus, remove the skins from the garbanzo beans by "popping" them between your pointer finger and thumb. Discard the skins.

Add the beans, jalape?o juice, olive oil, tahini, and salt to a food processor. Process for 2–3 minutes, or until completely smooth.

Transfer the hummus to a small bowl, and stir in the pickled jalapeños.

Top as desired. I like to add a drizzle of olive oil, freshly ground black pepper, more chopped pickled jalapeños, and even a few slices of fresh jalapeño.

Serve alongside veggie sticks, crackers, sliced bread, etc.

Refrigerate leftovers for up to 5 days.
Notes
*Use "mild" jalapeños for less of a kick and regular jarred jalapeños for a zippier, spicier hummus.
Keyword
chickpea, dip, hummus, jalapeño, spread
Ashley Melillo
Ashley Melillo is the creator of Blissful Basil, a blog dedicated to unearthing the happiest side of life through wholesome, plant-based foods. Being a school psychologist and food blogger, Ashley incorporates a wide array of health-enhancing ingredients into her recipes with the hope of guiding others on their path towards improved well-being.