Once you know how to make smoked duck low and slow, you can put the tender, juicy meat in pasta, tortillas, on a salad and so much more. It makes for such an elegant main dish.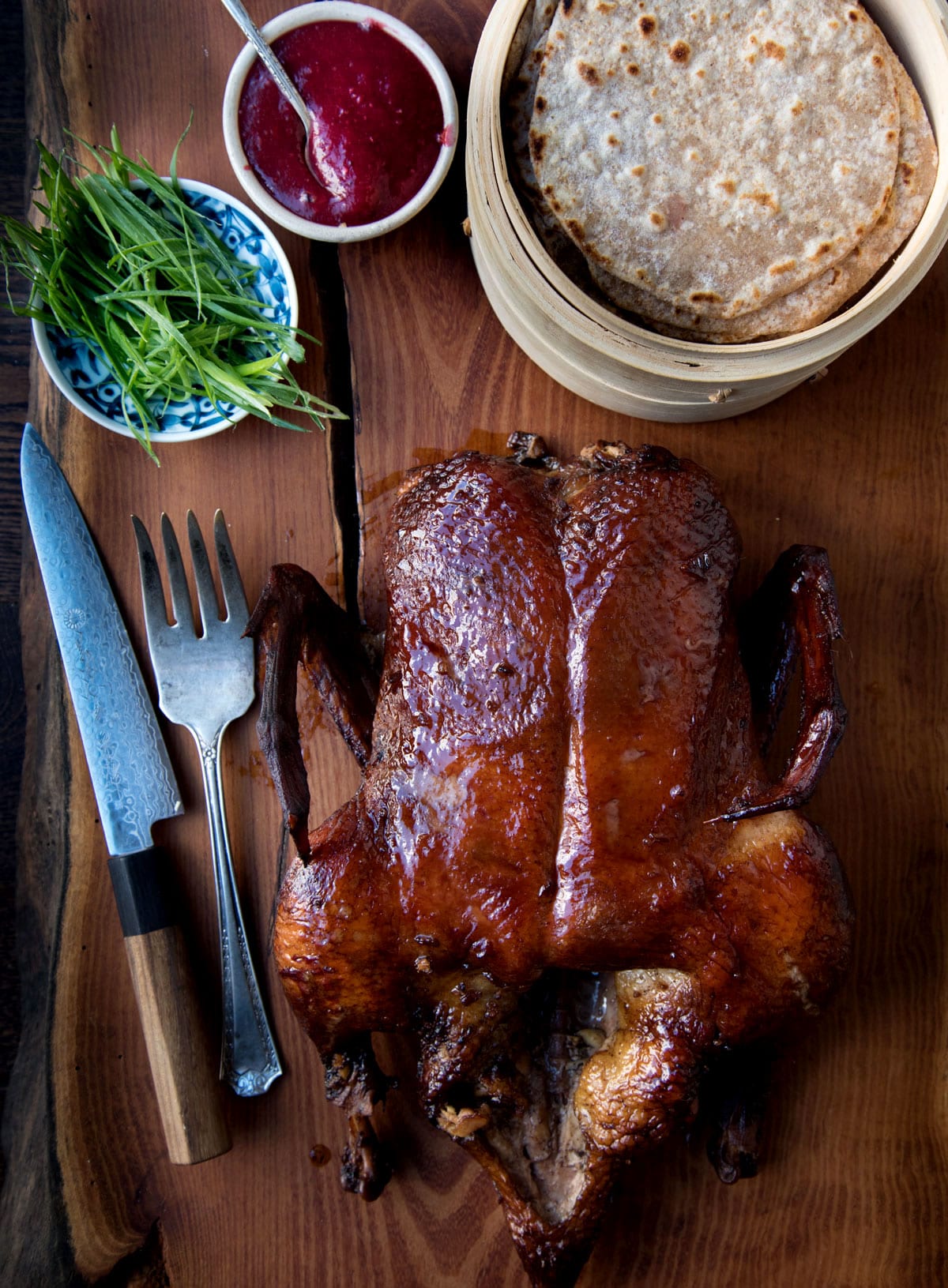 This duck had been taking up space in my freezer for some time, but haven't gotten around to it until now. I had a day off from work, so planned a relaxing day of cooking. That's what normal people do, right? Cook on their day off?
I've wanted to try smoking a whole duck for some time. I've done a leg of lamb, salmon, trout, nuts (almonds), chile peppers (red jalapeño and Espelette, a pepper from the Basque region of France) and a whole chicken in the smoker. All with good success. I should mention I have an electric smoker, which is by no means hardcore, but definitely like for its ease of use.
Smoking is all about low and slow; low heat for several hours. The great thing I've found about the smoker is that the meat comes out incredibly moist, with little work involved, other than an investment in time. The duck was in the smoker for four hours, but you can certainly multi-task while it's smoking away, just stay close by and give it a check from time to time.
Prior to going in the smoker, I gave the duck a 'bath' for a couple days, in a combination of — soy sauce, sesame oil, pure maple syrup, ginger, garlic, and spices — which gave the bird a nice sweet, salty flavor, in addition to the smokiness it picks up in the smoker, of course.
I decided to make a whole meal of the smoked duck with some homemade plum sauce, whole wheat tortillas, thinly sliced scallions, and a side of sautéed greens to serve. It was all rather tasty, if I do say so myself. We picked the carcass clean. And on that note, will be using the carcass to make some really tasty duck stock, yum!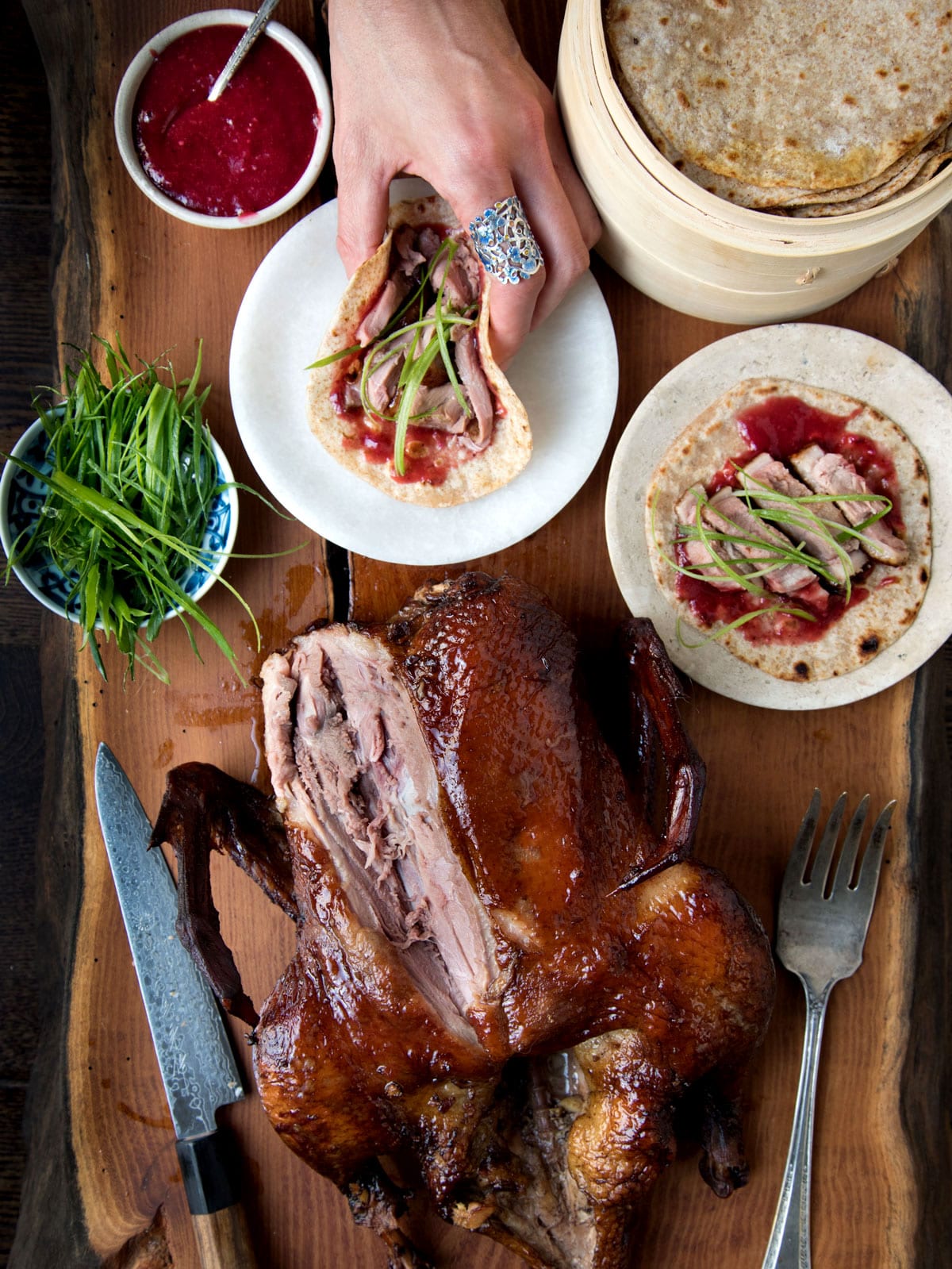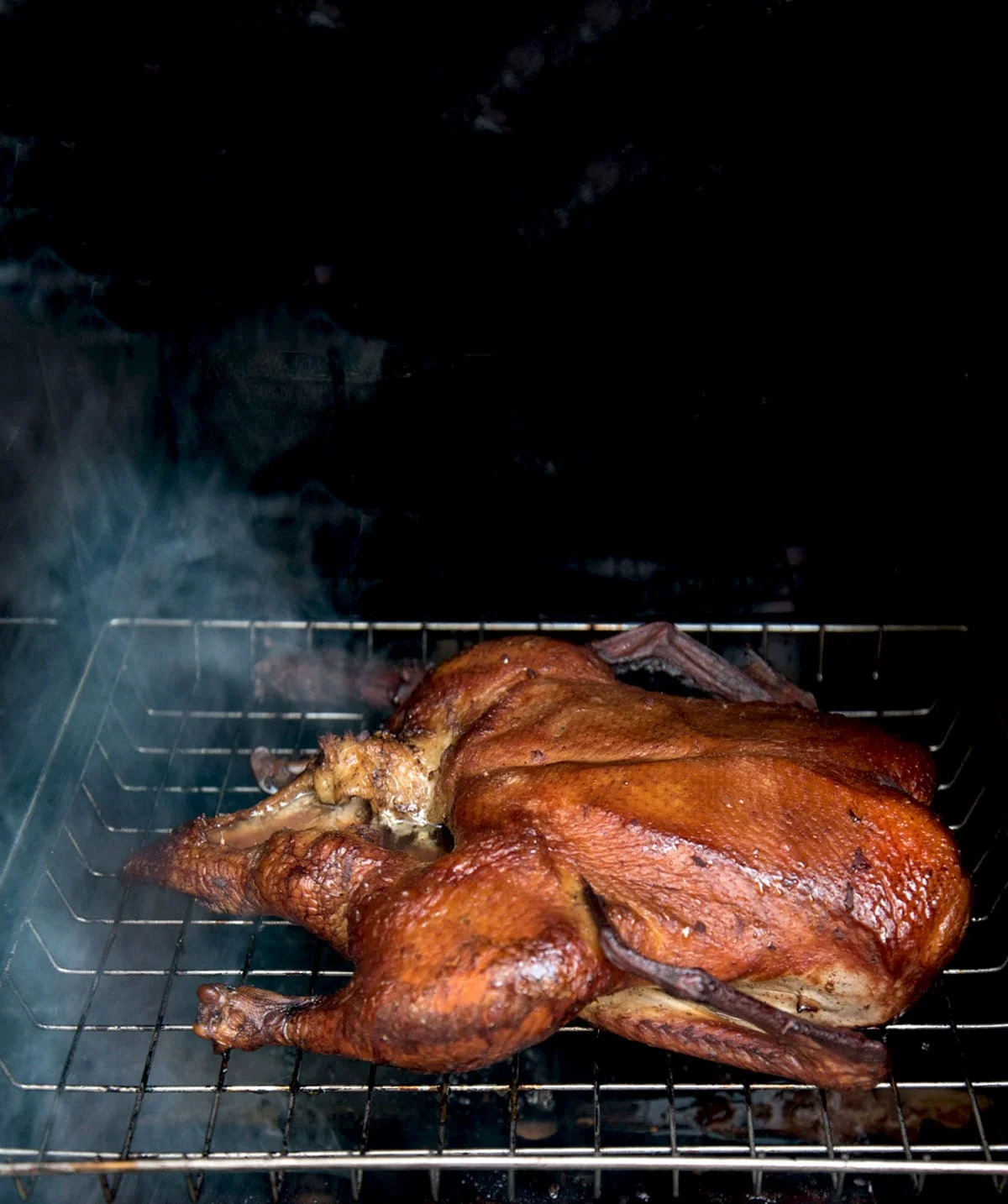 Low and slow, 4 hours at 200F…
I also added some almonds to the smoker for 2 to 2 1/2 hours, tossed in a little olive oil, spices, and salt.
Click here for my sweet and spicy plum sauce that goes perfectly with smoked duck.
Print
Smoked Duck with Homemade Plum Sauce
Author:

Linda Schneider

Category:

Main
1

5-pound or so whole duck

1/4 cup

soy sauce

2 tablespoons

maple syrup (plus extra for brushing the duck)

1 tablespoon

toasted sesame oil

1 teaspoon

Chinese five-spice powder

2

cloves garlic (minced)

1 tablespoon

minced ginger
Click the link above for the plum sauce recipe.
Instructions
Pat duck dry. With a fork, pierce all over the skin. Combine the soy, maple syrup, sesame oil, Chinese five-spice, garlic and ginger in a bowl. Whisk to combine. Place the duck in a large bowl or bag. Add the marinade and rub all over. Let marinate for 1 to 2 days, turning the duck from time to time to make sure all sides are coated.
Heat an outdoor smoker to 200F. Smoke the duck with your choice of wood (apple, cherry, oak, pecan, etc.) for 4 hours. Brush with a little more maple syrup after 3 hours. Remove from the smoker. Let rest at least 10 minutes. Serve.
Click the link above for the plum sauce recipe.
Linda Schneider
Linda Schneider is the blogger behind Wild Greens and Sardines, an homage to her love for all things food and [Mediterranean] travel. What she enjoys most is seasonal, farm-to-table recipes that highlight local ingredients, farmers, and food artisans. She loves going to local farmers' markets, seeing what's in season, and sharing recipes with others.