Homemade Gnocchi with Tomato Basil Sauce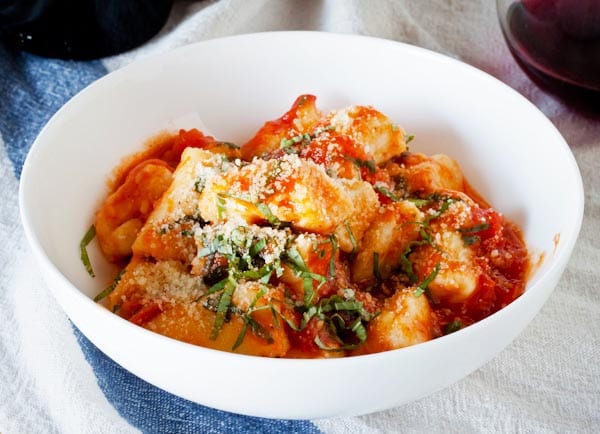 Homemade gnocchi is incomparable, but if you're pressed for time, this sauce will spruce up any store-bought pasta for a delicious dinner.
By Laura Davidson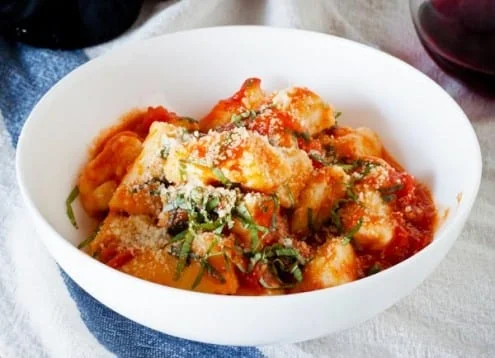 As much as homemade gnocchi is sort of dreamy in its own way (at least to me), honestly, the thing that takes this dish over the top is the sauce. Ohhh, this sauce!
Perfectly ripened tomatoes, tossed with garlic and olive oil, and hand-torn basil. And a nice sprinkling of coarse salt and freshly ground pepper. Pop this into the oven, set the timer, and walk away. Soak up the aroma.
In about an hour and a half, you'll be greeted with this. Resist the urge to just eat it all with a spoon and call it day.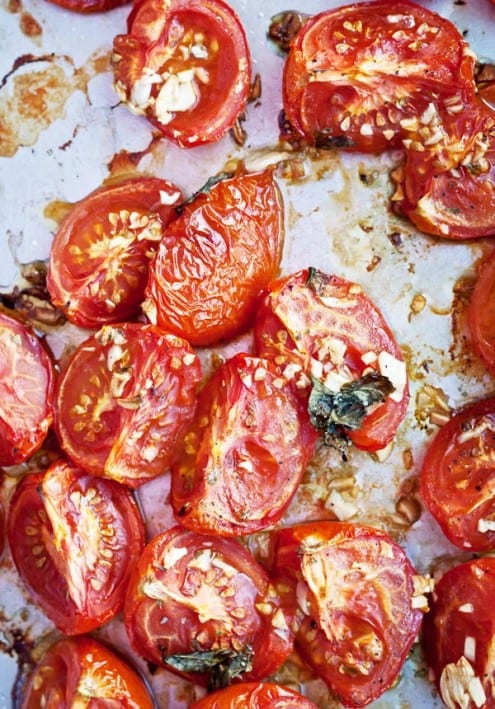 While the roasted tomatoes are cooling, go ahead and make the gnocchi. Gnocchi seems scary, but its really just a mixture of cooked potato, beaten egg, and flour. And, in this case, crumbled goat cheese. Oh yes, I went there.
Feel free to skip this step entirely–and substitute with fresh store-bought gnocchi or dried pasta. Perhaps cappellini or fusilli? Both sound good to me.
At this point, you'll want to make your sauce. The easiest way to do this is to grab a fine-meshed sieve, grab a handful of roast tomatoes, and start to press it through with a rubber spatula or spoon. Think of it as your arm workout for the day.
This step will make a really smooth, delicate sauce, but also one that super concentrated and bursting with flavor. It may sound counter-intuitive to get rid of all those delicious garlic and caramelized bits, but trust me, everything will work out in the end.
Heat the sauce in a small skillet, season with salt and pepper, add a handful of fresh basil at the end, and toss gently with the cooked gnocchi and/or pasta.
And since I am the unofficial spokesman (and this goes without being said), don't forget to add a nice dusting of Parmigiano-Reggiano cheese on top. Seasonal eating at its best. Do it!
Homemade Gnocchi with Tomato Basil Sauce
Homemade gnocchi is incomparable, but if you're pressed for time, this sauce will spruce up any store-bought pasta for a delicious dinner.
Author:
Laura Davidson, adapted from from Hugh Fearnley-Whittingstall's River Cottage Veg
Ingredients
For the Gnocchi:
1 lb baby new (gold) potatoes
3½ ounces soft goat cheese, crumbled
1½ cup all-purpose flour (200 grams)
1 large egg, slightly beaten
salt
pepper
Roasted Tomato Basil Sauce:
4 lbs. vine-ripened tomatoes, quartered
5 garlic cloves, finely minced
¼ cup of lightly packed basil leaves, roughly torn
2 tablespoons extra virgin olive oil
salt
pepper
¼ packed basil (for finishing)
Instructions
Prepare the Sauce:
Preheat the oven to 350 degrees (F). Quarter the tomatoes and lay out (cut side up--basically on one side) on the baking sheet.
Sprinkle on the minced garlic and torn basil. Drizzle over the olive oil and season generously with salt and pepper.
Using your hands, toss everything until well coated.
Roast for an hour and half, or until the tomatoes are completely soft and starting to collapse and caramelize.
Remove the tomatoes from the oven and allow to cool until almost room temperature.
To make the sauce, take several batches of the roasted tomatoes at a time and push through a fine-meshed sieve (using the back of a wooden spoon or rubber spatula). Discard the skin, seeds and fiber.
Before serving, reheat (and reduce as necessary--to thicken) and season with salt and pepper. At last minute, chiffonade another small handful of basil and add to the sauce for an extra boost of flavor.
For the Gnocchi:
Meanwhile, peel the potatoes, removing any blemishes as you go and cut into similar size chunks (1.5 inches roughly).
Add the potato chunks to a medium saucepan and fill with cold water. Salt the water generously and bring to a boil. Lower the heat and simmer until the potatoes are completely tender, then drain well.
Using a potato ricer (this will yield a lighter, more fluffy gnocchi) or masher, mash the potatoes until smooth.
Transfer the mashed potatoes to another bowl and allow to cool down until lukewarm. Add the goat cheese, flour, salt, pepper, and egg (slightly beaten) and gently mix with your hands, until the dough begins to come together.
Season with salt and pepper and knead slightly to form a firm dough.
Cut the dough smaller pieces and roll each ball into ¾ inch dowels. Cut dowels into 1 inch pieces and set aside on a lightly floured baking sheet or onto a piece of parchment.
To cook, bring a large pot of water to a gently simmer. Salt generously. Gently add the gnocchi, stirring gently, and as they rice to the surface, scoop them out with a slotted spoon (test one) and transfer to the pan of warm tomato sauce.
Serve immediately with parmigiano-reggiano cheese and top with basil (a fine chiffonade).
Laura Davidson
After deciding to take a leap of faith, Laura enrolled in culinary school to pursue her passion for all things food. On her blog, Blogging Over Thyme, she shares her experience as a culinary student, her favorite recipes, stories, and photography!