Ghungi: Brown Chickpea Dry Curry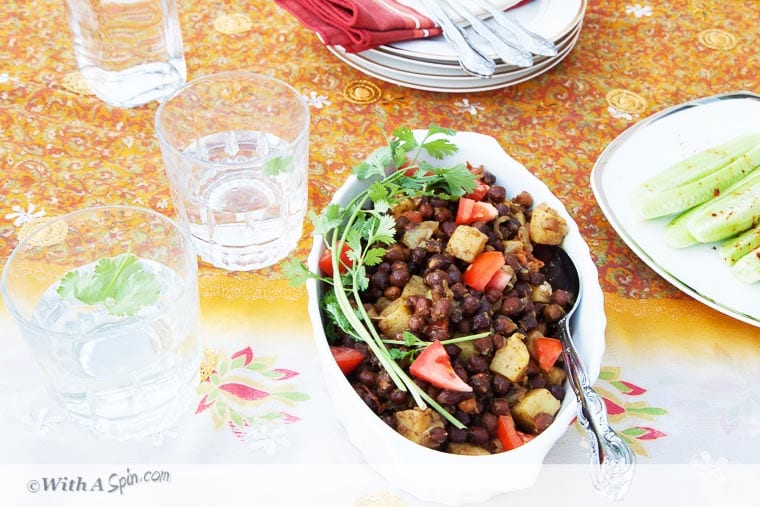 You can use regular chickpeas but the traditional dish is made of the firmer and slight nutty flavored Bengal Gram.
By Lail Hossain

Ghungi: Brown Chickpea Dry Curry
You can use regular chickpeas but the traditional dish is made of the firmer and slight nutty flavored Bengal Gram.
Ingredients
1 cup brown chickpea (Bengal Gram)
2 tablespoons onion, chopped
2-3 green chilies
1 medium potato, cubed
1 tomato, cubed
½ teaspoon garlic paste
½ teaspoon ginger paste
½ teaspoon cumin
½ teaspoon coriander
½ teaspoon turmeric powder
½ teaspoon garam masala
Salt, according to taste
3 tablespoons oil
Cilantro (optional)
Instructions
Soak chickpeas in water for about 5-6 hours
Boil chickpeas until soft
Dry roast cumin and coriander until fragrant and grind into a powder
Heat oil in a pan
Add onion and green chilies and fry for 1-2 minutes
Add potato and all spices, stir and cook until semi-soft
Add tomato and boiled chickpeas
Season with salt
Mix well and cook on low medium heat
Turn off stove when potato is cooked and oil separates from chickpeas
Serve with cucumber, tomato and cilantro
Lail Hossain
Lail Hossain finds cooking to be an explosion of creativity. She is enthusiastic about modifying a laborious step of an old recipe, and experimenting with different ethnic recipes by adding her own spin to it yet keeping the recipes simple, healthy, and delicious. Originally from Bangladesh, Lail shares her journey of food, creativity and family in her blog "With A Spin". She is also very passionate about highlighting Bangladeshi cooking to the international culinary space.