This colorful honey mustard chicken medley is comforting, light and offers the balance of a one dish meal, with some steaming white or brown rice.
By Rinku Bhattacharya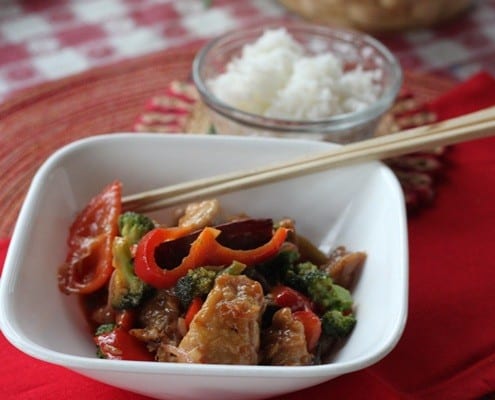 A rainy and foggy day! It is not necessarily an un-seasonal day for this time of the year, but this winter we have gotten spoilt. Here in New York, it is rare to have almost gone through winter without any major snow-storm. However, I will take the sunny days, as for the rainy, foggy days, believe it or not I am partial to them as well. They tend to calm me down with their quite grey consistency, the bare trees outside look beautiful studded with the dotted diamonds of raindrops.
I open the refrigerator to get out provisions for today's lunch. I was at home, taking some time to attend to some chores and visiting the doctor. In the rare afternoon hiatus, I wanted to put together lunch, something I do not always have the time to do, in calm uninterrupted abandon. My cooking usually happens midst my chattering children with a perky, careless rhythm. I had some broccoli, a red bell pepper, mushrooms and some chicken. There were small amounts of each vegetable, so they had the sketching of a medley written all over them. I wanted to make something colorful and festive with all that I had on hand. Thus emerged this dish, in what I often think of as the Indo-Chinese tradition of cooking, a pairing of Indias easonings with Chinese staples such as soy sauce, white wine and others. I love to cook fusion flavors that are actually so much a part of Indian cuisine that people do not realize that they are fusion, such as the portuguese influenced cuisine of Goa, the french influenced cuisine of Pondicherry and in the case of this recipe, the indo chinese flavors.
The Indo-Chinese cuisine has its roots in the Chinese community that migrated toKolkatta,Indiain search of then trade opportunities. Today they are in still around in much fewer numbers, living in the oldestChinatownsegment ofIndia. The cuisine they created does merge flavors of their native land with Indian flavors.
The flavors have also captured the imagination of chefs, mostly due to their popularity with most Indians. Today, the boundaries of Indo-Chinese cuisine have expanded and offer most people an excuse to fry and batter chicken and often indulge in loads of garlic and salty savory seasoning in the guise of authentic Chinese food. It really is difficult to go wrong with these flavors.
This colorful medley is comforting and light and offers the balance of a one dish meal, with some steaming white or brown rice. Since the batter is just a light misting of flour and is pan-fried the dish tastes best with hot, as it loses its crispness when stored.
Print
Honey Mustard Chicken with Rainbow Vegetables
---
Author:

Rinku Bhattacharya

Total Time:

45 minutes

Yield:

4

1

x
Description
A sweet and spicy one dish creation in the Indo-Chinese tradition on cooking.
---
2

heads of broccoli

1

red bell pepper

1/3 cup

plus 1 teaspoon cornstarch

¾ cup

water

2 tablespoon

all-purpose flour

¾

pound of boneless, skinless chicken cut into small pieces (I used chicken thighs)

1/3 cup

oil

1

red onion, thinly sliced

4

pods of garlic, thinly sliced

1 tablespoon

freshly grated ginger
For the coating sauce
3 tablespoons

honey mustard dressing (such as Newman's Own)

1 tablespoon

sriracha or commercial chili garlic sauce

2 tablespoons

soy sauce
---
Instructions
Cut the broccoli discarding all tough stems into small flowerets. I find it easy to actually cut the stem and then remove the flowerets by hand.
Slice and seed the red bell pepper.
In a bowl whisk the water and the teaspoon of cornstarch and add the broccoli and bell pepper to this and set aside.
In a separate bowl, mix the remaining cornstarch and the flour.
Roll the chicken in this mixture thoroughly to get a light even coating.
In a large skillet, heat 4 tablespoons of the oil on medium heat until smoking.
Add the chicken in a single layer and let it cook for 3 minutes on each side, the chicken should be golden on both side and almost cooked through.
Heat the remaining oil and add the onion and sauté well for 3 minutes and add in the ginger and the garlic.
Add in the broccoli, pepper and cornstarch water and cook for 5 minutes on high heat until the vegetables are cooked and coated with a glossy sauce.
Mix the honey mustard, sriracha and the soy sauce and add the mixture in.
Add in the chicken and cook for 3-4 minutes, until the chicken is coated with the seasoning sauce.
Turn off the heat and serve immediately.
Prep Time:

15 mins

Cook Time:

30 mins
Rinku Bhattacharya
Rinku Bhattacharya, is a teacher of Indian Cooking and the author of the blog, Spice Chronicles. A busy working mother Rinku is committed to offering a practical approach of flavorful, everyday cooking often with an Indian Accent. An author of three cookbooks, Instant Indian, Classic Foods for Every Region of India made easy in the Instant Pot, Spices and Seasons, Simple, Sustainable. Indian Flavors and The Bengali Five Spice Chronicles. Rinku's passion for food starts with cooking and trying new recipes and extends to pairing and drinking wine with food and trying usual combinations by fusing various culinary influences. Rinku and her family are very committed to a sustainable lifestyle, and she uses mostly local produce for her recipes. She is joined in this effort by her husband who is an avid gardener and her children, Deepta and Aadi.